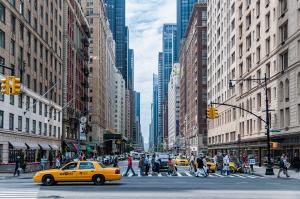 I just returned from a trip to New York City, and was amazed and impressed with its size and the excitement present. It was, to me, a city of extremes and contagious energy. The most striking hallmark of New York is the constant, energetic motion with which it operates. The city is teeming with a hopping mishmash of eclectic people, each going their own way and doing their own thing. What struck me most is that many of these busy individuals are moving about the city immersed in work: businessmen and women, Uber drivers, window washers, street vendors, hotel personnel – each performing his or her duty quickly and efficiently. I was impressed with the productivity and effectiveness with which the city was functioning.
Work is Holy
I reflected on all that I observed and, from experiencing the sights, smells, and sounds of New York, it was apparent to me that God is alive and active in the heart of the city, present in the effort and effectiveness of its workers and the organization and order with which it functions. Work is sacred and holy. As St. Paul instructed the Thessalonians, "In fact, when we were with you, we instructed you that if anyone was unwilling to work, neither should that one eat." (2 Thess 3:10) St. Paul is expressing that, in order to contribute to family life and society at large, everyone who is able should use his or her gifts and talents to support and build up the community. As early as in the book of Genesis, God expresses his desire that humans engage in meaningful work. St. John Paul II, in his encyclical Laborum Exercens, written in 1981, declares, "When man, who had been created "in the image of God…. male and female", hears the words: "Be fruitful and multiply, and fill the earth and subdue it", even though these words do not refer directly and explicitly to work, beyond any doubt they indirectly indicate it as an activity for man to carry out in the world."
Work is Sanctifying
Work can also be sanctifying when performed diligently and prayerfully. "By enduring the hardship of work in union with Jesus, the carpenter of Nazareth and the one crucified on Calvary, man collaborates in a certain fashion with the Son of God in his redemptive work. He shows himself to be a disciple of Christ by carrying the cross, daily, in the work he is called to accomplish." (CCC 2427) God has put us here on earth not only to fulfill all of our personal desires and engage solely in leisure and recreation. We are to use the talents he has given us to produce fruit and not bury them in the ground like the lazy servant in Matthew's account of the parable of the talents. Our work becomes a prayer when we perform our duties to the best of our abilities, patiently and lovingly, and offer them to God. No matter what occupation we are engaged in, from running a company to cleaning toilets, whatever endeavor we find ourselves in, we can and should offer it up and accept it as God's will for our lives. St. Teresa of Avila was known to have remarked that "God is among the pots and pans." This is most encouraging as a mother who stays home and finds herself scrubbing dishes daily!
Work Benefits the Whole Person
There is a danger in making economic gain the sole aim of work. We spent quite a bit of time in Times Square, the shopping districts, and the Financial District on our trip. From the vibrant digital billboards to the iconic Charging Bull, money is the main, and often, the sole object. We must remember that our work should be offered as a prayer and should benefit us and those around us. "Economic life is not meant solely to multiply goods produced and increase profit or power; it is ordered first of all to the service of persons, of the whole man, and of the entire human community." (CCC 2426) We can not separate our spiritual and religious life from our work life. We are to follow the commandments and practice the beatitudes in every endeavor, in our personal life and employment.
Work Can be Joyful
I remember seeing a documentary on a Japanese man who fulfilled his dream of opening his very own izakaya, or Japanese pub serving food and drinks. After saving the money he needed to open his establishment, his father died and he used all of his money to pay for the funeral, leaving him back where he started from. Once again, he saved the money and was able to open the izakaya. The remarkable aspect of his story was the joy and satisfaction he had from serving his customers and talking with them. Entertaining them with his jokes and making them laugh was what kept him going each day and loving his job. He had become an elderly man and had no wife or children to share his life with; however, he was happy and fulfilled because he found joy in his work, and did not equate his career as merely a financial endeavor. He brought smiles and laughter to his customers, and sharing his life with them made his life joyful.
St. Joseph – Patron of Workers
Who better to turn to as a patron and intercessor for our work than St. Joseph? Not only was he a devoted husband and father, but he also worked tirelessly as a carpenter to provide for his family, to support Our Blessed Mother and Jesus. In his own humble and quiet way, he must have instructed Jesus on their trade and worked prayerfully alongside him as Jesus approached adulthood. He, along with Mary, was the first to perform his work in union with the Son of God. May 1 is the feast day of St. Joseph the Worker, established by Pope Pius XII in 1955 to honor the dignity of human labor.
Avoiding Idleness
St. John Bosco, who was a priest in the 1800's in Italy who helped lodge and train at-risk boys, stated, "Avoid idleness and idle people; carry out your duties. Whenever you are idle you are in serious danger of falling into sin, because idleness teaches us all kinds of vice." His advice is timeless, and applies to all ages. Of course we need time for formal prayer and recreation; however, it is wise to stay busy and be productive in life so we do not fall into temptation and seek out sin. Whatever we are doing, whether working, recreating or praying, we should always be sure it is pleasing in God's sight and we offer it to him.
Image by <a href="https://pixabay.com/users/Pexels-2286921/?utm_source=link-attribution&amp;utm_medium=referral&amp;utm_campaign=image&amp;utm_content=1853552″>Pexels</a> from <a href="https://pixabay.com/?utm_source=link-attribution&amp;utm_medium=referral&amp;utm_campaign=image&amp;utm_content=1853552″>Pixabay</a>