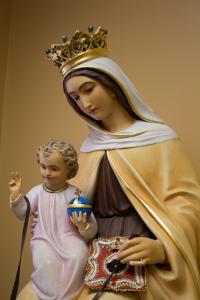 I turn my feet from evil paths to obey your word.
I have not turned away from your decrees; you yourself have taught me.
Your promise is sweeter to my taste than honey in the mouth.
I gain understanding from your precepts; I hate the ways of falsehood. (Psalm 119:101-104)
The Church recently celebrated the Feast of Our Lady of Mt. Carmel on July 16. These words, taken from Daytime Prayer of the Feast of Our Lady of Mt. Carmel, express the psalmist's sentiment, but one can imagine they reflect Our Lady's thoughts as well. Because of her obedience and her perfect union with Christ, she possessed the greatest wisdom and humility. Because of her immediate proximity to her Son Jesus as his Mother, she had more knowledge and insight into the ways of God than the elders and teachers of her time. Hers were the only feet besides Jesus' which remained on the perfect path of holiness, never veering from it or consenting to evil. As St. Louis de Montfort instructs us, "Mary is the earthly paradise of Jesus Christ … She is the vast and divine world of God where unutterable marvels and beauties are to be found. She is the magnificence of the Almighty where he hid his only Son, as in his own bosom, and with him everything that is most excellent and precious." (True Devotion to Mary) We honor and celebrate Mary's motherly wisdom and protection each year on this special feast day.
Our Lady of Mt. Carmel
Devotion to Our Lady of Mt. Carmel originated with hermits on the holy mountain in Israel, descended from the prophet Elijah, who maintained particular devotion to Mary. "Carmel" means "garden," and the mountain is so named because of its lush landscape. The order of Carmelites have always been especially devoted to Our Lady and are known for their practice of contemplative prayer. Notable Carmelite saints include St. Teresa of Avila, St. John of the Cross, and St. Therese of Lisieux, all of whom have been declared doctors of the Church.
Sweeter Than Honey
In our home over the years, we have enjoyed commemorating some special feast days and solemnities with a themed dish or treat which symbolizes the particular feast or saint of the day. On this particular feast day, the children indulged in "Our Lady of Mt. Carmel sundaes," a delicious treat to remember the sweetness of Our Mother and the joy of the day. Psalm 119 exclaims, "Your promise is sweeter to my taste than honey in the mouth." Ice cream is delectable but where do true sweetness and joy come from? We can obtain temporary satisfaction from food and other worldy pleasures, but these joys do not last. The Psalm tells us that the promise of God is what will truly fulfill our desires.
The Promise of Salvation
What is the promise that brings this sweetness? It is the promise of salvation through Jesus Christ, fulfilled if we love God and one another and keep his commands. Faithfully doing the will of God brings more joy and strength than obtaining all of the joys and pleasures of the world. His life is eternal life, not the momentary, passing life of this world. The promise of heaven and eternal life with Jesus is so much sweeter than anything this world has to offer. We should not hesitate to make any sacrifice or endure any hardship if it keeps "our feet from evil paths" and prevents us from "turning away from his decrees." If we are called on to deny ourselves temporary pleasures here in this world in order to receive the ultimate happiness in eternity with him, it is worth any discomfort or sacrifice. Our hope is in him and in the hereafter, so we should strive daily to work towards achieving that goal.
Celebrating the Feasts
I like rewarding the children on special feasts because it reminds us of the promise of heaven and the joy and happiness we will experience there. Ordinary days are for work and prayer, but feasts and solemnities are for celebrating and rejoicing as a foretaste of paradise. Celebration reinforces how much God loves us. He wants us to rejoice and celebrate with one another on special days, and the Marian feasts are ideal days to implement some special activity or treat. Just as at Easter and Christmas we decorate, worship, and enjoy the pleasure of special foods and desserts, the Church provides us with ample opportunities to express our faith and honor Jesus, Mary, and the saints. Celebrating also fosters community and fellowship among family and friends and unites us in the Body of Christ. What upcoming seasons and feasts can we plan to acknowledge with special a commemoration? Doing so is sure to bring us a bit of the sweetness and joy that we hope to experience one day in heaven with him.
(Image by Pixabay)