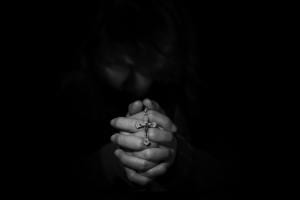 The spiritual life is not a glorious utopia or heaven on earth. Those who choose to follow Christ will experience highs and lows, peaks and valleys. We will inevitably encounter dry periods when God seems very far away. It may seem like God is not listening to our prayers or helping us. We will experience discouragement, fatigue, and spiritual burnout. We can be tempted to despair and desolation. I am reminded of the story of the prophet Elijah who, after fleeing for his life to Mount Horeb, sat under the broom tree and prayed, "Enough, LORD! Take my life, for I am no better than my ancestors." (1 Kings 19:4) He was frustrated and tempted to give up when things became difficult. Even Jesus himself exclaimed, " My God, my God, why have you forsaken me?" (Mt 27:46) at his Crucifixion. How do we handle those times of dryness, the dark valleys of the journey with Christ, when he seems nowhere to be found?
The Example of Christ on the Cross
The greatest example of love in the face of emptiness and suffering is that of Jesus as he died on the Cross. Condemned to die by his own people, betrayed by Judas and Peter, and abandoned by his closest followers, he experienced an ocean of rejection, torture and pain. In the face of such terrible suffering, it would seem natural to give in to despair. In his humanity, he certainly felt intense desolation and abandonment. Yet Jesus never rejected his Father or denied him. He also forgave his offenders and continued to love and show mercy, even from the Cross. In our difficulties, we can look to Jesus as our example of how to endure. Imitating the patient and willing acceptance of his suffering is difficult, but by doing so, we receive the assistance and favor of God in our trials.
Reach Out to Others
One way to counter dryness or discouragement is to reach out to others in service. This takes the focus off our own problems and emptiness and redirects it to those around us who may be in need physically or spiritually. When we become other-centered, we are less likely to wallow in our own discomfort. Even as he hung dying on the Cross, Jesus was continually extending mercy and love to those around him. The first three of his Seven Last Words from the Cross were words of mercy, care, and compassion for others. "Father, forgive them , for they know not what they do," (Luke 23: 34) he uttered, pleading for mercy for those who carried out his Crucifixion. He consoled the good thief dying beside him when he promised, "Amen I say to thee, this day thou shalt be with me in paradise."  (Luke 23: 43) In addition, he provided for his mother, who it is believed was a widow at the time of his death, by entrusting her to St. John; and with his words, "Behold thy mother," he extended her maternal protection to the world.
Continue to Pray
On the Cross, Jesus exclaimed, "I thirst." (John 19:28) It was not only a physical thirst, but also a longing for the love and comfort of God and others. He continued to pray to his Father in heaven, calling out in his need, even as he felt the abandonment and rejection of the Passion. We, too, experience the thirst of needing love from others and not receiving or feeling it. Many of the saints agree that, even in times of dryness or darkness we should continue to pray, as difficult as it can be. When asked if we should pray when we don't feel like it, St. Josemaria Escriva responded, "Listen, my daughter, I very seldom really feel like it. We have to do things we don't feel like doing, and then, as they're based on sacrifice, and are difficult, they are much more fruitful and are worth much more, before God, they shine like stars in the night." When we pray even when it is difficult, we show God how much we love him and we will receive the benefit of our prayer in time.
Ask for Prayers
Asking others to pray for you when you feel discouraged and have difficulty concentrating in prayer can bring spiritual support and encouragement. I have known many people who, at the darkest times of their lives – for example, during illness or the death of a loved one – have expressed that they "felt the prayers" of others. They felt a powerful peace or strength during the difficulty which supported them through it. This unseen reality can only be explained as the power of prayer. Faith tells us that we have a loving God who is intimately involved in the details of our lives and who cares for each of us as though we were his only child. Just as a father comforts his children, if we have faith, we can believe that the prayers of loved ones can bring relief and consolation.
Continually looking to the example of Jesus, loving others, persevering in prayer, and asking for the intercession of others are a few ways to endure the burden of spiritual dryness. What are some other ways we can remain faithful even during periods of darkness?
(Image by: James Chan from Pixabay)