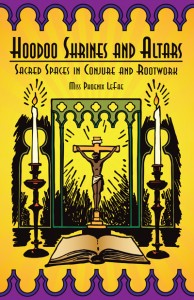 Hoodoo Shrines and Altars: Sacred Spaces in Conjure and Rootwork
by Phoenix LeFae
Copyright: 2015
Publisher: The Missionary Independent Spiritual Church
Summary: Hoodoo Shrines and Altars is a book firmly rooted in tradition. It tells the history of African-American ancestor altars, candle altars, saint shrines, working altars, and altars hidden in plain sight, from the oldest forms to the most contemporary, and provides you with easy-to-follow instructions on how to build, furnish, pray and cast spells at your own altar.
an anthology edited by Patricia Monaghan and Michael McDermott
Copyright: 2013
Publisher: Goddess Ink
Summary: Brigit: Sun of Womanhood offers a holistic picture of Brigit from her beginnings as a Celtic Goddess to her role as a Christian saint. The contributors to this anthology hail from all parts of the globe—including Ireland, Scotland, the United States and Canada—reflecting the widespread influence of Brigit. Readers will be transformed by this inspiring collection. 
This newest anthology from Goddess Ink is edited by Michael McDermott and Patricia Monaghan and features writers from Ireland, Scotland, Canada and the US including Carol Christ, Sr. Rita Minehan, M. Macha Nightmare, Dolores Whelan, Joan McBreen, Matthew Geden, and many others.