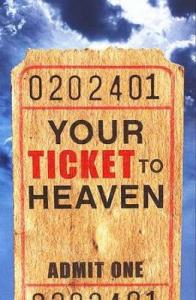 Evangelism has outlived its usefulness. I will say it again. Evangelism has outlived its usefulness. When I say evangelism, I am talking about the sales pitch. Maybe you've heard it before.
You have a problem. You are a sinner from birth. You are separated from God and his love. You are going to go to hell when you die if you don't repent.
There is a solution. Jesus died on the cross so you could be forgiven of your sins and go to heaven when you die.
You must act now. Pray the sinner's prayer. Join a Bible believing church. Get baptized by immersion. Start giving 10 percent of your gross income to the church.
There it is. The sales pitch. I could use this same outline to sell you insurance, a used car, or a vacuum cleaner. I could use this same formula to sell ice to Eskimos, and if I am convincing enough, they will buy it. Here's the best part, you don't even have to be a Jesus follower to pitch eternal life to others. You just need to be willing to share it with others on command.
Before you form a posse and grab the pitchforks, let me clarify my thoughts. From the time I became a follower of Jesus in 1983, my whole life has been about evangelism. Sharing the gospel. Winning the lost. Boycotting hell. Reaching the masses. Going into all the world. It was my "why" for many years. People who weren't "saved," or, "lost" people occupied my mind day and night. My youth group and I were on a mission to reach the lost. We started Bible studies at our schools. We invited our friends at school to come to church with us.
In college, I went on two short term mission trips. I attended meetings where we talked about ways to reach the lost. We talked strategy and purpose. The world must know Jesus! It must! And it was up to me to get the word out!
In my first two pastorates, I took members of my church family door to door in the neighborhoods surrounding the church building. We handed out gospel tracts and invited families to church. I led the church through FAITH evangelism training. We were going to be a Great Commission church if it cost me everything. It eventually did. I did everything I had been taught, and yet attendance was declining.
In my final pastorate, during a Church Council meeting, someone who didn't like me very much threw this gem out there.
"I don't think we are reaching people like we should."
I asked, "How should we be reaching people."
"Well, a lot of people think you should be getting more porch time in the neighborhood."
"Define porch time for me."
"Well, we think you're not leading us to reach people."
"Do you really need to be led in this? You were raised in church. You could probably teach me a thing or two."
Cue crickets chirping.
I continued, "Every time I have come to the church to suggest programs and enlist help in doing outreach, the Church Council (you) shoots every idea down. I would love to hear your suggestions."
At the next deacon's meeting, I was asked to resign. I was so relieved. My heart was no longer in it. I no longer believed in sales evangelism. After years of practice, I concluded once and for all that it did not work, nor did it honor God. People don't want you knocking on their door anymore. Therefore, I didn't want to do it anymore.
In 2002, Brian McLaren authored an amazing book on evangelism called, More Ready Than You Realize: Evangelism as Dance in the Postmodern Matrix. Basically, he reached the same conclusions I just mentioned about traditional evangelism long before I did. I discovered this book after I had written this piece. I love Brian. He always says what we are all thinking before we even realize we are thinking it.
We could do better by loving and caring for the marginalized. You don't need a tract or an outline for that.