If you'd like to take a trip down the rabbit hole of irrationality QAnon's your ticket. The conspiracies they peddle leave nothing to the imagination. It's as though its creators randomly scribble down on paper the latest fake news rumors, toss them into a hat, then pull them out and string them together to form their theories. Here's a few of the latest and most virulent of conspiracy theories attributed to them: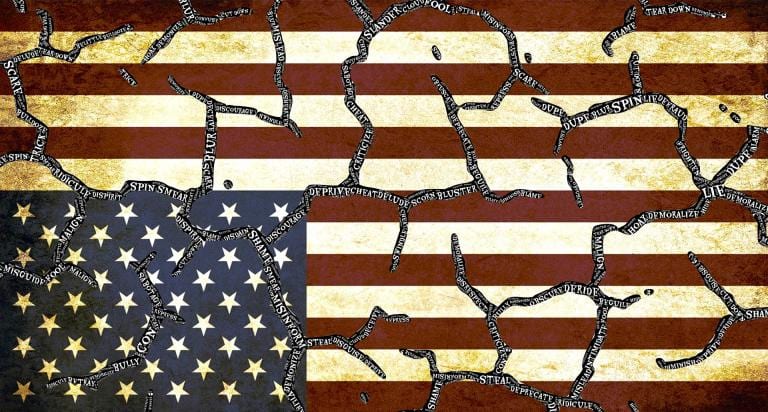 "QAnon is a far-right conspiracy theory and loosely organized network centered around the belief that the U.S. is controlled by a cabal of child sex trafficking, Democratic elites hell-bent on bringing down President Trump. … Followers believe these elites, led by Dr. Anthony Fauci, have gone so far as to manufacture the coronavirus to bring Trump down."
Source

Another unfounded theory purports "… John F. Kennedy is still alive, that Trump planned the Mueller probe in order to mobilize personnel and investigative resources that would uncover Democrats' wrong-doing, and that figures like Bill Gates and Bill Clinton are responsible for the coronavirus." Source

Some members of the QAnon community also "believe the unsubstantiated claim that there is a global child trafficking ring run by powerful people in Hollywood and politics who use children as sacrificial objects, either for sadistic pedophilia or to harvest a chemical compound found in blood called adrenochrome …" Source
(I'm working on a more detailed article on all of the psychological factors that apply to those who believe in conspiracy theories, but here's three disturbing characteristics that are worth thinking about for now.)
Conspiracy theories are built on a pessimistic and sinister view of human nature
Humanists believe in the inherent goodness of humanity. We believe that people are inherently good, and overall, want nothing but the best for fellow members of the human race. Most conspiracy theories, however, are grounded in the nihilistic claims that there's a group of rich and powerful people whose goal is to consolidate power by instigating human misery, death, and global chaos.
Conspiracy theories thrive in secrecy
The truth – no matter what it sheds light on – is always indisputable and easily verifiable. Truth edifies and enlightens us. Conspiracy theories thrive in secrecy for two reasons. Primarily out of necessity; since they are easily disputed by common sense and readily accessible facts. Secondly, conspiracy theorists are drawn to the secret and shadowy underworld, which helps to explain why many theorists believe in a shadow government.
Conspiracy theories thrive on biases and hate
A basic skill of rational thought is having the ability to understand facts without harboring a bias against the sources that are providing those facts. It also requires an understanding that information and data is neutral. Which is to say, that facts should be determined on their own merit. Facts cannot be deemed as automatically fake simply because a particular person or political party is highlighting those facts. Conspiracy theorists, however, tend to have strong animosities towards certain kinds of people. In particular, recent theories promoted by QAnon incite hatred towards the wealthy and powerful elite, intellectuals, scientists, democrats and liberals.
Conspiracy theorists lose their ability to engage in rational conversations
Once a conspiracy theorist loses their ability to be rational there's little one can do to convince a conspiracy theorist of the truth. The primary reason for this is because they don't value rational thinking as a skill to be used in obtaining the truth.
To complicate matters greatly, Conspiracy theorists believe in what I call the "mother of all conspiracies." This particular theory thrives on the notion that real facts represent fake news and fake news represents real facts. Conspiracy theorists often share a disdain for established facts and scientific data, or they don't trust the information provided by free and established outlets of the press. Factual data, however, is what connects us to reality, both of which are required for rational thought. But once a conspiracy theorists has lost his or her ability to rationally discern fact from fiction, so too goes the ability to have rational conversations.
Think about it from a freethinker's perspective – who would choose to think this way?
I mean … the mind of a person who lives in fear that members of a shadow government are literally killing people and causing global chaos; that has lost the ability to reason using facts and scientific evidence; that harbors deep hatred towards individuals or groups which don't think and believe as they do – is hardly a freethinker.
Comments?