When Navy veteran Christopher Davis was brutally attacked by federal agents in Portland, Oregon July 18, I immediately compared him to China's "Tank Man."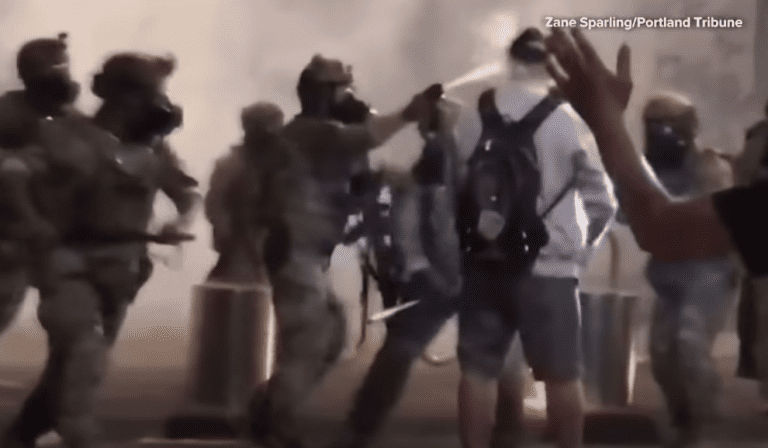 The images of both men and their acts of courage stand juxtaposed in my mind as two of the most iconic acts of peaceful protest against authoritarianism and the use of governmental forces to silence its citizens.
Who was Tank Man?
He was a brave Chinese protestor who halted a row of advancing tanks dead in their tracks in Tiananmen Square, China in 1989. After Tank Man made his stand, the protests were squelched by government forces in what has become known as the Tiananmen Square massacre. Hundreds — possibly several thousand citizens — were killed.
But the identity of the lone, brave protester—captured on film and in countless photos giving a defiant "stop" sign to a phalanx of Chinese tanks rumbling through Tiananmen Square—remains shrouded in mystery.
In a June 1999, article, TIME magazine includes Tank Man as the "Unknown Tiananmen Square rebel" in its list of one of the top 100 people of the century in its "Leaders and Revolutionaries" category.
Christopher Davis makes his stand
Now contrast Tank Man's stand for democracy with Christopher Davis, who faced off with federal agents in Portland, Oregon.
"That's the primary reason I went down to these protests. … I wanted to see if I could have a civil discussion with these federal agents, these officers, and ask them why they felt that it was okay what they were doing, that I felt that they were violating their oath to the constitution." Says Davis in this CNN interview.
It was then that one of the agents began beating him with a club while another agent forcefully drowned his face in chemicals. But it's the image of Christopher Davis standing rock solid while being viciously attacked that will live on as a powerful symbol of resistance against the Trump administration's efforts to discourage free speech.
Throughout time, brave citizens like Christopher Davis and Tank Man have made their stand for freedom and left an indelible mark in history. Many others have heeded a similar calling in other cities at other times, marching into harm's way for the causes they believe are worth defending.
Protesting, is an action reserved for those among us who are rich in empathy and driven by a high level of respect for the principles of freedom. Both Christopher Davis and Tank man exhibited these qualities, but they also possessed one, additional attribute: Their courage compelled them to go above and beyond. At the risk of death — or at least the risk of severe injury — they defied oppression and made a stand that will inspire many others for years to come.