Individual Races
The elections this Tuesday will be the most important in my lifetime. Here are my predictions about how I think they will turn out. Some predictions I'd be willing to bet on. Others reflect changes I hope will transpire. Share yours in the comments.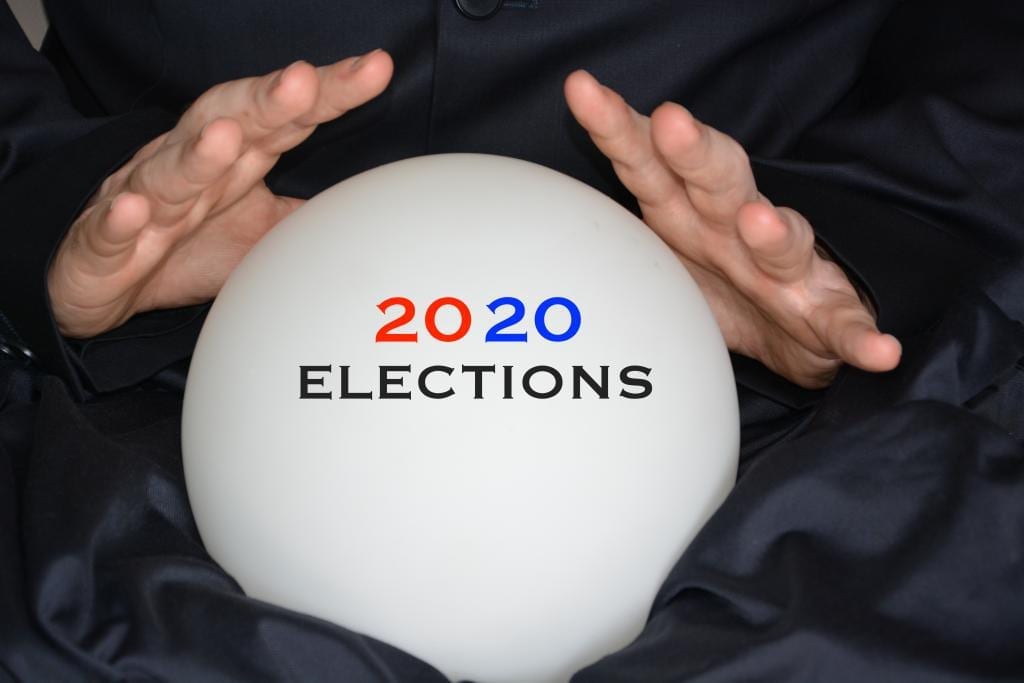 Biden and Harris will win. Trump and Pence will lose — big time. A month ago, I anticipated there would be a lot of civil unrest the week following the elections. While I expect a lot of people will be taking to the streets, I am no longer expecting much violence. The record-breaking early turnout of voters, plus Biden's strong numbers in the polls, indicates to me that he and Harris will share a decisive win. Despite all the actions involving Trump and the GOP to discredit our elections, Biden's win will be significant enough that there will be little they can do to steal it.
I also think Biden will serve only one turn, then pass the torch to Harris in 2024. She will be reelected, thus making her the first female president, and likely pick another female as her vice presidential running mate.
Democrats will maintain control of the House of Representatives. They will also win the Senate by flipping at least 4-6 seats. Mitch McConnell will likely retain his seat and twiddle his thumbs for the next six years. Or he'll retire during his tenure. Lindsey Graham will lose his bid for reelection. Although, I admit I have my fingers crossed on this one, and I'm hopeful that Jaime Harrison will win this race.
Policy and Legislative changes
I don't think the affordable care act will be struck down by the Supreme Court. If it is, the democrats will fight to have it reinstated. Or they will build on the AFC to create a better healthcare plan for Americans.
I also don't think the Supreme Court will be deciding the overall outcome of the election. Although, it may be called upon to weigh in on a few election snafus or recounts.
Once in power, the democrats will also increase the number of associates on the Supreme Court from 9 to 11 justices.
In the coming years, democrats will also introduce and pass a number of new laws specifically designed to combat the potential for corruption and abuse of power within the executive branch. Examples? Individuals seeking election to the presidency or congress must show previous tax returns; or, restraints placed on the President's ability to pardon; or, a massive revamping of our election system to combat GOP gerrymandering. To name just a few …
Roe vs. Wade will not be overturned.
Taxes on the wealthy and on corporations will be increased, and diverted to other areas to fund social reforms.
General predictions
People around the world may say what they want about the brashness of Americans. But if there is one motivating force that drives our fearlessness it is that we will defend the self-evident truths granted to us in the constitution. Specifically, "… that all men [and women] are created equal, that they are endowed by their Creator with certain unalienable rights, that among these are life, liberty and the pursuit of happiness."
Trump may have emboldened the white-supremacists, and all those who do not cherish these self-evident truths, but in doing so he has electrified the vast majority of Americans who embrace these core, compassionate values on how every citizen should be treated.
What America has become is a nation filled with diversity; representative of individuals from virtually every nationality and race and cultural background, which also adhere to a plethora of divergent religious and philosophical ideologies. To put it bluntly: It is a land of immigrants and will remain so. As such, it is in a progressive state of change, which like a runaway bulldozer will not be stopped.
This election, in the year 2020, will come to symbolize the year in which its people came to collectively understand the power of their voice and vote.
Lastly, I do not side with many in the liberal media who predict that the haters of equality and truth will wreak havoc in the coming years; that gun-brandishing white-supremacists will continue to intimidate those of color; or that QAnon and other conspiracy theorists will prevail in their assault on truth.
I am an optimist. I believe in the inherent goodness of Americans. I also believe most Americans share in the desire to adhere to the values exemplified in her constitution. So, I rather see the opposite transpiring. As Americans continue to stand up in the coming years for equality, justice, and the pursuit of truth they will in effect, silence those who have sought to topple these ideals.