I'm not inclined to have morbid thoughts, but I have been wondering for several years which member of the Rolling Stones would be the first to lay down his instrument.
I suspected it would be Keith Richards. He looks a bit rough around the edges. Perhaps Mick Jagger? But at 78, Jagger still prances across the stage with more enthusiasm than many thirty-year-old rockers. What about the Stone's bassist/guitarist Ronnie Woods, would he be the first to go?
Incidentally, Woods also happens to be a spectacular artist.
No to all three of the above. Instead, the first member of the Rolling Stones to die was the band's drummer, Charlie Watts, who passed away last Tuesday on August 24.
The Rolling Stones formed in London back in 1962. In the past 4 decades they've put out a whopping 140 studio, live, compilation, and video albums. WOW! They were also just getting ready to go on tour again when they lost Watts. So, whatever success each member of the Stones has reaped, whatever fortunes they've amassed, they surely earned it and not necessarily for personal reasons. Rather, it has been their life's work making millions of people happy through their music, and entertaining people at this level happens to pay quite well.
Sympathy for the devil
One of my favorite songs from the Stones is Sympathy for the Devil released in December 1968. I was six years old at the time, but the tune didn't drift into my radio waves until I was in high school. I think the reason for this is because this is about this time when my interest in religion and spirituality emerged. Musically speaking, this tune rides on a mesmerizing samba rhythm led by Watts and combined with additional percussive elements. Yet, for anyone who is spiritually inclined the first three verses will lure you in like an enticing temptation.
"Please allow me to introduce myself
I'm a man of wealth and taste
I've been around for a long, long years
Stole million man's soul an faith

And I was 'round when Jesus Christ
Had his moment of doubt and pain
Made damn sure that Pilate
Washed his hands and sealed his fate

Pleased to meet you
Hope you guess my name
But what's puzzling you
Is the nature of my game"
Sex, drugs and rock and roll
Now, a lot of folks don't like rock and roll music for personal reasons. However, many Christians think rock and roll is downright evil. For these individuals Sympathy for the Devil presents them with a double-edged sword. The song is not only crafted in the devil's music but it also asks us to empathize with the devil!
But for deeper thinkers the lyrics in this song—particularly the third verse–reveals an insight into one of humanity's most perplexing conundrums. Which is, the mystery as to why bad things happen in life; or why there is so much pain and suffering in life.
It's no surprise that Jagger uses biblical imagery and symbolism to get us to ponder this mystery. Jagger is after all, like us, born into a world heavily influenced by biblical mythology. This mythology revolves around the notion that evil is a power that was created by an entity known as Lucifer, and Lucifer, (aka the devil or Satan), uses this evil to reap misery upon humans.
Yet, Jagger goes much deeper than the myth. He admonishes us to think even harder about the role a devil plays in the existence of evil in our world. "But what's puzzling you . . . "Jaggar taunts, "is the nature of my [the devil's] game."
The devil is in the details
The devil, of course, is in the details. Meaning, the Bible offers a lengthy synopsis of the origins and purpose of evil, but anyone who is really investigating the biblical evidence to validate the devil's relationship with the power of evil will discover just how scanty and contradictory that biblical evidence is.
The gist of what the Bible presents is that Lucifer was a created being who rebelled against God in heaven. Presumably, Lucifer either invented or created evil prior to this rebellion. Lucifer then convinced other angels to rebel as well. This set the stage for a war in heaven between God and Lucifer, thus establishing that two existential powers exist in our universe: the powers of good and evil. After the rebellion, God cast Lucifer to earth where Lucifer was transformed into a snake and permitted to introduce evil to Adam and Eve by way of the Tree of Knowledge of Good and Evil. After Adam and Eve ate the fruit from this tree and succumbed to evil, God allowed evil to thrive on earth so future generations could experience this power. This set up a condition in which every person born would experience both good and evil, which is necessary according to biblical tradition to validate that humans were also created with (and offered) the power of choice. This choice also become a test of loyalty. Those who serve God and the power of good will be saved, and those who don't are followers of Satan and the power of evil.
If you're a bit "puzzled" by this biblical description, consider yourself a rational person. If this description makes it seem as though life is just a game, then this is precisely the purpose to life that Christianity offers humans. For as far as Christianity and most biblically based religions teach, you were created by God to serve Him and you are destined for eternal hellfire if you don't.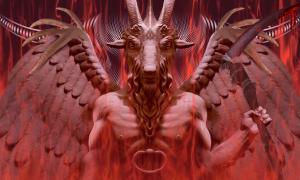 –"But what's puzzling you is the nature of this game."
Volumes have been written to verify or defend these biblical concepts regarding the origins and purpose of evil. I've spent years preaching these concepts and denouncing them as both a Christian and a freethinker. So, I'll not bore you with lengthy arguments here except to end with two of the most important observations any person should consider in trying to validate whether these biblical concepts are true:
If God created everything, and there is evil, then God is evil and uses evil to his advantage.
Even if we could prove that an entity such as Lucifer existed, this entity would not have creative powers. Such an individual could only use powers that were already present in the universe it was created into. In which case, any attempt to claim that God represents only the power of good and Lucifer the power of evil is pointless. While some biblical texts might suggest otherwise, Christian tradition fully affirms that God is the creator of evil; that evil is a necessary component of His universe, and that He uses evil to suit his purposes.)
If humans are created, then they were merely designed to fulfill a specific function. Thus, you and I are not independent, self-governing individuals, but rather, merely sophisticated robots.
Any God worth His weight in omnipotence could theoretically create and program a humanlike creature to bend the knee and worship Him—providing this God also created these beings with knees to bend and vocal cords to praise Him! In a similar manner, any novice computer programmer can build a computer program along with a voice like Siri's to tell its creator how wonderful she is every time she boots up her computer. In other words, to be created is a lot like being designed and programmed to function within a specific environment. No God would get any satisfaction out such a contrived form of adoration and praise, which makes it highly unlikely that we were created to fulfill this specific purpose in life.
Grooving like a freethinker
I still enjoy the song Sympathy for the Devil. I like the samba groove it rides on, steered by Watt's distinctive style. Charlie Watts was one of the most talent drummers of all time, and he will be sorely missed.
Aside from this, the song's religiously infused lyrics, which once lured me in as kid in my early years of spiritual discovery, no longer holds this freethinker's attention. The hook the song turns on inviting me to consider Christianity's teachings regarding the dynamics of good and evil in our world are far too shallow.
I have no sympathy for the devil. I never did even when I believed in one. But I do have a healthy appreciation and desire to better understand the complex relationship between all that is good in this life and all that is bad. To understand this subject more fully one must break with religious tradition altogether and venture into other concepts and ideas. Such as opening the mind to experience and understand different beliefs, ideologies and cultures. Or exploring aspects of modern life such as income inequality or the plight of the poor, needy and voiceless. To this end meditation can help. It's a powerful tool one can use to begin discarding old, conventional ways of thinking, since it permits the mind to contemplate insights without the pressure to conform to an established methodology of thinking.