On Thursday the nation's second largest school district in Los Angeles . . .
"agreed to require coronavirus vaccinations for students ages 12 and up in the city's public school system, with board members arguing that it is the best way to protect students and keep schools open for in-person learning."
Life is filled with one mandate after another
I don't know about you, but my life is filled with one mandate after another. From the moment I awaken to the moment my head hits the pillow, I'm confronted by demands in which my right to choose has been stripped away.
There are basically two kinds of mandates we are all subject to:
The mandates we impose upon ourselves
The mandates our friends, family and societies impose upon us
If you think you lead a life of total freedom, just ask yourself when the last time was that you woke up and discovered you had the right to do anything your heart desired. That is, you could break any laws, circumvent all social customs and responsibilities, and even ignore your own personal goals just because you thought all these mandates infringed upon your right to go completely hog-wild that day?
Mandates we place upon ourselves
I'm not the kind of person that sits on the couch all day and has zero motivation to do or accomplish anything in life. Which is why—like you—I adhere to a range of self-imposed mandates to accomplish my goals. I mandate myself to wake up at a reasonable time, to eat a reasonable breakfast to sustain my energy levels, to get my butt off to work, to spend quality time tending to the needs of my family, and so forth. There is literally no hour in my day when I have the freedom to do what I want. In fact, it's the opposite; I deliberately mandate my personal activities to achieve what I want.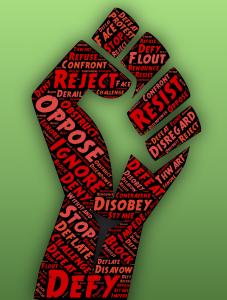 Mandates our friends, family members and society places upon us
From the moment I hop in my truck and leave my little corner in paradise, I'm confronted by an onslaught of mandates that are required of me to interact with others and to be a good, productive citizen. I'm mandated to have a valid driver's license. I'm mandated to carry auto insurance. I'm mandated to put on my seatbelt. I'm mandated to put gas in my truck and keep it running so I can finish my errands. I'm mandated to follow all the traffic laws—and these are just the mandates society demands of me that allow me to get behind the wheel!
Regarding my family, I'm required to follow a whole host of mandates to ensure their survival and wellbeing. I'm required to work—which I assure you leaves no freedom to do what I really would want to do. Which if given the choice, would be to fly to the big island in Hawaii, rent a cottage by the beach for two years, and write a novel. And why do we work? To make money. And with this in mind I'm mandated to show up on time and perform certain activities. When payday rolls around, I'm then mandated by various governmental agencies to pay a slew of taxes. But mostly I'm required to be a good father and grandfather. Meaning, I don't get to act like a child anymore and cry for what I want.
As for the number of mandates my city, society, culture, and my country inflict upon me these are legion. They hang over me like an oppressive cloud. They consume my thoughts and emotions and leave me with few precious moments to catch my breath and focus on my mental and spiritual health.
And yes, this also includes the mandates placed upon me by my local school board. I pay taxes to help keep them afloat. And while I no longer have children in school, my children have children in school. And what's the most intrusive form of mandates our educational systems have always demanded from us? That our children be vaccinated for a variety of nasty diseases and illnesses, to keep them safe, and to keep other kids and teachers safe.
When parents choose not to vaccinate their children . . . what could possibly go wrong?
In times past parents gladly got their children vaccinated simply because they loved their kids and didn't want them to die or become maimed by diseases. Nasty diseases like polio.
So, thank you mom and pops for thinking about me and getting me the polio vaccine. You'll be happy to know I outlived you, and the only side effect I suffered from getting the polio vaccine was that I didn't spend my life crippled in a wheelchair. Like Patrick had to endure. Patrick was a friend of mine in college whom I often pushed up a long uphill sidewalk leading to the university library. Whether Patrick's parents didn't get him vaccinated because it infringed upon their right to refuse medical care for their children I don't know. (Maybe they thought God would protect him?) Whether his parents were just relying on bad information is a strong possibility, but I just don't know. Patrick only confided in me one day that his parents didn't get him the vaccine. Either way, Patrick suffered because someone didn't take the disease seriously and the mandate to get vaccinated went unheeded.
From what I understand, based on information provided by leading medical agencies and medical professionals from the world, is that the vaccines we now have available to prevent both adults and children from dying from the coronavirus are phenomenally successful and offer few side effects. If I were a Christian, I might even say the vaccines we have are miraculous. I also know there's a lot of bad and misleading information posted on Facebook and other social media platforms. (A word to the wise, social media is the worst place to find reliable information and guidance about masks and vaccines.)
Parents who have children attending Los Angeles schools this year are going to have to face some tough decisions—which include being willing bear the unspeakable consequences if they choose not to vaccinate their children. I confess that I no longer have this tough decision to because I don't have school age children. I have grandchildren. So, I will nevertheless be unable to escape the consequences of unvaccinated children in my own life. We all will, because unvaccinated children will die, or they will pass the virus onto their fellow students, teachers, and other parents and grandparents who may die.
To me the decision to vaccinate children is a no-brainer. I trust science. I have faith in the medical community and its professionals whom I believe work to keep children safe and alive. I believe the data regarding how safe and effective the current vaccines are which prevent adults and children from dyeing.
I also care little about being mandated to do the right thing. As I said above, virtually everything in my life is mandated, whether by my own choice or though actions others impose upon me. I do not consider the wearing of masks or getting vaccinated as actions that infringe upon my rights and freedoms. Rather, I view these actions is things I can do to save lives and make the world a better place.
If I were a parent faced with the choice of vaccinating my children I would do it in a heartbeat, before my own children lost their own heartbeat, and if that happened my grief would be so unbearable that I'd wish my own heart would stop beating.
It's just that simple.
Note: For related articles I've written check out these links . . .
Psst! The Mandates Are Here
https://www.patheos.com/blogs/thinkadelics/2021/08/psst-the-mandates-are-here/
Would Jesus Wear a Mask and Get Vaccinated?
https://www.patheos.com/blogs/thinkadelics/2021/07/would-jesus-wear-a-mask-and-get-vaccinated/