Are you a militant atheist or a Christian Fundamentalist? Other than the differences in ideologies, both have a lot in common.
Let's first define our understanding between these two warring factions.
Militant atheism defined
[A] Militant atheist is defined as one who is militantly opposed to theism, theists, and religion. Militant atheists have an extreme hostility towards religious theism that entails a desire to see religion suppressed by force.
The most pertinent part of this definition is that it refers to atheists suppressing religion by force. This does not happen in my world, in America, the land that prides itself by promoting freedom of religion. When I'm out and about I don't see atheists running around in fatigues brandishing weapons and forcing Christians to stop following their religion.
Although this may happen in other parts of the world.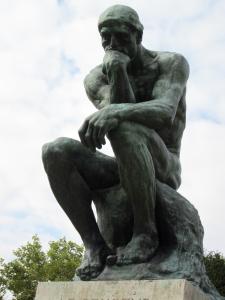 In my recent post Should America Start Outlawing Religious Groups I talked about Russia listing Jehovah's Witnesses as an "undesirable" religion. Being a member of an undesirable religion in Russia is a criminal offence. So, it's not too much of a stretch to conclude that Russia (a communist / atheist nation) could send soldiers armed with Kalashnikovs to round up believers who practice certain religions.
What's our most comprehensive understanding of what a militant atheist is? It's a person who really, really opposes Christianity and other religious faiths. One can spot them on forums everywhere, engaged in all-out offensives against the proponents of religion. These militant atheists may not be brandishing weapons, but their verbal cause much psychological harm.
Which is interesting when you factor in that atheists don't have an organized set of beliefs to defend. How can one defend an ideology when they don't follow an ideology?
Christian fundamentalism defined
Fundamentalist Christianity is a form of Protestantism that is reactive to modernity and attempts to make a militant defense of "the fundamentals" of Christian faith.
Unlike militant atheists, some Christian fundamentalists do wear fatigues and brandish weapons. Like these Christians in the Rod of Iron Ministries.
But at the risk of being labeled a Christian apologist, I'd say many Christian fundamentalists are getting wrongly lumped in with white nationalists, other radical evangelical sects—and frankly, just kooky cults which promote violence under the banner of religion.
Perhaps our best understanding of what a Christian fundamentalist is . . . is a person who really, really believes in the inerrancy of the Bible. I.e., that every jot and tittle should be followed. Moreover, that the laws of our land should be governed by Christian laws of morality much like fundamentalist Islamists think the world should be governed by Sharia law.
Dem's fighting words
Either or, dem's fighting words as far as this atheist is concerned.
I may not believe in gods, but I also don't believe homosexuality is punishable by death.
"If a man lies with a male as with a woman, both of them have committed an abomination; they shall surely be put to death; their blood is upon them. Leviticus 20:13
Nor do I believe as the Qur'an teaches,
"Those who commit adultery, men or women, give each of them a hundred lashes" Qur'an 24: 2.
Obviously, atheists live by a code, or a set of ethical principles that are worth fighting and dying for. (And figuratively fighting for in online forums.) Personally, I'm okay with the ambiguity, of not following a prescribed set of religious values to give my life value. I spent decades living in a fishbowl; following the 10 commandments and about a zillion other unspoken rules of conduct that every good Christian must do to remain in the good graces of his church. As an atheist, I'm content in simply aligning myself to a standard code of values one can find beautifully conveyed on many a humanist or secular website.
Here's a wonderful guideline on how to live a meaningful life without religion.
Brace yourself. Religion is not all bad
I did want to get to the meat of this post which I alluded to in the title: Are You a Militant Atheist or a Christian Fundamentalist? This isn't a misprint. What I wanted to throw out as food for thought is this: Aside from the obvious differences in ideologies, my question would be, do you still possess an open mind?
Because the tactics used by militant atheists and fundamentalists are similar. Both sides feel strongly about what they believe, and both lack a willingness to hear the other side out. Neither side seems willing to give an inch, and even less willing to concede when the other makes a valid point. While both sides feel free to argue their points, what's getting lost is the intellectual ability to remain a steadfast freethinker and understand how valid those opposing points can be.
Religions have been a source of comfort for many for tens of thousands of years. Throughout this time, there have been periods in history in which organized religion was leading the charge in the acquisition of knowledge and spiritual growth. Those who follow religions then, have much to contribute to help us all better understand both pathways of discovery.
Atheism, on the other hand, isn't a new phenomenon of the modern age. There have always been atheists; people who either refused to follow gods or who opposed the horrors and depravities of the religions of their day. What atheism has to contribute, is in helping individuals to be rational and objective thinkers. To free believers from being mindless followers.
Thinkadelics Related Articles