While traveling in Oregon this summer, I went into a souvenir shop and purchased a couple of mood rings for my grandkids. Perhaps you had one when you were a child? If you've forgotten what they are, they're rings that you slip over your fingers, and they're supposed to change color based on the emotions you're feeling.
After I gave them to my grandchildren, they were mesmerized for the rest of the afternoon. They believed the rings to be magical. Later in the evening my granddaughter approached me and insisted I hold the ring I gave her in the palm of hand so she could discover what mood I was in. After checking the ring's color, she grabbed it out of my hand and looked dejected.
"Grandpa," she said, "You're always in a good mood."
I didn't have the heart to tell her that I didn't live in a perpetual state of bliss. But she'd figured out by then that the ring had the power to lie. Sure, it changed color, but the color was not matching her true moods.
About a week later I saw my grandson still playing with his ring and he looked even more disappointed. Irked, in fact. I asked, "What's wrong?"
He said, "My mood ring says I'm happy, but I'm not."
Except in his case, he was mad, but he just didn't want to feel happy. And the more the ring told him how happy he was the more infuriated he got!
My grandson's seven. This got me to wondering why he was choosing to be unhappy instead of happy. Do we really start developing our tendencies to be negative at such an early age?
The people who don't like people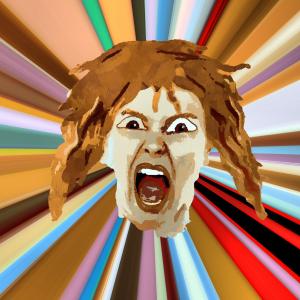 Around 2006 my family and I moved up to what's known as the Last Frontier, Alaska. Being new residents, we were called Cheechakos. This is a jargon term from the Chinook language of the Pacific Northwest. In contrast, residents who have survived at least a few Alaskan winters become Sourdoughs.
The origins of the word Sourdough are less known, but I personally think it has a lot to do with the overall mood or outlook of longtime Alaskan residents. Many are tough, resilient loners who homesteaded in the Alaskan wilderness and survived many brutally harsh winters.
This might not be the most politically correct thing to say . . . but if you've ever lived in Alaska you'll understand why I say this: There are people in Alaska that just don't like people. I mean, they're human beings and all that, but they don't like their own kind; their own species.
My experience was that many of these Sourdoughs . . . well, had the persona of rising sourdough bread. Aside from their resiliency, you could tell they harbored a bitterness about life was that heaving within them. I've had my run-ins with a few of them, when saying even "good morning" would set them off with deep seeded rage.
All of which makes me wonder . . . Do people who don't learn to control their anger at an early age later develop more intense forms of negativity and pessimism? Are they the ones who end up as the person sitting alone at the senior living care facility because nobody can stand to spend time with them?
The relationship between truth and mental health
But you know who takes the cake these days for being some of the most visibly miserable people? Conspiracy theorists.
Every conspiracy theorist I meet or converse with is filled with an undercurrent of rage. Much like Cheechakos, they don't seem to like people either. Like even their own neighbors, because somehow they've gotten it in their heads that their neighbors have become the enemy.
Since conspiracy theorists tend not to rely on facts, their minds seem to be always in turmoil. Upon hearing an avalanche of QAnon prophesies one day, they can never rest assured that those prophesies will be fulfilled the next day. They seem to while away their days in a state of panic, scouring the internet for proof that what they were told yesterday is actually true.
Their sense of paranoia is also obvious even to most casual observers. Whether exploding in fits of rage at school board meetings, or being duck-tapped to airline seats for refusing to wear masks, as time marches on they are becoming more aggressive and hostile by the day.
Which got me to wondering . . . Is there a correlation between the truth and one's mental health? Do individuals who have a firm grasp of reality tend to be more content and optimistic? And does believing in lies and falsehoods lead to being an angry, miserable pessimist?
Thinkadelics related articles
Oh My Goodness! Breaking Free of the Idea that People are Rotten to the Core