It happens all the time. You're an atheist chatting with a Christian about their beliefs, and they don't know their Bible as well as you know their Bible. So, what do you do?
This morning I took the bait and took the "Ultimate Bible Quiz." I'm sad to report I didn't ace it. But I did score 45 out of 50, which was enough to get an A.
For the record, I've stepped foot in a church only half dozen times in the last 30 years. To be entirely forthright, I have a degree in religion which gives me a slight edge. That said, I'm often flabbergasted and frustrated when conversing with Christians who don't know their Bibles.
I wonder if this kind of situation happens with believers. Do they, for example, run into situations in which they know and understand more about atheism than atheists?
A few questions on the quiz . . .
One of the questions I found comical such as: How was Eve created?
She came from Adam's rib.
She rose from the sea.
She was created from the stars.
She rose from the ground.
These answers are amusing, because given the inherent speculative nature of supernatural beliefs all four answers are entirely plausible.
In fact, answer #3 might just be scientifically provable!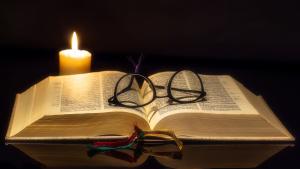 Some of the questions proved more challenging: What's the very last word written in the Bible?
Now, give yourself some props if you know this one. It's the word, "Amen." And give yourself bonus points if you also know the first phrase in the Bible. Which is, "In the beginning."
This next question I missed. Yet, I bet fewer than 5 in 100 Christians would know it too. On what day of creation did God create mankind?
Well, that depends on which creation story a person is using to understand the order in which God created mankind.
Is it creation story #1, which runs from Genesis 1:1-2:3? In which case the answer is God created mankind on the 6th day.
Or is it creation story #2, which runs from Genesis 2:4-2:25? In which case the precise day when mankind was created is unclear. (Although this account clearly states that animals were created after mankind.)
For those interested in theology, this website outlines the contradiction in the two accounts in layman's terms.
If you'd like to take the test yourself follow this link.
Thinkadelics Related Articles