Who are the two most influential Catholics in the world? President Biden and Pope Francis. So, remind me why American taxpayers are helping to fund their Vatican fireside chat.
"The world's most powerful Catholics — President Joe Biden and Pope Francis — held 90 minutes of talks Friday in a session that blended the official and personal sides of the most devout US leader in decades."
Yes, their meeting suggests that the line between separation of church and state has been crossed—again. Which should get under the skin of freethinkers, but it should even irk the followers of all faiths, because the president is not meeting with the leaders of their respective religions.
As far as the optics go, the two met because they are both Catholics and Biden was seeking spiritual inspiration.
"Biden, alongside first lady Jill Biden, returned to the Vatican to meet a Pope who has provided both familial comfort and ideological inspiration to a President whose faith has long underpinned his public and private lives."
The best reason I can offer as to why their meeting together might be justified, is precisely because it is important that the most influential political leader in the world meet with the most influential religious leader in the world.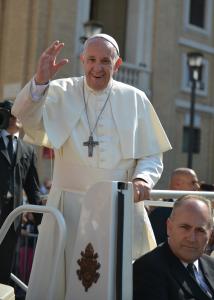 "Biden thanked His Holiness for his advocacy for the world's poor and those suffering from hunger, conflict, and persecution," the White House said. "He lauded Pope Francis' leadership in fighting the climate crisis, as well as his advocacy to ensure the pandemic ends for everyone through vaccine sharing and an equitable global economic recovery."
Are some people (particularly atheists and free thought advocates) going to get upset that their meeting represents a clear breach in the separation of church and state? Probably.
Still, their meeting just makes perfect sense. Despite all the negative effects of religion in our world, Christianity and its followers still perform a world of good deeds to alleviate human suffering. And there is no reason why the irreligious need to gripe about it.
Perhaps that day will come when the percentage of non-believers in the world becomes larger than the percentage of religionists. (As it stands today, the non-religious represent roughly 16% of the global population.) Perhaps only then, will humanists and other secularists be able to prove to the world that our values can also make the world a better place.
Personally, I look forward to that day, but it's still far off in the future.
Thinkadelics Related Articles
The Follies of King Solomon and His Attitude Towards the Poor