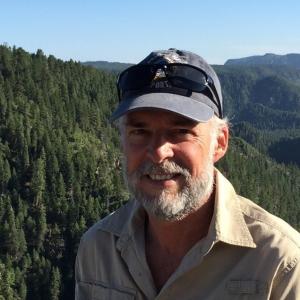 I've worn many hats in my 5 decades of life. A few of the most unusual experiences I've had was stuffing 300 plastic horse heads an hour at a stick-horse factory, driving 18 wheelers across America and city buses in San Antonio, being a professional vertical skater and skating with a few greats, gigging as drummer, and I even knocked on doors to sell burial plans and coffins!
After finding religion in California and earning a BA in Religion in Texas, I preached as an associate pastor in Iowa, served in the army in Germany, taught English in South Korea, and (along with my wife) founded what would become the second largest hospice agency in Austin, Texas back in 2000. Later on, I drifted through St. George, Utah for three years, then headed to Alaska for about ten years. There I worked as a manager for a trucking company, but I also owned a couple of retail music stores. On the weekends I gigged as a drummer for a popular band. But the winters became cold and long, the craft breweries were nonexistent, and the bears made it scary to mow the lawn. So, the family and I migrated south to the pacific northwest.
All told, I've had roughly 35 jobs, a handful of businesses, and even a few failed attempts at starting two non-profit partnerships. If I have excelled at anything, it's gaining life experiences, which gives me a lot to write about here on Thinkadelics.
On the road to being a freethinker …
I grew up Lutheran but converted to Seventh Day Adventism in 1980. After earning my undergraduate degree in 1986 I worked as a professional and lay minister until parting ways with religion in 1990. I spent the next 14 years floundering in agnosticism until 2004, at which time my search to find any reason to believe in gods came to its natural conclusion. For the last 16 years I've been a freethinker.
What's Thinkadelics about?
Well, the teacher in me (the one which occasionally wears a tie), would state this for the record:
Thinkadelics is about articulating the mind-expanding experience of being a freethinker; one that is filled with aesthetic wonder and soulful wellbeing. And the Art of Free Thought is my way of saying this experience can be learned and cultivated.
You see, there's a lot of secular, humanist and atheist websites out there which offer a great platform where people can debate the merits of their beliefs. But having spent 30 years as a freethinker, I've tired of combating and blasting religion, and I'd prefer to offer a place that expresses the benefits joys of being a freethinker. In other words, it's high time to start offering good reasons why people should leave religious servitude, rather than to keep mocking their faith.
That said, the writer in me wants to express that Thinkadelics also encompasses my philosophy about putting words to paper. It's free speech on steroids. Although my dream in life has always been to make a living as a respected author, I've pretty much given up on that dream. But before you throw a pity party on my behalf know this: not writing for commercial purposes is liberating. Other than respecting the normal rules of verbal etiquette, I am entirely free to express ideas without the fear of literary reproach.
With this in mind, you are apt to find posts on Thinkadelics that span the spectrum from psychedelic forays shattering conventional perceptions about life, to serious theological or metaphysical essays, to creative musings.
Your comments and emails are welcomed. scottsrs at gmail .com
BOOKS
Picking Wings Off Butterflies, A true-life memoir about raising a child with a traumatic brain injury.
Blind Guides, published in 2003. An international thriller