Books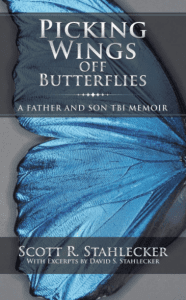 Click to view at Barnes and Noble.
An engaging memoir centering on the author's son who suffered a traumatic brain injury at age six. In the decades that follow, it reveals their tumultuous — yet endearing — relationship as they each tried to find a way to move past the tragedy to live meaningful lives. And yet, just as life began turning a corner for them and was heading in the right direction it would be forever derailed by the American Justice System.

Humorously written but brutally honest, its pages are filled with tales spanning adventures ranging from the taboo to the divine. Be prepared to delve deep into the darkest motives of the human heart — and paradoxically — to be nourished by the tenacity of the human spirit to make the most of life in the most difficult of circumstances.
PREVIOUSLY POSTED CHAPTERS: Chapter 1 / Chapter 2/ Chapter 3/
---
Penned in 1996, set in 2013. When due to the influence of terrorism, religious fundamentalism is thriving and has greatly influenced the political and cultural climate of America. Laws have been enacted to reestablish America as a God-fearing nation. Basic civil rights are restricted, freedom of speech is suppressed, and artistic expression is becoming a thing of the past. Stace Manning, a photographer with a taste for the erotic, is prevented from exhibiting his work at a religious university and blames Rick Forstein for the injustice. Ignoring his need for revenge, Stace travels to Frankfurt, Germany to rekindle a passion for his craft, and falls in love with a reporter, Eva Burtman. Eva is investigating a computer virus built to indoctrinate converts from being unleashed on the Internet. Through a twist of fate, her investigation leads her to the conclusion that her lover, Stace, is linked to the creator of the virus, Rick Forstein. In order for Stace to prove his innocence, he must find and confront Rick, a nemesis from his past.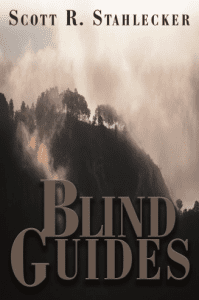 ---
Series: Conversations About God
A Freethinker's perspective: Speculating about God's emotional stability, intelligence, and creative powers.
Part 1: What Does God Look Like Without His Robe On?
Part 2: Exploring God's Intellectual Deficiencies … Like Where Did He Put the Car Keys?
Part 3: How Does God Think? Picking His Brain and Looking for Details
Part 4: Why a Creator God Cannot Exist
---
Series: Meditation for Freethinkers
Whether you're sitting in the sand on a beach, perched on a cliff in the mountains, or sitting on a cushion; taking the time to contemplate your thoughts is one of the best activities a freethinker can do to expand their freethinking skills.
I've been an avid meditator since 2012, after reading Sam Harris' book Waking Up: A Guide to Spirituality Without Religion. Since then, I've read a wealth about meditation including the practices of Tibetan monks to the latest in scientific research.
Freethinkers (understandably) are skeptics. We've developed our mental sensibilities to thoroughly examine the information we allow into our heads — especially if that information involves religious, philosophical, or political ideologies. In the years I've been meditating I've learned to understand the value of this ancient practice, but to also to steer clear of its religious baggage.
While I am no guru, I've begun putting together insights on Meditation for Freethinkers, along with additional posts and resources on how meditation enhances The Art of Free Thought. It's a work in progress, and one I hope to put into book form someday. Until then, I'll posts links below which relates to these areas.
Meditation for Freethinkers: A Quick-Start Guide
Meditation for Freethinkers: Top Three Concerns
Introduction: Increase Your Freethinking Skills Through Meditation
Series: Finding Your Mental Sweet Spot
Balancing Life In a World Gone Mad
---
Resources
Thinkadelics Table of Emotions and Mental States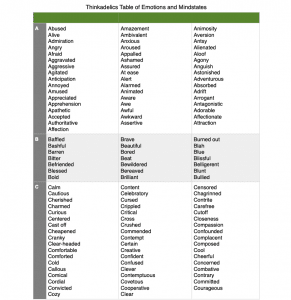 Click to Download