By Mark W Gura, CW Brown, and Nina Rose Marina
An old meme which you are probably used to seeing says:
"When you wish upon a star, you're actually a few million years late. The star is dead. Just like your dreams."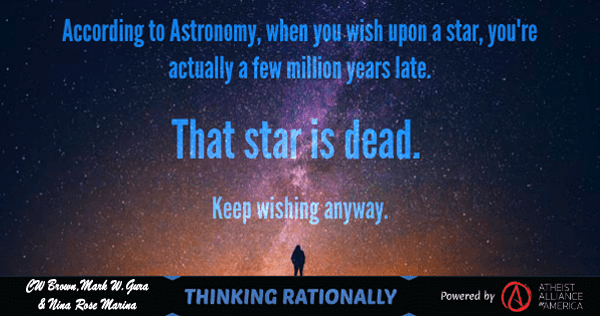 (new version of the meme)
Upon closer examination, this old meme doesn't make much sense, so we changed it a bit above.
If you see a bright object falling in the sky, it is not a star even though some may call it a "shooting star." They are rocks or dust particles that hit earth's atmosphere from space. They are meteors. Stars do not fall.
Let's assume that someone does wish on an actual star. Stars are the stationary objects that we see in the night sky. Those bright points of light that we see as we look into the dark abyss are actually exploding balls of gas, mostly hydrogen and helium. They are nuclear furnaces that make new atomic nuclei from pre-existing nucleons, primarily protons, and neutrons through a process called stellar nucleosynthesis. We can see them here on earth because they burn so bright and we are able to see their light.
Our sun is also a star, but the reason it looks so much larger and brighter than the other stars is that it is located closer to earth (approx. 92.9 million miles away, depending on the elliptical orbit). When we see our sun directly, it's light drowns out the light coming from all the other, smaller stars, so this is why we only see the other stars at night when our location on earth has turned away from the sun.  
At times, stars flicker. Space is a huge landscape that seems like nothingness and emptiness. The stars that we see at night are incomprehensibly far away. Some are so far away that the light that shines from them took hundreds of thousands of years, or millions of years to travel from the location of the star to reach us. Keep in mind, light travels 9.5 trillion miles in a year, this measure is referred to as a "light year."  
When you look at stars, the light that you are seeing might be millions of years old or older. It left that star at some point in the past. During that time, some of those stars might have reached the end of their life cycle. They might have already died, burned out and stopped shining. You are time traveling back to a light that once existed and has now changed, and this is amazing to think about.  
Imagine if that light was a picture of you, beamed to someone to some distant planet and it took that picture 186,000 years to travel through space to some far away planet. The recipient would eventually see your picture, but you would no longer exist. Your entire world would have ended 186,000 years ago.
These observations are factual and are based on observable data that can be perceived, measured and confirmed. However, there are some things about our Universe that we do not yet know. For example, one of the most exciting problems in physics today is the fact that there is far more matter in the Universe than we can see. We keep finding evidence for more matter, and we have an idea of how much it would take to eventually stop the expansion. The motion of stars in galaxies and the motion of galaxies in clusters imply that there is about ten times as much mass in the Universe as in the luminous objects we can see. The indirectly observed non-luminous matter is called dark matter. Why is dark matter a problem? For one thing, we do not know what it is. It may well represent 90% of all matter in the Universe, yet there is a possibility that it is a completely unknown entity—a stunning discovery, once we learn what it is. Dark matter has implications for particle physics. We do think that it is an early component of our Universe. It may imply that the Universe contains neutrinos that have smaller masses than expected, or that there exist unknown types of particles in the Universe, and our research into dark matter may answer these question, but we need to learn more. Unfortunately, whenever there is an unknown, some people, especially religious types make hypotheses that sound like facts.  
It might strike you as odd that rationalists, atheists, and agnostics are pondering life, death, dark matter, and travel through time, but atheism is just skepticism of assertions which do not prove supernatural claims made about gods. As long as we label hypotheses as hypotheses, facts as facts and do not delude ourselves into thinking that faith is anything more than an opinion, this too meshes with our atheist outlook. Hope is a good motivator to our well being and wishing on stars can help make us feel better, keep wishing on stars, enjoy life and the wonders of the Universe, just don't base beliefs on feelings.