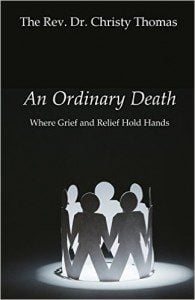 At this link, and this link, you'll find my book, An Ordinary Death.  When my mother was dying in 2010, I blogged extensively about what we went through as children and caregivers as we faced the death process that has become increasingly common in the US.
We faced mounting medical bills and more treatment being prescribed for a woman who had no hope of meaningful life left.  We brought her home under Hospice care and then discovered the massive holes in the Hospice system and the craziness of a Medicare reimbursement policy that would happily pay for fruitless procedures but does nothing to cover the actual costs of helping people die gently.
I think most just want an ordinary death, and it will be denied to nearly everyone.  This book, both one women's story and the larger story of millions of others, asks, "How Shall We Then Die?"
There is also a free study guide available to help us each walk through those important end of life issues:  ordinary death study guide
Here is an excellent summary and review of the book.