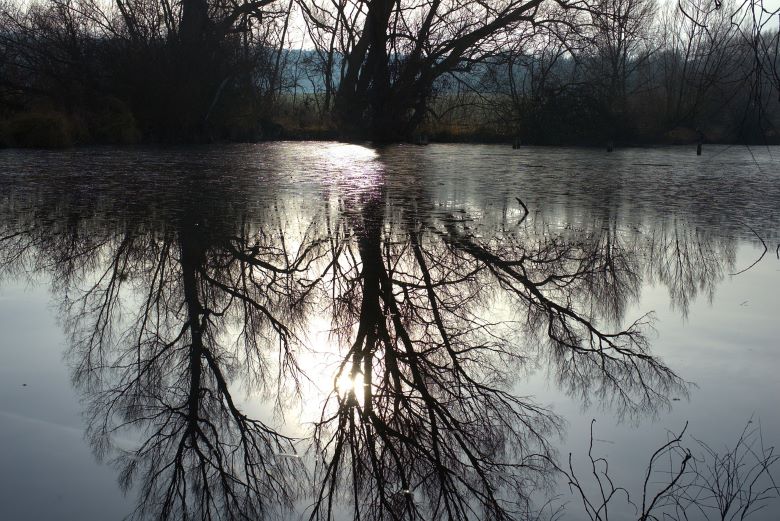 I find myself holding hands with Frustration in the stagnant waters of Complacency. I wouldn't say exactly that it's refreshing, but it does give some relief during Anger's rising temperature. There is wind, lots of wind and I stand here wondering if this is truly the place God has called me. The view's not bad from here but is it healthy? The gloomy clouds close in. I can no longer see the SON.
Fear's Fungus Creeps In
I'm surrounded by beautiful Oaks of Righteousness also gleaning from Complacency's stagnant water, and I watch as they sway with each gust of wind. At first glance, it seems wonderful, but the longer I stay in this stagnant water Fear's fungus creeps up my legs. I hadn't noticed it before but because it has become so thick around my ankles, I almost feel trapped by its grip. I glance at the surrounding Oaks and realize we all have Fear's fungus—This must be his breeding ground.
As the wind continues to bustle the mighty oak's leaves, I'm relieved that I am not the only one shaken by this wind. Fear is not bias. If I could just create a current in Complacency's waters, would it, would I, make a difference? My feet are stuck. This fungus is heavy.
I struggle to remove Fear's fungus that has now reached my knees. With each passing moment, I watch it spread.  Panic and Fear gather close and suggest I just leave it alone.  I realize, though, that by standing in this stagnant water I have fed Fear's fungus, allowing it to thrive. It has caused such an infection in me that Devastation and Deceiver have become my best friends.
Inadequacy rubs my shoulders while Incompetent composes my next endeavor. My emotions are high, and I realize I haven't seen The SON in many days. I manage to unstick my left foot and then my right. I slowly navigate through the water trying to find even the tiniest glimmer of light. There is a slippery slope ahead. I'm not sure I can manage alone.
As I ponder this dilemma, I remember. I am never alone! Hebrews 13:5–God promises me that He will NEVER leave me. So, I bow my head and pray that The SON will once again shine on me and destroy Fear's fungus that has me trapped in Complacency!
Instantly, the SON shines. The clouds dissipate. The SON'S rays of light pierce the fungus. I watch as it recedes back into the stagnant water. Something stirs within me. My feet, finally free of the fungus, move with force through the water. I see Love ahead of me and I'm drawn to HIS presence.
With everything in me, I move through the stagnant water toward Love's open arms. Splashing the water of Complacency up and away from me in every direction, nothing else matters. I'm driven. I keep my eyes locked on Him. The closer I get the more fragrant He becomes.
I crash into Him hard. I want to be as close to Him as possible. He envelopes me in His embrace and I breathe in His sweet fragrance. Refreshed is an understatement! The stagnant waters of Complacency are nothing compared to Him. How could I have ever thought otherwise?
I know now that I must keep moving forward or I will, once again, find myself trapped by Fear's fungus in the waters of Complacency.
**Have you become complacent in your faith?
Comment below and tell me how you keep moving forward so you don't become complacent.