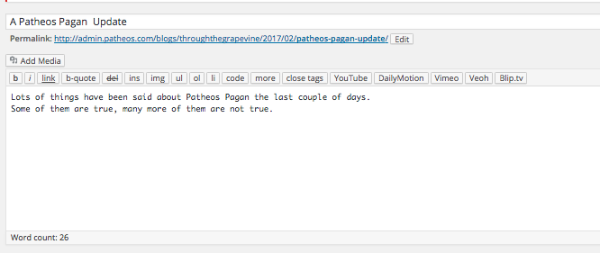 If you've been on social media or at any Pagan blog site over the last three days you've probably read something about Patheos Pagan. Many of the things you are reading are true, and many more are not true. In September of 2016 Patheos was acquired by BN Media. BN Media owns several properties outside of Patheos, most notably Beliefnet and a company called Affinity 4. No one has made any effort to hide this change, and to the credit of BN Media they have been wonderful to work with over the last six months.
A few days ago the writers at Patheos Pagan were sent new blogging contracts. As a big company, Patheos, and now BN Media, want all of their writers to sign a contract. This is pretty standard in the world of online publishing. For some in the Pagan Community it seems a little strange, but that's only because most Pagan sites are independently owned and operated and don't have hundreds of thousands of daily readers.
A few of the provisions in that contract have been taken radically out of context (at best). The most contentious provision is the one that's being the most distorted. It asks writers not to write despairingly disparagingly about Patheos or its "affiliate partners." In this case the affiliate partner is Beliefnet, and nobody else. Such provisions are common amongst online entities. The Huffington Post is not going to host an article that says negative and untrue things about the Huffington Post, and not surprisingly, either is Patheos.
BN Media does own a business called Affinity 4, and it's the connection to Affinity 4 that's the most problematic to many people, but I think that problem is not being addressed honestly. Affinity 4 is a cellphone carrier that gives 10% of their customers monthly bill to the charity/non-profit of their (the customer's) choosing. Affinity 4 does not give money to any of these charities/non-profits, its customers do through their phone bill, and at last count there were over 40,000 groups that have received money through Affinity 4. Many of the charities/non-profits are affiliated with conservative groups that many of us, especially in the Pagan Community, disagree with. Groups that receive money through users of Affinity 4 include such organizations as the NRA, and St. Jude's Children's Hospital, it's a wide ranging array of groups, and not all of them are necessarily Evangelical or conservative.
In no way shape or form has Patheos told its writers that they cannot criticize groups who receive money through the customers of Affinity 4. One of the list of groups we "are not allowed to disparage" includes: The National Rifle Association, Gun Owners of America, Billy Graham Evangelistic Association, Focus on the Family, Promise Keepers, Concerned Women for America, and American Family Association. All of those groups have been taken to task by a multitude of writers at Patheos over the years, and those posts have never been deleted. For the record I will tell you exactly how I feel about all of those groups:
National Rifle Organization: An organization that perpetuates gun violence, shuts down common sense gun laws, and I think is responsible for many of the deaths that occur via gun violence. I hate them.
Gun Owners of America: See above, and just like the above organization, they lie and twist facts around.
Billy Graham Evangelical Association: Franklin Graham is a terrible man who has distorted the legacy of his father, which I don't think was all that great to begin with.
Focus on the Family: There are few groups I hate more in the world than Focus on the Family. Their focus is on taking away rights from the LGBTQ community. I hope they go belly up. With all of my heart I despise Focus on the Family and many of the ass-hats who work there.
Promise Keepers: The only promise they keep is one of intolerance.
Concerned Women for America: This group is not really concerned with women, and is concerned only with promoting Evangelical Christianity.
American Family Association: This group has nothing to do with families, and everything to do with promoting things they see as Biblical.
We are free to critique whoever we want at Patheos Pagan (with the exceptions of Patheos & Beliefnet), always have been, and always will be. To suggest anything else is simply false. We are also free to criticize Donald Trump to our heart's content-Donald Trump is awful and an illegitimate President.
We are also free to curse if we choose too, damn it. As a big professional website, that needs advertisers to survive, it's just that Patheos would prefer us not do that in the titles of our articles, and to only do it when it feels necessary. We are adults here, and Patheos (and BN Media) realize that and respect it. It's about advertisers, and good advertisers (we want to avoid the spammy ones!) don't like lots of hardcore cursing, that's it.
Also none of the money generated at Patheos is going to groups like Focus on the Family either. Ideally, it's going to go to our writers! Yes, our new contract lowered payments for some people (Patheos has never been profitable), but the minimum payment thresholds (based on page views) were previously too high for most writers to reach. With a lower threshold, more writers than ever will have an opportunity to make money here. Is it a lot of money? Sadly it's not, but most blog spaces don't pay their writers anything! And there are writers at Patheos who do make a living simply by blogging, though none of us here at the Pagan Channel. (There are a few places in the Pagan world that do pay their writers-and its certainly not a "living wage"-, but they are few and far between and don't publish everything submitted to them.)
Was the language in the new contracts given to the bloggers at Patheos a little blunt? Yes, I think it probably could have been handled better, but the world is far from perfect. Are there people who work at BN Media whose political ideologies I'm uncomfortable with? Yes, but that's true at almost any business. There are also lots of people who work for BN Media whose politics are progressive (like my own). This is true just about everywhere. I feel as if I should add that BN Media certainly has Evangelicals on their board of directors, but they also have people who are not religious on their board. They are not specifically an Evangelical company.
The folks at BN Media have bent over backwards for the Pagan Channel since acquiring Patheos last Fall. They want us to succeed! They want our writers to be read! In the four months since they've been in charge of the platform they have removed one post, and that was because it contained things that were not factually accurate about the company. That's it, and by pulling it they probably gave it a bigger platform than it would have had otherwise.
There are large swaths of Patheos that are overwhelmingly liberal, tolerant, and open minded. Visit the Nonreligious Channel (formerly Atheist-and this was in the works before the merger), the Muslim Channel, the Progressive Christian Channel, and the Spirituality Channel if you want examples. Why would any entity buy Patheos and then ruin what has made it great over the years? It's nonsensical.
I honestly believe that Patheos remains the best outlet for Pagan bloggers in the wider online world. It connects us to something outside of our own bubble and exposes our writers, and our world, to a greater audience than would see it otherwise. I'm proud that I write for Patheos Pagan and that my content is shared next to writers from a variety of different faiths. In this current political climate it's something we need now more than ever.
I'm Jason, I'm always available if you have questions or concerns about Patheos Pagan, and I will do my best to answer your inquiries with honesty and integrity. I'll even give you my personal email, panmankey@gmail.com so you know that it's only us communicating.
Thanks for reading over the years.
Bright Blessings,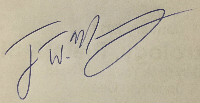 Jason Mankey
Channel Manager Patheos Pagan