Well, technically he's my mate's brother. But Tom Norfolk has designed a battling card game called Satk Bots. Here are the pertinent details: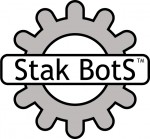 Stak Bots is a new and exciting vertical battling card game, suitable for older kids through to strategy craving adults.
* Utilise 16 unique Bots to destroy your opponents * Open turn structure: carry out actions on your turn in any order, as much as you want * Play casually using a shared deck or get serious and create your own Bot army * Unpredictably strategic gameplay: instant entry effects create chaotic plan-unravelling chains * Customisation: add more Staks, more rules and more Bots to keep the game challenging
Review and testimonial snippets:
"I genuinely think StakBots is one of the best card games I've played in recent years." "very engaging gameplay .. moments of soaring triumph and crushing defeat!" "Bute of a game. Simple to play, tactically challenging, infinitely addictive."
So, if you're looking for a Christmas stocking filler, you are going travelling and need something to while away the hours, or need a present for a neohew or niece, then look no further!
Find out more at www.stakbots.com (: ]=