Wow. That is something. Talk about an interesting stat. Iceland Magazine reports: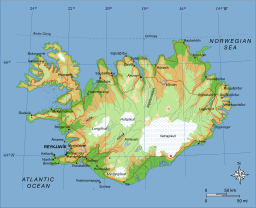 Iceland seems to be on its way to becoming an even more secular nation, according to a new poll. Less than half of Icelanders claim they are religious and more than 40% of young Icelanders identify as atheist. Remarkably the poll failed to find young Icelanders who accept the creation story of the Bible. 93.9% of Icelanders younger than 25 believed the world was created in the big bang, 6.1% either had no opinion or thought it had come into existence through some other means and 0.0% believed it had been created by God.

The poll, which was conducted by the polling firm Maskína on behalf of Siðmennt, The Icelandic Ethical Humanist Association, an association of Icelandic atheists, found that 46.4% of Icelanders identify as religious, which is the lowest figure to date.
There is also growing suport for a full separation of church and state, which, as it stands, does not exist in Iceland:
72% supported the full separation of church and state and 28% oppose the separation of church and state. Currently the Icelandic constitution stipulates that the state church of Iceland is the Icelandic Evangelical Lutheran Church.
This can only be a good thing for the progress of modern society and for global trends in religiosity. However, prosperous European nations are a world away from the Middle East and other religiously entrenched nations.
That said, we'll take this one!