I, like many others in Britain, was absolutely shocked at the murder, yesterday, of Labour MP Jo Cox as she was doing work in her constituency in Yorkshire yesterday. As many of my readers are non-UK based, I will set out the context and add some necessary detail.
We are in the throes of an EU referendum where the public have been asked their opinion on whether we should leave the European Union and strike out on our own, or whether we should stay in. This debate has gripped the nation and has been all people can talk about in the media and pretty much everywhere else. I will return to this later.
Jo Cox was, until yesterday, a Member of Parliament for Batley and Spen in Yorkshire. She had been an MP for just over a year, after having worked in charity and international aid (working for Oxfam, Save the Children, and the NSPCC). By all accounts, she was the brightest of upcoming stars. Fiercely intelligent with sparkling humour and an unrelenting work ethic driven by a desire to make the world a better place. She was one of those rare, rare MPs who are in the job to improve the lot of others, whose work ethic and moral ethics are part of their DNA. The tributes paid to her show this in abundance. Even Andrew Mitchell, Conservative MP, writing in the Daily Telegraph, said she had been a "five foot bundle of Yorkshire grit and determination absolutely committed to helping other people". Her campaigner husband said:
Jo believed in a better world and she fought for it every day of her life with an energy, and a zest for life that would exhaust most people.

She would have wanted two things above all else to happen now, one that our precious children are bathed in love and two, that we all unite to fight against the hatred that killed her. Hate doesn't have a creed, race or religion, it is poisonous.

Jo would have no regrets about her life, she lived every day of it to the full.
I could go on. For instance, I was moved to tears by what Labour ex-Leader Neil Kinnock, friend of twenty years, said about her in a BBC interview (edited version here). A Canadian MP and friend was moved to tears in their Parliament.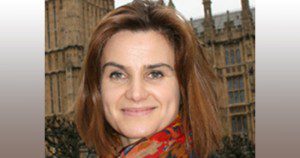 It seems odd to say this, since you wouldn't wish to shift death from her to anyone else, but why her? She was one of the most morally dedicated MPs (and this has been recognised by people cross party – both Cameron, PM, and Corbyn, Labour Leader, have waxed lyrical about her compassionate commitment) working in the Houses of Parliament. Why the brightest?
Why her, indeed. Well, she was shot and stabbed by someone shouting something like "Put Britain first!" Her horrific death on the streets at the hands of someone undoubtedly unhinged and motivated by the present climate is no coincidence. It wasn't a random choice. Cox has been working tirelessly in Parliament and outside to address the plight of Syrian refugees, and others. She, and her family, have been prominent campaigners for Britain to remain in the EU. The ethnic mix of her constituency has been a important in her success as a candidate. Jo Cox has defended the EU and has defended immigration. She even wrote a super piece in the Yorkshire Post about remaining in the EU being a better course of action for tackling the problems of excess immigration.
What is taking place in the UK is that the rhetoric is being ramped up on both sides. It is fairly similar to what is going on with Trump. And also similar is the fact that casual racism seems to be becoming more acceptable. Now, I am not saying, in a hasty generalisation, that all Leavers are racist. No, not at all. That would be silly and very wrong. The vast majority of Leavers are fine, normal people, as many of you reading this will be. However, within the Leave camp are some more nefarious organisations: the BNP (British National Party), EDL (English Defence League), UKIP (UK Independence Party) and Britain First (a Christian based racist organisation).
You see, what has happened is that this debate has polarised people and allowed their inner dark sides to come to the fore. When pressed and polarised, people move to their own, personal extremes. Think, if you will, of the Stanford Prison Experiment, or the (Stanley) Milgram Experiment, and you will see we are not so far from our dark sides. Anecdotally, I have been shocked by the strength of feelings shown by so many: ex-colleagues, members of my family, people I know on facebook. Here is a sample of quotes and happenings over the past few weeks:
"All Albanian immigrants should be exterminated." (Albania is not even in the EU)
"Most immigrants are criminals." (Completely false)
Someone I know said this: "I was by a complete stranger that if we remain, my daughter would be raped under Sharia law and there would be nothing I could do about it. I was shaking with anger. Racism and bigotry at its worst, and they dared to bring my family into it. Vile."
"If I was Prime Minister, I would sink all the refugee boats" (conflating refugee crisis with EU referendum)
"Shoot them." (Oh dear)
An ex-colleague has posted, between Leave memes and celebrating Britishness (which have been borderline or explicitly xenophobic), requests to bring back the golliwog. C'mon, Seriously? (Which he would not have done prior to the referendum)
So on and so forth. I posted, elsewhere, a super article by Polly Toynbee entitled "The mood is ugly, and an MP is dead", which is a superb read. in reply, someone wrote the seemingly acceptable comment "Both sides are to blame". Yes, both sides have upped the ante and the rhetoric, but I can hardly see anyone on the Remain side remotely stating anything like the comments mentioned above. It's not even close. It's a whole different rhetorical ball game. As the article states:
When politicians from a mainstream party use immigration as their main weapon in a hotly fought campaign, they unleash something dark and hateful that in all countries always lurks not far beneath the surface.

Did we delude ourselves we were a tolerant country – or can we still save our better selves? Over recent years, struggling to identify "Britishness", to connect with a natural patriotic love of country that citizens have every right to feel, politicians floundering for a British identity reach for the reassuring idea that this cradle of democracy is blessed with some special civility.
Now obviously most Leavers are not this way inclined. But not a small amount are. And the debate is bringing the worst out in people who would otherwise keep such inner demons in check. I have seen this with my own eyes, in people close to me. Indeed, everywhere. Which is precisely what seems to be happening with Trump and his success. The platform and constant talk of immigration gives the oxygen of confidence and credibility to views that would have, hitherto, been unacceptable. This is not to say that debates about immigration should be off the agenda. Indeed, immigration is, and rightfully should be, the main aspect of the EU referendum. Indeed, I actually believe if Remain had endorsed a policy of seeking to reform the free movement of people in some way, they would be in the lead in the polls. Immigration is an important topic, but it has been both hijacked and misrepresented. The misinformation doled out by the right-wing press has been nothing but damaging and certainly polemic.
As Toynbee says in her article:
This attack on a public official cannot be viewed in isolation. It occurs against a backdrop of an ugly public mood in which we have been told to despise the political class, to distrust those who serve, to dehumanise those with whom we do not readily identify.

There are many decent people involved in the campaign to secure Britain's withdrawal from the EU, many who respect the referendum as the exercise in democracy that it is. But there are others whose recklessness has been open and shocking. I believe they bear responsibility, not for the attack itself, but for the current mood: for the inflammatory language, for the finger-jabbing, the dogwhistling and the overt racism.

It's been part of a noxious brew, with a dangerous anti-politics and anti-MP stereotypes fomented by leave and their media backers mixed in. Only an hour before this shooting Nigel Farage unveiled a huge poster showing Syrian refugees fleeing to Slovenia last year, nothing to do with EU free movement – and none arriving here. Leave's poster read: "Breaking Point. We must break free from the EU and take control of our borders." Nicola Sturgeon, Caroline Lucas and many others condemned it as "disgusting", and so it is.

At a ward meeting this week my local Labour councillor in Camden, north London, showed us a sign that had been left on a member's car windscreen. The car had a remain poster on it and was parked round the corner from where I live. This is what the message said, printed in capitals (I've left the original spelling): "This is a lave [leave] area. We hate the foriner. Nex time do not park your car with remain sign on. Hi Hitler. White Power" – accompanied by racist symbols. The car's owner had passed it on to the police.

Rude, crude, Nazi-style extremism is mercifully rare. But the leavers have lifted several stones. How recklessly the decades of careful work and anti-racist laws to make those sentiments unacceptable have been overturned.

This campaign has stirred up anti-migrant sentiment that used to be confined to outbursts from the far fringes of British politics. The justice minister, Michael Gove, and the leader of the house, Chris Grayling – together with former London mayor Boris Johnson – have allied themselves to divisive anti-foreigner sentiment ramped up to a level unprecedented in our lifetime. Ted Heath expelled Enoch Powell from the Tory front ranks for it. Oswald Mosley was ejected from his party for it. Gove and Grayling remain in the cabinet.
I couldn't agree more. We are staggering around in murky, strange times, and I genuinely feel that we, as a nation, have regressed decades. Our liberal heart, which has long been cherished and has long served us well, is giving up, is being given up. The national life blood of modern liberalism which once flowed through our political veins, is becoming a treacled trickle.
I don't like what I am seeing, and I don't like where we are going.
As Toynbee concludes:
Something close to a chilling culture war is breaking out in Britain, a divide deeper than I have ever known, as I listen to the anger aroused by this referendum campaign. The air is corrosive, it has been rendered so. One can register shock at what has happened, but not complete surprise.
EDIT
Just to give you a feel of the narrative, here are some Daily Express headlines (the owner of which has given over a million pounds to UKIP):
And just as Cox is murdered, UKIP leader Nigel Farage is pictured in front of the most divisive poster you can imagine. Almost identical to a Nazi poster, and featuring non-EU refugees: