I was contacted the other day by the Brighter Brains Institute with regard to the humanist work they do with schools in Uganda. I remember reading about them in the New Humanist magazine some time ago and the fantastic projects they are involved in. The BBI mission is as follows:
Brighter Brains Institute (BBI) is a non-profit charitable organization in Piedmont, California that builds and supports humanist orphanages, schools, and clinics in western Uganda. Our projects are near the Congo border, generally in the Ruwenzori "Mountains of the Moon" with the BaKonzo tribe. We serve 3,000+ children.

Humanism advocates the goodness of human beings, and seeks rational ways to solve human problems. Schools we primarily help are secular, with BBI's humanist lectures taught to the children. (They're based on The Code for Global Ethics: Ten Humanist Principles). BBI helps 16 schools in the towns of Kasese, Kahendero, Muhokya, Nyakiyumbu, Kyarumba, Buhanga, Kanyenze, and Kisinga. Twelve schools are humanist, five are religious.

We fund tuition for orphans and poor children; we build schools, clinics, classrooms; we provide health care; we support girls equality, birth control, and sex education; we provide nutritious food; we give students shoes, AFRIpads, books, musical instruments, tech equipment, sports equipment; we aid teachers with salary stipends and educational materials; we support schools with chicken farms and motorcycle rentals; we enable access to fresh water; we publish books on African humanism.

Previous projects were funding an indigenous tribe in The Philippines, and producing 12 transhumanist conferences & debates.
That is by way of introduction to this guest piece, and an appeal of sorts, by Kabugho Victorina. Looks a very worthy cause, to me! Over to my guest: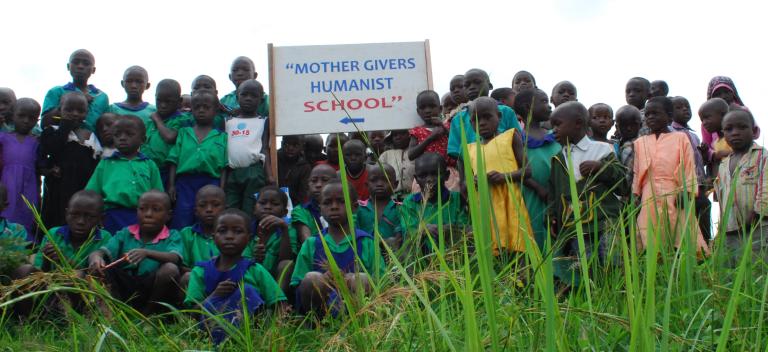 I am Kabugho Victorina, Chairperson of the Buhunga Thulibaghuman Women's Collective in Buhanga, a rural Ruwenzori village in western Uganda. We are 38 women.
We founded and we direct our Mother Givers Humanist School.
We are humanists. We believe in the Ten Humanist Principles given to us by our friends the Brighter Brains Institute in America. We are happy to read humanist beliefs in the essays sent to us and read in our classrooms.
We Buhanga Women are Humanists because:
Humanism does not believe in the harmful religious ideas that do not promote equality and good life, such as:
* Restricting using condoms whereby HIV/AIDS is killing many people.
* BOKO HARAM which wants to limit girls education.
* Inter religion conflicts and calling others as HARAM which means unwanted human beings.
Humanists rely on reason, logic and science to understand the universe and resolve life's problems. They don't believe in witchcraft or any kind of superstition.
Humanism promotes respecting both the poor and rich. Also it respects children and old people, and it believes one tribe deserves as much respect as people in another tribe, and people in one race are the equal of people in another race.
Humanism does not support war, they like peace to prevail every time.
Humanism promotes intelligence, education in school, kindness and generosity towards others – to create positive change in the world.
Humanism promotes health of people and environmental protection to make the world a good place to stay in.
Humanism promotes sharing with those who are unlucky and giving to the poor like orphans, widows, elderly.
Humanism believes in democracy.
Buhanga Women's Group is one of 12 humanist schools in western Uganda that the Brighter Brains Institute supports, and one of five women's collectives.
Kind donors have given us chickens, a clinic, lunch food program with goat meat, a new brick classroom with new furniture, a water pipeline, a water tank, books, and they sponsored our 13 orphans.
Brighter Brains Institute gave us our own website here: http://buhangawomen.org
Buhanga still has many needs that we present here and here. We hope other humanists in the world can assist us.
Thank you.