I could have been far more rhetorically robust there, but I didn't want to have myself filtered…
I'm sure you are well aware that Trump has got himself in the news again, on this side of the pond. He has taken to read retweeting someone who is a horrible piece of work, the darling of the far right, the odious Katie Hopkins.
LONDON needs a new mayor ASAP. Khan is a disaster – will only get worse! https://t.co/n7qKI3BbD2

— Donald J. Trump (@realDonaldTrump) June 15, 2019
and:
He is a national disgrace who is destroying the City of London! https://t.co/l3qcUS17jh

— Donald J. Trump (@realDonaldTrump) June 15, 2019
Hopkins recently got pretty much "owned", ironically, on Israeli TV by the former Israeli Ambassador to France, after making claims about French Jews (when she let them get a word in edgeways):
But, back to Trump. Here, he is making claims about how terrible the homicide rate is in London, And he is laying the blame firmly at the feet of the mayor, Sadiq Khan. This is such a simplistic view, especially when you understand that the police have been decimated by a decade of Tory austerity and cuts, and we have seen similar cuts to the welfare system and those organisations that work so hard to support young people in their communities.
The data is not on the side of either Trump or Hopkins. Not by a long shot. In fact, Trump should shut the hell up. Here are a few graphs that show that Trump has more to worry about back at home (from The Metro):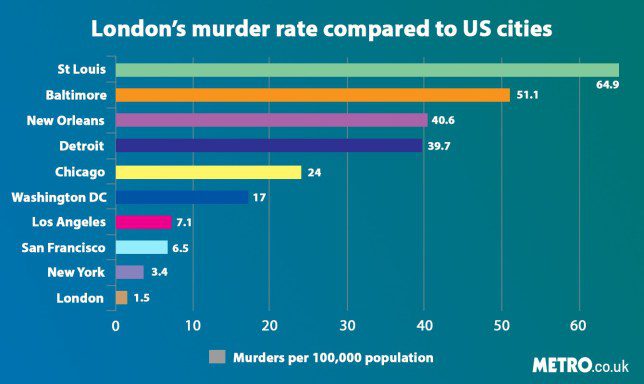 In the wake of five attacks in less than 24 hours in London, the US president branded the Mayor of London a 'national disgrace' and a 'disaster' on Twitter.

He said London needs a new mayor 'ASAP' as he retweeted a post from right wing commentator Katie Hopkins, which referred to the capital as 'Khan's Londonistan' and 'Stab-City'.

But if the president looked a bit closer to home, he might realise there are more than 50 US cities with a higher murder rate than London.

There were 132 murders in London last year, leaving the capital with a homicide rate of 1.5 per 100,000 residents. When you compare this with Baltimore, Detroit, New Orleans and St Louis, London starts looking a whole lot safer.

In 2017, 205 people were murdered in St Louis, Missouri, which has a population of just 318,000. That's like nearly double all of London murders happening in just one of its 32 boroughs.

The murder rate in St Louis is 64.9 per 100,000 residents, according to the Major Cities Chiefs Association Violent Crimes Survey, which is 43 times higher than London. In Baltimore the murder rate is 51.1. In New Orleans it is 40.6 and in Detroit it is 39.7.

Even in Washington DC, where Trump calls home in the White House, the murder rate is 11 times higher than London.
The problem is, Trump can make any inaccurate claim, or claim that is devoid of any rational basis, and his dog whistle comments will be read tweeted a whole bunch of times by his deeply cognitively dissonant following.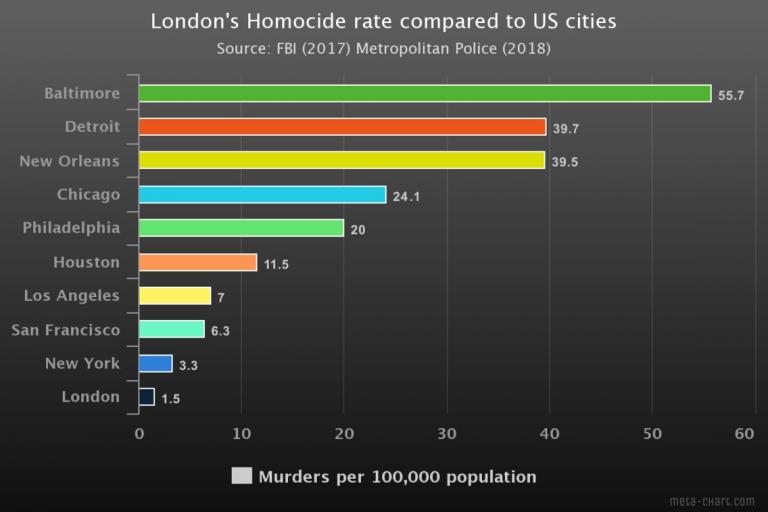 Trump appears to be sliding ever more into the world of fascism. He is already a deeply troubling megalomaniacal, narcissistic, authoritarian leader. Now he appears to be wanting to shut down any bad news, irrespective of how accurate is, in the hope that by deplatforming the messenger, the message evaporates:
Just two days before the president is set to kick off his bid for re-election, a top adviser said on Sunday that the campaign was cutting ties with three of its five pollsters to prevent further disclosure of survey data.

The polling showed Mr. Trump behind former Vice President Joseph R. Biden Jr. in several key battleground states, including by double digits in Michigan, Wisconsin and Pennsylvania. The results were confirmed to The New York Times by advisers to Mr. Trump, but when they became public, he called them "fake polls."

For days, aides to Mr. Trump have tried to figure out whom to point the finger at over the leak of the data, which jolted and infuriated the president. But in continuing to discuss it, aides violated a long-held unofficial rule of campaigns not to comment publicly on internal polling, even if the numbers leak.
Yes, he might claim this is about the leak, but, really, he is a petulant child when it comes to bad news. I really can't understand how people, including commenters at this blog, can still sing the praises of Trump in the face of the overwhelming evidence that he is a terrible leader in the anything but a moral benchmark. It is hopeful consequentialism of the highest order.
Let me remind you, of course, that Trump house defended the behaviour of collusion:
And it seems that to distract everyone from all these problems at home with the Mueller report and goodness knows what other scandals, Trump is trying the class it or starting a war. Like a very bad magician, Trump fumbles about in the Middle East in what can only be described as a very dangerous diversion.
As the classic meme goes: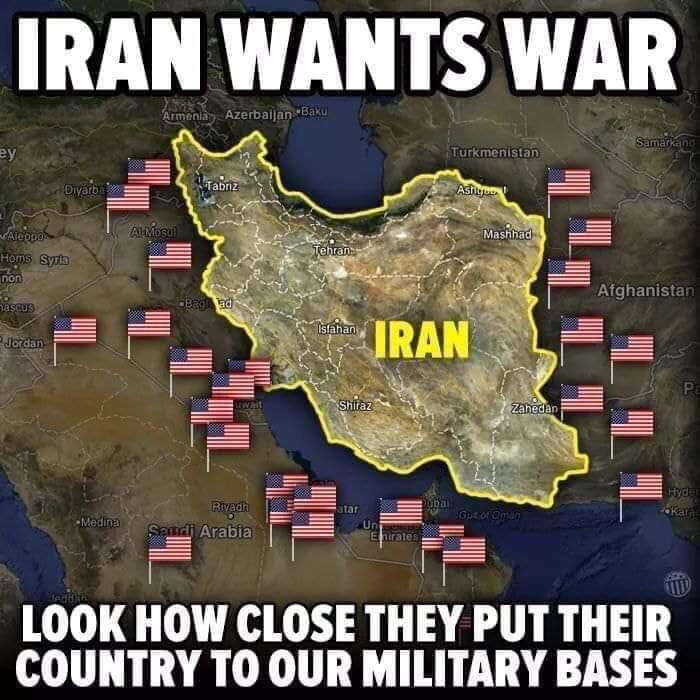 But he is hurting his own, and by extension America's, credibility. And, as I have previously said, he has singularly failed to drain the swamp, instead flooding it whilst at the same time bottling the fetid water and selling it to his supporters.
Alexander Nazaryan's book The Best People paints a distressing picture:
If all this sounds chaotic, it was and remains so. The Best People also describes how during the transition, Trump's "beachhead" teams took a lackadaisical approach to scoping out their agencies and departments, emitting little more than mere impressions of ineptitude and a dearth of seriousness. One official at the Department of Housing and Urban Development complained that Trump's team possessed only an "'elementary understanding' of federal housing policy". The nuts and bolts of government were not their thing. Then again, Trump is not much of a reader.

Members of the transition left to become lobbyists, notwithstanding a supposed lobbying ban. As Politico reported in May 2017: "Three months after Trump moved into the White House, at least nine people who worked on his transition have registered as lobbyists." Trump promised to drain the swamp. Instead, it has grown murkier than ever.
Troubling times.
And, yes, Trump is a twit.