An interesting thread has developed on the thread to the post concerning the Logical Problem of Evil (LPOE) – thanks to those involved. I thought I would post some specific ones here for further discussion:
[Slograman] @Jonathan Improbable as it may be, does LPOE also cover the morality of creating two moral systems (human morality and divine morality), and hiding the "logic" behind divine morality from human understanding? I find the very act to be not just improbable, but also mutually exclusive with any kind of maximally benevolent moral system, period. I might be missing something, though….

[Another comment from him] God evidently holds a different value system than us; I glean this from the numerous conversations I've had with theists, who always end the conversation with a shrug of the shoulders and a variation of "god works in mysterious ways".
The reply to the original part:
[3Lemenope] I call it the "If God, then Cthulu" problem. Alien gods are necessarily monsters.

I would situate it in phenomenology; humans' experience of the world, of life, of existence and so forth is rooted in our condition. If a putative deity's condition is significantly dissimilar to our own, their experience of the world will be too incommensurate with ours to support any cognizable shared values. Any agreement of process or outcome would be coincidence.

I actually enjoy the fact that Christianity attempts to solve this problem. It is a creative solution, because it pivots from a similar insight as in Buddhism that the essential phenomenological facet that is most anthropic is suffering. (See also: Westworld). Christians posit, God must suffer to be enough like humans to share a morally relevant experience. Now I agree with Nietzsche that Christianity fails at squaring this circle primarily because it is mired in metaphysical baggage of 'sin' rather than committing all the way to the relief of 'suffering', but still, the attempt is fascinating.

The problem of gulf of experience is a doozy. Imagine that we are not the primary concern of the deity who designed the universe, but merely a secondary concern. Like, it cares about us, but it cares about the dance of cosmic rays or the beauty of electron orbitals more. Then even if there is a desire to bridge the gulf from the other side it may not be sufficient to satisfy the sorts of moral claims that believers like to make about their gods.
Another reply:
[Luke Breuer] Consider the fact that what we currently think to be the fundamental laws of nature might be quite wrong—like Newtonian physics got the ontology all wrong in comparison to QM and GR. Would it be a kind of moral or intellectual evil for us to have to go through another paradigm shift?

If your answer to the above is "no", then why would the same not also apply to our morality somehow being a very rough approximation of God's morality, and thus in need of major renovation? Note that there would be rules for such a renovation—it wouldn't be a "flatten & reinstall", where you simply overwrite what a person thought before instead of bring them from where they are to a new place via evidence & reason. (Wertrationalität, not Zweckrationalität—WP: Instrumental and value rationality)

Note that my stance here allows us to still be rather immoral today. For example, perhaps it actually isn't that hard to teach some non-human primates to ask questions and do science, but we're too arrogant to see this. Were this to be demonstrated, how badly would we feel about all the experimentation we've done on them to-date? I'm in favor of not pretending I'm more righteous or just than inf act I am….
The idea above, from Luke, is an appeal to skeptical theism whereby we just don't have the moral knowledge to be able to know, access and/or understand God's moral reasoning or position.
And that is exactly his position:
[Another comment from Luke Breuer]
That last point is ubiquitous and I have spoken about it a lot. Yes, God IS ultimately morally culpable, as designer and creator of everything in the universe (with divine foreknowledge). See Adam & Eve as a Two Horned Dilemma; God as Morally Culpable and God's Divine Foreknowledge, His Culpability and the Problem of Evil.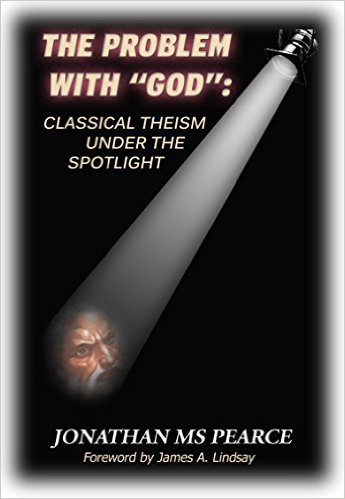 I have written an awful lot about Omni God and the problems involved with such a concept. Indeed, my reasonably priced e-book, The Problem of "God": Skeptical Theism under the Spotlight (UK), deals extensively with these ideas. Here are some further posts per you to peruse:
RELATED POSTS:
---
Stay in touch! Like A Tippling Philosopher on Facebook: