As Trump orders a drone strike in Iraq, killing an Iranian general… Oh, Trump, you don't half shoot yourself in the foot with your own Twitter history. Not that your fans care.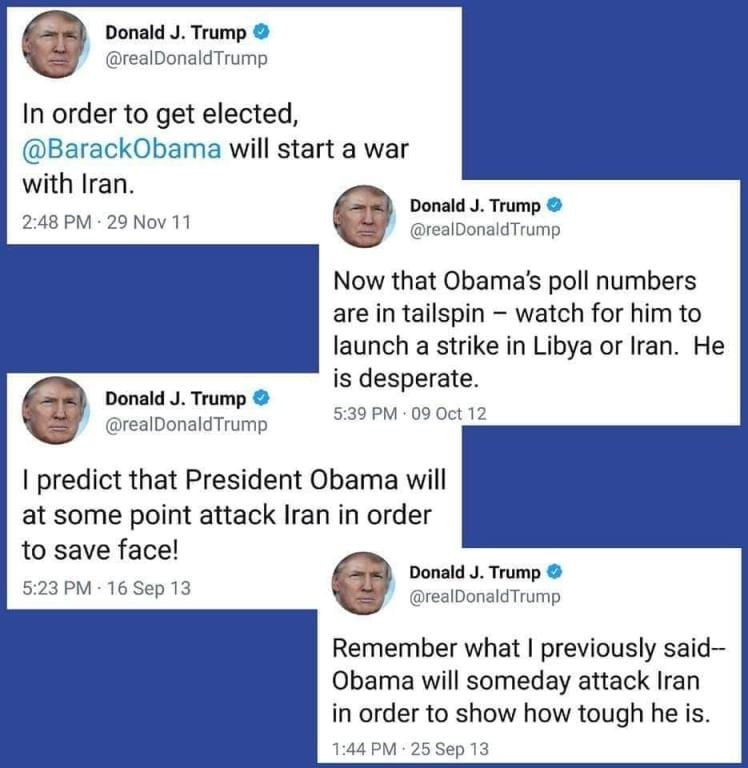 The strike has really riled pretty much everyone, apart from the Israelis:
Iraq's military has condemned the killing of Abu Mahdi al-Muhandis, the Iraqi paramilitary leader who died alongside Qassem Suleiman, Iran's top general.

The Iraqi military said it was a clear breach of their mandate in Iraq, according to a report by Reuters.

"The Joint Operations Command mourns the hero martyr … who was martyred last night in a cowardly and treacherous attack carried out by American aircraft near Baghdad international airport," it said in a statement.

"We affirm that what happened is a flagrant violation of Iraqi sovereignty and a clear breach by the American forces of their mandate which is exclusively to fight Islamic State and provide advice and assistance to Iraqi security forces."…

Experts have warned that the strike on Iran's top general puts the US and allies, including the UK, at risk.

Ian Bond, foreign policy director at the Centre for European Reform, tweeted that the airstrike was a "big escalation" by Trump.

No doubt #Soleimani was v bad actor, w much blood on his hands. But killing non-state terrorists eg bin Laden or Baghdadi v different from killing senior official of internationally-recognised state. Big escalation by Trump, & a lawless step that increases risk to US & allies.

75 people are talking about this

Dr Jack Watling, research fellow at the Royal United Services Institute, told the news agency PA Media that the attack was "very significant" because it was a "declared assassination" outside a declared armed conflict.

But he said that Iran was not likely to want to provoke a war with the US. "The significance of this strike is that it is a declared assassination of a senior officer in another state with whom the US is not in a declared armed conflict and conducted on the territory of a third party," he said.

"That's a very significant development in and of itself. Ultimately Iran does not want to provoke a full-scale conflict. I would expect there will be attacks on US forces, but they will be conducted with care."

Watling added if the UK was seen by Iran to be participating in US actions it could lead to the capture or arrest of British citizens in the region. "The Iranians do not draw a direct line between the UK and US. However, if the UK is perceived to be participating in US actions then they will directly target UK interests," he said.

He added: "The UK is not automatically the first target. Citizens in Iraq, Syria and Lebanon would certainly potentially be at risk. Dual nationalities in Iran will certainly be at risk of arrest under espionage charges."
The Intercept's article
is particularly good reading. For good, I mean scary as all hell:
IN SEPTEMBER 2015,

 then-Republican presidential candidate Donald J. Trump 

appeared on the syndicated radio show

 of conservative media star, Hugh Hewitt, to talk foreign policy."Are you familiar with General Suleimani?" Hewitt asked the real estate mogul from Queens.

Yes," said Trump, before hesitating. "Go ahead, give me a little … tell me."

When Hewitt told Trump that Suleimani "runs the Quds Forces," Trump responded: "I think the Kurds, by the way, have been horribly mistreated by us."

"No, not the Kurds, the Quds Forces," Hewitt interjected. "The Iranian Revolutionary Guards, Quds Forces. The bad guys."

"I thought you said Kurds," a sheepish Trump replied.

Now, fast forward four years and four months to yesterday, when President Trump ordered the assassination of Suleimani from his golf course. In an official statement that misstated the name of the organization that Suleimani was in charge of, the Pentagon said the strike was "aimed at deterring future Iranian retaliation plans."

This is not a column, however, about the consequences of the United States government assassinating the second-most powerful man in Iran (spoiler: they're going to be dire!). Nor is it a column about the legality of such a deadly strike on a foreign official on foreign soil (spoiler: it's hard to justify!).

Rather, this is a column that allows me to express my ongoing astonishment that Donald Trump is president of the United States; my ongoing bewilderment with a world in which an unhinged, know-nothing former reality TV star and property developer, with zero background in foreign affairs or national security, may have just kicked off World War III. (From his golf course, no less.)

It's also a column that allows me to revisit what I have long considered to be the most unforgivable take of the 2016 presidential race: "Donald The Dove, Hillary the Hawk." That was the ridiculous headline to the New York Times column from Maureen Dowd in April of 2016, in which she falsely claimed that Trump had opposed the Iraq war "like Obama," and then credulously suggested that, in contrast to Clinton, "he would rather do the art of the deal than shock and awe."
A reminder: Trump pulled out of the landmark Iran nuclear deal less than 18 months after assuming office. He replaced his predecessor's nuclear diplomacy with a "maximum pressure" campaign on Tehran, which had pushed the United States and the Islamic Republic to the brink of war even before this latest dangerous escalation.

Dowd was wholly, utterly, and embarrassingly wrong — as some of us tried to explain at the time. But it wasn't just her. Plenty of other people across the political spectrum foolishly bought into the ludicrous premise that Trump would be some sort of dove; a non-interventionist; an old-fashioned isolationist.
---
Stay in touch! Like A Tippling Philosopher on Facebook:
You can also buy me a cuppa. Please… It justifies me continuing to do this!