"Numbers are continuing to rise…"
You might be forgiven for thinking this was an assessment of the death statistics (in the US); after all, this was a comment by the POTUS. But no, it was on Twitter and it was, yet again, a comment from Trump rather narcissistically bigging his own ego up. Just what the nation needs, right?
The whole Tweet:
"President Trump is a ratings hit. Since reviving the daily White House briefing Mr. Trump and his coronavirus updates have attracted an average audience of 8.5 million on cable news, roughly the viewership of the season finale of 'The Bachelor.' Numbers are continuing to rise…

— Donald J. Trump (@realDonaldTrump) March 29, 2020
Well done. Well done. And the virus?
Is this presidential? It is certainly Trumpian.
Nothing surprises me any more. What I find particularly pertinent now is that various news organisations are presently fact-checking Trump's claims at the time he is speaking. CNN do this really well live with Daniel Dale. In written form, here are some excellent examples:
Others are doing this too, as if fact-checking Trump is utterly normal – that there is a normalisation to his lies and that his inaccuracy is what is now to be accepted. This devaluation of everything Trump says is taken for granted in the UK, where the majority of people have a low opinion of him, but should be worrying for his supporters in the US; that said, nothing appears to worry them.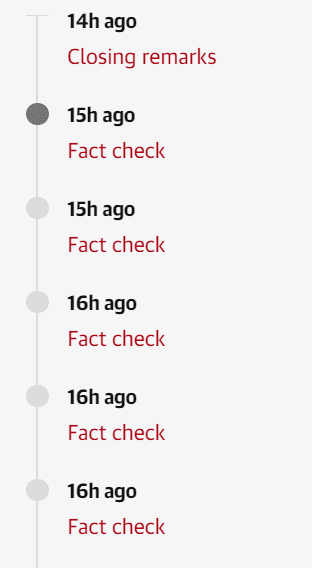 The Guardian: "Five of Donald Trump's most misleading coronavirus claims"
Associated Press: "AP FACT CHECK: Trump gets a reality check on coronavirus"
npr: "FACT CHECK: U.S. Lags On Testing, Despite Trump's Claims"
NYT: "Coronavirus Fact Check: Analyzing the Patterns in Trump's Falsehoods"
And so on.
Mind you, he does knows hits stuff. According to him.
In times of a pandemic, it is incredibly important to get lines of communication open and accurate. Yes, optimism has its uses in a battle for hearts and minds but this needs to be managed carefully, not just as off-script and hopeful stream of consciousness.
In this relentless news cycle, we shouldn't expect a relentless fact-checking service for the most influential man on Earth.
In other news:
There has been, as opposed to the scenario in the US, a relaxation of abortion regulation in the UK in the light of the virus.
Importantly, the way UK death stats will now be configured has changed: Current death statistics are from hospitals only, and from tomorrow the ONS will begin collating whole-UK figures including deaths in the community on a weekly basis. This means our figures may not be comparable with most other countries.
Austria has made face masks compulsory for shoppers.
If US response if "perfect", the administration (Dr Birx) expects between 100 and 200,000 deaths.
"There are no viruses here; can you see them flying around?" – Belarusian president flippantly dismissing the virus as they continue to play football leagues and ice hockey, etc.
British police are starting to fine rulebreakers.

Dominic Cummings, Bannon-esque Johnson advisor, is self-isolating with symptoms.