Well, okay, so it's not all of America, just Trump, his administration (though perhaps mainly Trump there) and a not insignificant number of his rabid supporters. There are a good many American spectators looking upon this with incredulous and worried stares, mouths agape.
And if there was a good god, then we would not be having this problem…
I have been both busy and trying not to feed my Trump obsession by blogging too much about him. But, dang, it's hard. Every single day, he shows himself to be an absolute plonker. No, that is too frivolous a term for someone who is so dangerous.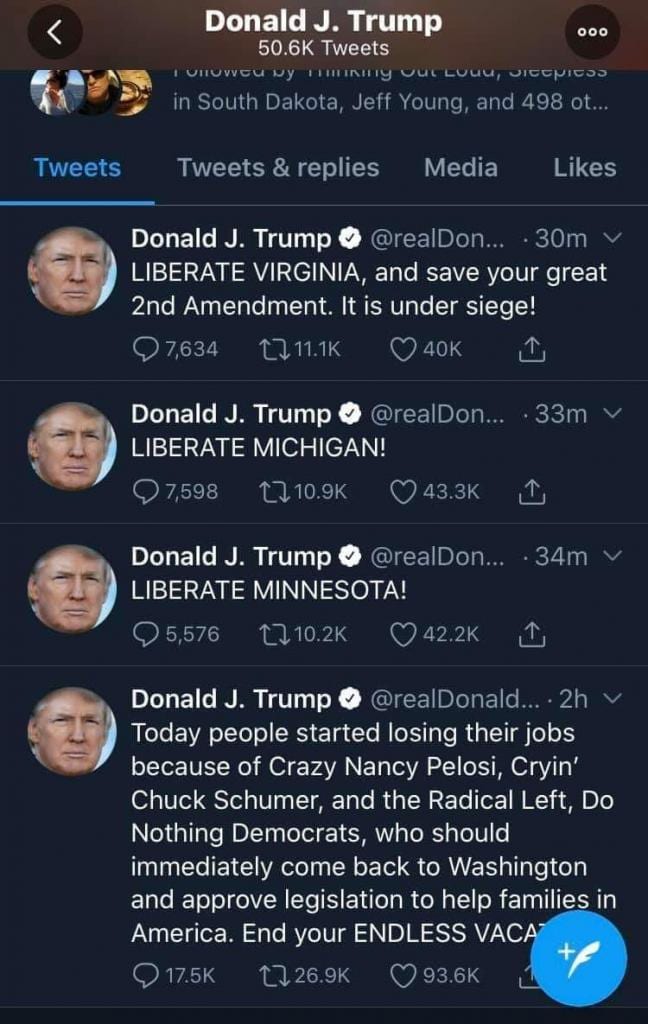 The mention of the 2nd Amendment was no careless or random mention. This was dangerously calculated and hugely irresponsible. It seemed to start with Michigan: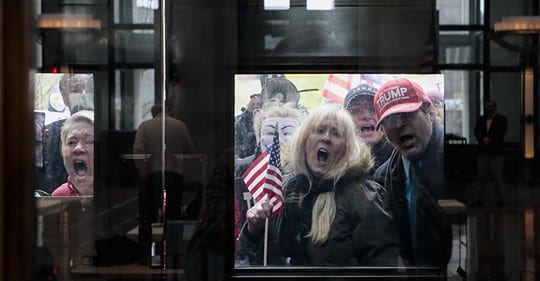 Sorry: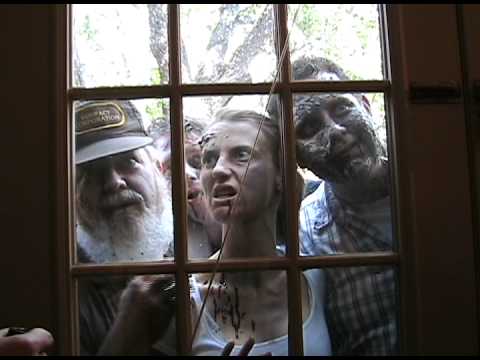 Of course, facts and science and commonsense are not on their side. Relaxing interventions soon is like removing your parachute because your rate of descent has slowed down :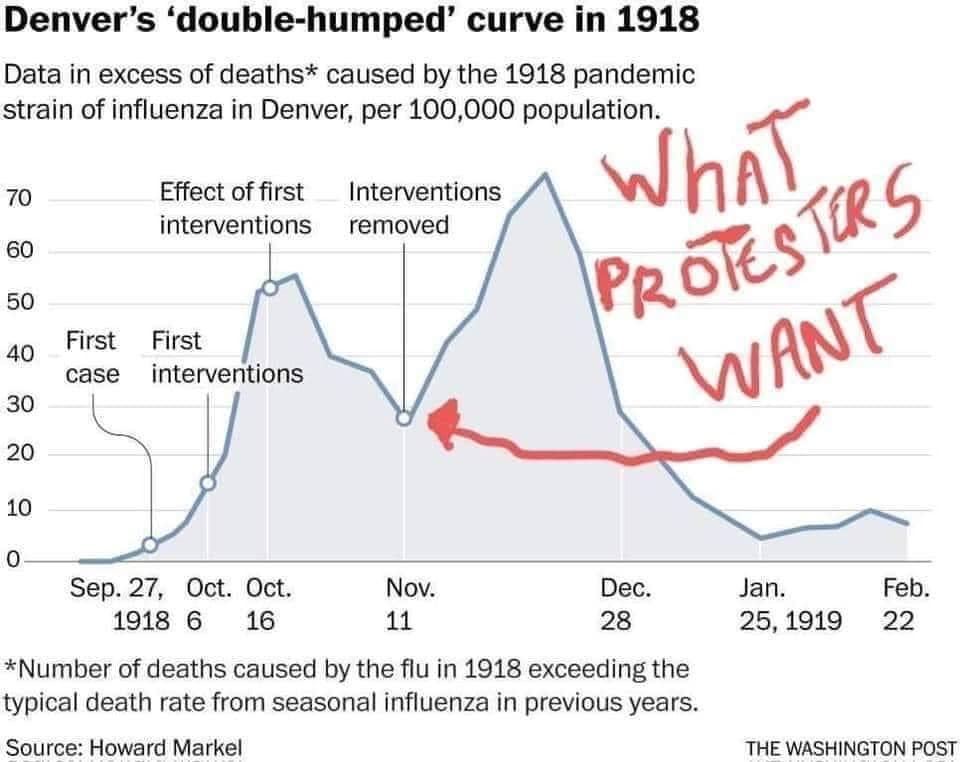 It's a sign of things to come, perhaps:
Democratic governor Gretchen Whitmer was the main target of armed pro-Trump protesters, with some chanting 'lock her up' on the steps of Lansing's town hall. Whitmer responded hours after the protest saying she understood the frustration but the 'sad irony' about the demonstration was that it could have further spread the virus and therefore created the need to extend Michigan's stay-at-home.
A sign of things to come
In "Michigan's protests are a bellwether of an increasingly dangerous partisan divide", Nancy Kaffer states:
Michigan is battling coronavirus, but it's also facing a partisan war — and one with potentially deadly consequences. As Democratic Gov. Gretchen Whitmer is quickly learning, how citizens respond to the coronavirus pandemic may have a lot to do with who they vote for.

This week, polite political maneuvering exploded into open protests on the streets of Michigan's capital, as people, many sporting MAGA gear and carrying Donald Trump/Mike Pence signs, descended on Lansing to oppose Whitmer's latest stay-at-home measures.

Whitmer first issued a stay-home order at the end of March. Last week she extended the order through the end of April, restricting travel within the state and barring the purchase of non-essential items like paint, garden supplies and flooring. These new restrictions are all part of Whitmer's efforts to limit points of contact among potential virus carriers — and keep consumers and non-essential employees from traveling to and from stores.

Pandemic response should be based on sound science and medical consensus, backed up legislation needed to ease the damage caused by an economic shutdown. It should not be led by partisan or financial interests in the state's — or nation's — capital….

State House Speaker Lee Chatfield waved an American flag from his Capitol office window, in support, during the protest. And State Senate Majority Leader Mike Shirkey has formed a task force to develop plans to re-open the economy. Both men are Republicans, from outstate, semi-rural communities.

And, on Thursday night, state lawmakers in both chambers introduced bills that would strip Whitmer of emergency powers assigned to the governor since 1945. (Whitmer has promised to veto the legislation.)
This sort of scenario opens up already dangerous cracks in local politics and partisan divides. This is, in Michigan at least, a dangerous tinderbox. Trump is pouring gasoline on such a incendiary device. A Michigan (ex-skeptical podcaster) friend told me:
I've seen conservative "friends" here in Michigan talking about getting their guns ready. Now hes throwing gasoline. He'd gladly insight a riot if it enhanced his power. This is creeping fascism and its starting to speed up….

I've lost all faith in their ability to govern. They no longer offer even a pretense of checking his power. They just do his bidding. American democracy has one last chance to move away from the brink….

I grew up in the fundamentalist anti-science republican worldview that fuled his rise and even I don't understand it. this may sound simple but I think they were just waiting for somebody who wasn't accountable and who none of their own would hold accountable and they finally found somebody without a shred of Integrity to step into that role.

And they went all in.
This is an excuse for rabid right-wingers to flex their muscles and show their discontent against cultural "libtard"-ishness. This is political opportunism of the worst kind, particularly because it is so dangerous. It's like anti-vaxxers endangering other people's children with their own selfish intentions.
The protestors in Michigan think that some social distancing measures are fine but that things are going too far. How far is too far? Should they not listen to the scientists and expert advisors?
It is unsurprising though scary that right-wing, conservative organisations are funding these protests, that these protestors think they are standing up for individual liberty, but they are just pawns in the larger political game of chess.
A presidential contradiction
And this is where Trump is thoroughly contradictory to his own advice and advisors. On the one hand, he says we should defer to the experts and expert advice his own government and he himself is giving and that the governors and senators are the ones to make the statewide rules, and on the other hand, he is telling his citizens to rise up and "liberate" (Democratic) states from their oppressive regimes for…instituting the restrictions that he and his advisors have clearly, daily, stated.
But things aren't quite what those protestors might be thinking of their states that, previously, have shown much less of coronavirus spread. The idea is that states that have shown feet cases aren't naturally immune or inoculated to the virus, they are just further behind temporally. In "Heartland hotspots: A sudden rise in coronavirus cases is hitting rural states without stay-at-home orders", we are shown that these states are not in the rosy position that those protestors might be hoping for:
The bump in coronavirus cases is most pronounced in states without stay at home orders. Oklahoma saw a 53% increase in cases over the past week, according to data compiled by Johns Hopkins University. Over same time, cases jumped 60% in Arkansas, 74% in Nebraska, and 82% in Iowa. South Dakota saw a whopping 205% spike.

The remaining states, North Dakota, Utah and Wyoming each saw an increase in cases, but more in line with other places that have stay-at-home orders. And all of those numbers may very well undercount the total cases, given a persistent lack of testing across the US.

This trend undermines the notion perpetuated by President Donald Trump and some of his Republican allies that the restrictive social-distancing measures aren't necessary in rural America — and that these states even offer a model for reopening the country.

"If you look at Montana, Wyoming, North Dakota — that's a lot different than New York, it's a lot different than New Jersey," Trump said at Thursday's coronavirus task force briefing, adding that 29 states are "in that ballgame" of being ready to be reopened first.

"We have large sections of the country right now that can start thinking about opening," Trump added….

The governors of the holdout states frequently invoke middle-American, conservative values when defending their decisions not to issue stay-at-home orders. South Dakota's Republican governor Kristi Noem has said her office has "trusted South Dakotans to exercise personal responsibility." And Gov. Pete Ricketts of Nebraska defended his call for voluntary social distancing as opposed to a stay-at-home order.

"This is a program that depends on people exercising personal responsibility and their civic duty," Ricketts told Politico Wednesday. "This is about making that decision, not the heavy hand of government taking away your freedoms."

In a Wednesday press conference, Stitt said he is making decisions about public-health guidelines "based on what's happening in Oklahoma, not what's going on in a different state or different city." And in early April, Noem suggested her state did not need such tough restrictions because South Dakota is "not New York City."

But while the American heartland is far less dense than New York and other cities and states on the coasts, it is home to much of the country's agricultural and manufacturing base. The threat coronavirus poses to those sectors of the economy has begun to arrive.

In Iowa, for instance, two separate Tysons food processing plants have also closed due to outbreaks that have so far caused the deaths of two workers.

And in South Dakota a large pork processing plant owned by Smithfield Foods has been closed after experiencing a massive outbreak among workers there that has contributed to the explosion of coronavirus cases in Sioux Falls. (Noem has insisted a stay-at-home order "would NOT have prevented Smithfield from happening.")

With the real potential for higher prices and even food shortages, insufficient action by Republican governors in the heartland could continue to ripple across the country in ways that would adversely affect the lives of Americans everywhere.
It might also be worth reading these articles:
Luckily, Trump knows his stuff, though he knows he's no doctor:
Poll downturn for Trump
Trump is also suffering in the polls in a way that is actually probably quite serious. Virtually every ruler in the world (bar Bolsonaro) is seeing a huge bump in their approval ratings. Even since this next quote, Trump's approval has further dipped. He is now at his pre-pandemic rates (45% for pandemic approval). His prior bump was comparatively tiny in relation to other leaders:
In Italy, ravaged by coronavirus, Prime Minister Giuseppe Conte's approval has rallied from 46% to 71%, according to local polling.

In Germany, Chancellor Angela Merkel, who has won raves for her quick and focused response to the pandemic, has seen her approval (which was high to begin with) jump 11 more points to 79%.

And French President Emmanuel Macron has seen a 15-point jump to 51%. Believe me, in France, where citizens grumble about as much as Americans do, that's high.

Beyond those leaders, I suspect that the president is especially irritated that Andrew Cuomo is soaring. The New York governor — a Democrat who has been front-and-center for weeks now, micromanaging the pandemic that has hit Gotham harder than anywhere else — saw his approval jump 27 points to 71%, with 87% saying they approve of his handling of the crisis.
Women-led countries, such as Germany, New Zealand, Denmark, Taiwan, Iceland, Finland, Norway and Belgium, have done particularly well. Biden leads Trump in head-to-head polls and, as it stands, things are not looking good for Trump. But there is a long time to the elections, especially when you can easily see Trump postponing them (re-election depends so often on a well-working economy and doesn't he know it!).
Polls aside, Trump's actions are at times nonsensical, almost always transactional, certainly narcissistic, often dangerous, frequently contradictory (just check his claims against his previous Twitter history!), and certainly depressing.
Short of announcing he is gay or bigger than Jesus, what would put his rabid supporters off him?
---
Stay in touch! Like A Tippling Philosopher on Facebook:
You can also buy me a cuppa. Please… It justifies me continuing to do this!