This is the fifth piece in series debating Clinton Wilcox at the Life Training Institute (a pro-life organisation) with the following chronology:
JP: Abortion: The Human/Human Being Distinction
CW: About the Alleged Human/Human Being Distinction
CW: About the Alleged Human/Human Being Distinction, Part 2
JP: Pro-Life Debate: Answering Criticisms on the Human/Human Being Distinction
JP: Responding to Wilcox #2: "An Embryo Is an Innocent Human Being"
JP: Responding to Wilcox #3: Human, Humans, Human Beings, the Sorites Paradox & Identity
JP: Responding to Wilcox #4: Eggs & Chickens, Acorns & Oaks, Embryos & Humans
This piece is arguably the most important so far, which is what I said last time, because it is where the whole human being debate ends up if you follow the axiomatic premises of my philosophy. I may even finish the series with this one because, once said, everything else defers to this. It's fundamental, this one.
This is what Wilcox said in his initial rebuttal:
"Blastocyst" doesn't meet the dictionary definition of "human being". But neither does "infant", so by Pearce's own definition, an infant is not a human. Although, Pearce glosses over the part about how a human being is a child of the species Homo sapiens, focusing on the part about how humans differ from other animals and arguing blastocysts are not humans because they don't meet the specific requirements about how humans differ from other animals.
Okay, this is where things get fuzzy, and humans do not like fuzzy. Let's start with what Christians typically believe. It will be something like this:
A human fertilised egg has the rights of an adult because it is a human and human being. This is due to it having the essential properties of a human, i.e., essentialism.
At fertilization, the zygote somehow develops personhood, whatever this may entail.
A human egg is fertilised and is then "magically" ensouled. At this point, a zygote somehow embodies, or has attached to it, a soul.
All or some of the above in combination.
I have presented, over time, many arguments against these positions. For example, the ensoulment claim suffers from arguments from IVF and monozygotic twins, which can develop weeks after an ovum becomes fertilised. For any given IVF treatment implantation, there are often some dozen or so fertilised eggs in vitro. Where are the souls? And when a zygote splits weeks after supposed ensoulment into two, what happens?
So on and so forth. There are other arguments, not least a demand for the evidence for this, and the mind-body causality issue. See:
What Is a Soul and What Does It Do?
As for essentialism, I will be dealing with this next, but these may be of interest:
Essentialism
Essentialism essentially (intended…) is a form of realism that states that there are properties about a human that are necessarily attributed to an entity. In this case "human being" is a very real concept that exists outside of human minds and this entity necessarily and absolutely has a core set of properties that allow it to be identified as "human being" (or "human"). I'm going to have to cover some old ground again here.
Firstly, a "human being" as a distinct entity sits on a foundation of the notion that a "human", qua "homo sapiens", is a distinct species.
Categorising stuff
We love to use categories. That's a blue flower, that's a red car, that's an adult, that's a child. It's how we navigate reality in a practical sense – it provides our conceptual map. However, you shouldn't confuse the map with the terrain. Essentially (there it is again), we make up labels to represent a number of different properties. A cat has these properties, a dog these. Red has these properties, blue these. Often we agree on this labelling, but sometimes we don't. What constitutes a hero? A chair? Is a tree stump a chair?
The problem occurs when we move between categories. It is at these times that we realise the simplicity of the categories shows weakness in the system.
You reach eighteen years of age. You are able to vote. You are now classed as an adult. You are allowed to buy alcoholic drinks (in the UK). But there is barely any discernible difference in you, as a person, physically and mentally, from 17 years, 364 days, 11 hours, 59 minutes, 59 seconds, and you 1 second later.
However, we decide to define that second change at midnight as differentiating the two yous and seeing you move from child (adolescent) to adult. These categories are arbitrary in where we exactly draw the line. Some countries choose sixteen, some younger, some older. These are conceptual constructs that allow us to navigate about a continuum of time. You can look at a five-year-old and the same person at twenty-eight and clearly see a difference. But that five-year-old and the same person one second later? There is no discernible difference.
And yet it is pragmatically useful for us to categorise, otherwise things like underage sex and drinking would take place with wild abandon, perhaps. Sixteen for the age of consent is, though, rather arbitrary. Why not five seconds later? Four days? Three and a half years?
Speciation is exactly the same. There is no real time where a population of organisms actually transforms into a new species. Because species is a human conceptual construct that does not exist objectively. We name things homo sapiens sapiens but cannot define exactly where speciation occurred. In one sense, it does not occur. In another, if you look at vastly different places on the continuum, it does (at least in our minds).
In philosophy, there is a position called (conceptual) nominalism, which is set against (Platonic) realism. This conceptual nominalism, as I adhere to, denies in some (or all) cases the existence of abstracts. These categories we invent don't exist (a word that itself needs clear defining), at least not outside of our heads. Thus species do not exist as objective categories. We invent them, but if all people who knew about species suddenly died and information about them was lost, then so too would be lost the concept and categorisation.
When we look at two very different parts of a continuum we find it easy to say those things are different and are of different categories, but when we look in finer detail, this falls apart. There is a fuzzy logic at play.
Species do not exist. Well, they do in our heads. When we agree about them. And only then so we can nicely label pictures in books, or in our heads.
This is a version of the Sorites Paradox.
As I have shared several times, this image below sums it up with aplomb.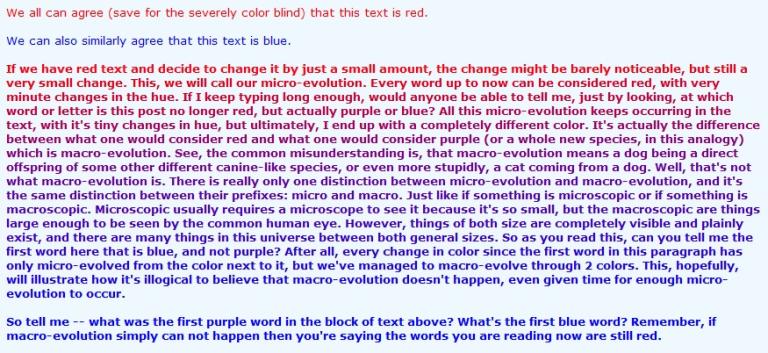 So essentialism invents these definite abstract categorisations and makes absolute claims to them. But questions arise:
How do they know which entities "exist" and which are just human constructions? (i.e., I can invent forqwiblex – does this now exist objectively with set essential properties?)
Who gets to decide and arbitrate these categorisations?
What happens at the "edges" of these categorisations?
What happens when instantiations of these essences cease to exist or come into existence?
What happens when these instantiations start to cease/begin to exist? (i.e, around the "edges")
Evidence
The simple evidence of the world around us supports conceptual nominalism over essentialism. Most everything exists on continua, and we argue about definitions and categorisations of everything. From morality to language, we argue. There is, descriptively speaking, inarguable subjectivity. The fact that morality broadly changes around the world and that we can see it in evolved forms throughout the animal world points towards this being a construct of the natural world and not some objectively existing Platonic form.
Personhood
What these labels require are properties to be attached to. Because there is no objective fact that a given label applies to a particular set of properties, we need to agree on what ones attach to which properties, and agree by consensus. When we agree, we write dictionaries and encyclopedias codifying that agreement. But these things change. The Second Law of Thermodynamics has adapted to the needs of scientists, and the word "literally" is now a contranym whose meanings also include metaphorically, the opposite to what it traditionally means. "He was literally on fire on the football pitch" has become such a common use of the word such that it can now, according to some dictionaries, be used to mean the opposite of itself.
Personhood is the same. It means whatever we agree it to mean. The problem is that so many philosophers, politicians and laypeople thoroughly disagree on what constitutes personhood. And that disagreement, as with any other term (including morality), reflects the lack of objective facticity.
Can we find agreement? Undoubtedly not, because it is wrapped up with so many other things such as abortion, euthanasia, the afterlife and other ideas that have such strong cultural, religious and contextual draw that means you cannot separate it from these other frameworks in which it is set. Thus to objectively (as in neutrally) assess its meaning is almost impossible for many people.
In this way, and for the point of this, I don't need to establish what personhood actually constitutes (for me) here. We construct it, and we disagree on it, but we could sign up to some kind of consensus if we had a decent enough definition and will for a consensus.
Thomism vs Personhood
I had a debate with a Catholic philosopher a few years ago and he fully admitted that trying to get a pro-life argument from personhood was pretty much impossible for these reasons, and so he opted for a Thomistic (i.e., essentialist) approach.
The issue here is that both approaches suffer from the same problem. Where personhood is difficult to assign to a developmental entity on a continuum over time, it is a form of essentialism. "Personhood" as opposed to "human" or "human being" is the entity that requires absolute properties. The same problem that exists for "personhood" here exist for the other two words, either from evolution and the species problem or from the development of "human being" or the fuzziness around the edges (whether connected to evolution or not).
You might exemplify this in the context of transhumanism and artificial intelligence, or look at it in the context of male and female as essential categories, and introduce hormones, gender fluidity, intersex, hermaphrodites, genetics, trans and psychology.
In short, essentialism struggles to solve the problems of personhood. If personhood or human being required 10 different characteristics or properties, what happens when one or more property is lacking or not in full existence?
What I believe
Personhood has no ontic existence: we construct the idea. Therefore, it doesn't "materialise" (ha!) at any given point along the line of development from sperm and ovum to, say, soon-to-be-dead adult. None of them have personhood. Or some of them. Or all of them. It's up to you and how you axiomatically ground your arguments and premises.
Personally, I prefer a collection of characteristics (a sort of bundle theory). But these generally don't develop in full until quite far down the line, and for some people, never. In other words, under my position, infants, some children and some adults will not have personhood. I also think it is not digital; there is a continuum of personhood (that can be applied to the continuum of development). Some people will have more personhood than others, and some will lose it over time. And we might argue that when asleep or unconscious, we don't have it.
Therefore, for me, the abortion argument is not solved easily by personhood arguments. It suffices to say that embryos most certainly don't have personhood. And essentialism fails for all the reasons I have so often discussed.
But, for moral reasons, I don't want chronically and fundamentally disabled people, infants and children to be killed under the belief that they are no more valuable than rocks or planks, or some such similar claim. I don't want this argument to be used as ammunition to justify that. I have a whole load of other moral philosophy to add, and politics, and science. If I desire the world to be a certain way, then I set rules of thumb. Morality is, for me, goal-oriented. You need to set out what sort of world you want, first.
For me, one rule of thumb is: you can't murder human beings. For some people who like capital punishment, they forego this, and even strip certain criminals of their personhood
But where do I draw the line? I could draw it right back at sperm or ova. But that's ridiculous (or not, depending on how you couch it comparatively). How about zygote? Embryo? 3rd trimester?
Where I draw the line is, at the end of the day, arbitrary in the same way that the age of consent or drinking or voting is somewhat arbitrary and differs from nation to nation and state to state. But I don't think that you should be able to have sex with children and vote at the age of four. So I accept that lines need to be drawn for societal reasons. It may be fuzzy, but there needs to be demarcation. This argument is recognised in the book "Sorites Paradox (Classic Philosophical Arguments)" by Oms and Zardini, p. 265-267.
In terms of abortion, this line, for me, is the generally accepted line informed by science. I would say that we use arguments to do with heartbeat, organ formation and pain. The term limits were reduced in the UK from 28 to 24 weeks in 1990. The arguments will rage (24 reasons to keep it at 24 and not reduce it further) and these will either concern the rights and situation of the mother, the physiology of the embryo, or both. I accept that there will be little or no difference between 24 weeks, and 24 weeks one day. Indeed weeks are themselves arbitrary constructions of time! That said, I am broadly happy with weeks (I actually think they should be moved to eight days, with three day weekend, one of which is in the middle – but that's another discussion), and am broadly happy with somewhere around 24 weeks. But, again, that's a whole other discussion.
in sum, there's no such thing as personhood, so we invent it and ascribe it, as people in society, to differing entities along the line of development, to differing degrees. But I'm not so sure it is even relevant to the abortion debate. Embryos do not have personhood (either objectively or subjectively for me). Thus the abortion debate is a case of agreeing what rights there are (autonomy and bodily rights for the mother) that we can meaningfully construct, arguing that they have greater value than the rights of a clump of cells or a developing embryo, and going from there.
---
Stay in touch! Like A Tippling Philosopher on Facebook:
You can also buy me a cuppa. Please… It justifies me continuing to do this!