Says so much in one image. Everything about Trump is bluster. Smoke and mirrors. Lies.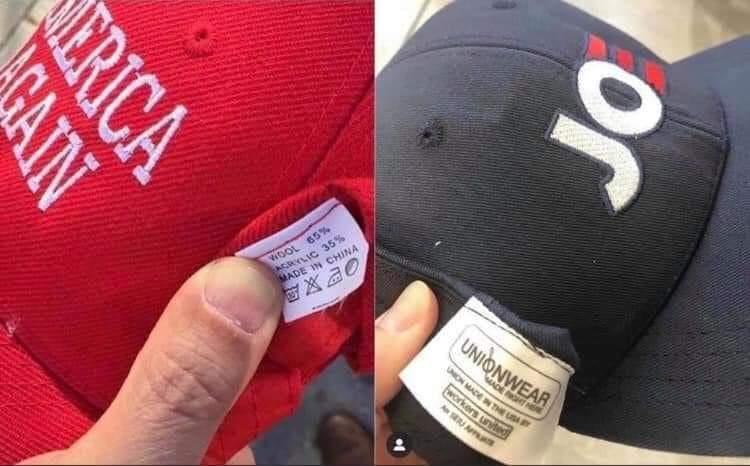 UPDATE:
In the spirit of proper skepticism, and thanks actually to Otto for making me research this, it turns out that the truth is very murky about where the caps are made.
It turns out that now, officially at least, the Trump campaign caps are made in the USA. However, third-party distribution of caps is widespread to the point that the official GOP merchandising one places have caps made in China such as the Delaware GOP had to cut the tags off all of the caps that they sold because they were all registered as made in China.
Back in 2016, the AP did some research into the factory that was supposed to be making the MAGA caps and found that one in five caps used foreign fabric or certainly fabric that was not from that factory.
It's also worth noting that Trump's private companies and the clothing line run by his daughter, Ivanka, routinely sell clothes and other products made in China and other Asian countries.
Of course, even the official factory will almost certainly import their woven material from outside of America, but that's another story.
I don't want to mislead my readers so I will leave this here to show that my original claim by implication required a little bit more nuance!
---
Stay in touch! Like A Tippling Philosopher on Facebook: