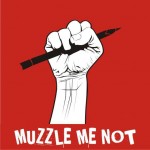 Sent to me by Maryam Namazie:
Today 25 April has been declared a day of mourning in Bangladesh for the victims of the nation's worst factory disaster. The death toll of the collapsed garment factory has risen to 160; more than a 1000 have been injured. Rescuers continue to hunt for survivors.

Those who died in the building collapse did not need to die. Workers saw cracks in the building the day before but were ignored.

Today is also the International Day to Defend Bangladesh's Bloggers, four of whom are imprisoned, and more than 80 others who face death threats by Islamists. Here too their safety and lives have been ignored by the Government.

In both these cases, the Government has failed to defend fundamental rights. Unfortunately, it is too late for the many garment factory workers. But there is still time to save Bangladesh's bloggers. The Government must act before it is too late.

On 25 April, whist we remember the dead, we must also remember those who are fighting to live.

Take part in actions taking place today. Join the day's Facebook Page. Contact the Bangladeshi embassy in your country of residence and sign the petition now. Tweet #Bangladesh #Bloggers and more.

A defence of the bloggers is a defence of us all.