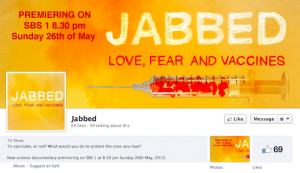 The interview I previously conducted with director Sonya Pemberton can be found on the Token Skeptic podcast, but you may also enjoy this teaser from the full transcript over on the Curiouser and Curiouser column for the CSI website:
Kylie: Your next production, Jabbed, you've said that you have been seeking out voices to add to the investigation of vaccination claims?

Sonya Pemberton: Yeah. Well, it is not an investigation of anti‑vaccination. I should be really clear. I started out last year thinking I was going to do that, because I got quite a lot of hate mail, I guess you would call it, or nasty emails after I made a film in 2009, called Catching Cancer with Ian Frazer and Professor Harold zur Hausen, Barry Marshall and lots of others, about infections causing cancer. The message behind that film was perhaps that we have taken our eye off that particular cause of cancer. We have got so fixated on the genetics that we have forgotten about infections. That film was nine years in the making and the other was only five!

Along the way, it tells the story of the cervical cancer vaccine, as an example of the fact once you discover a cancer is caused by an infection, this is extremely good news. Then you can interfere with that process. A good way of doing that is to prevent it. Vaccines can do that. I was completely unprepared for the mail that I got attacking me for "doing damage," even though some of it was very nicely worded. Of course, some of it was not. It just made me realize that I knew there was controversy over the vaccine—of course I did know that, I had done a lot of research into it—but, I didn't expect it to get personal. When that happened, it just made me interested.
Kylie: That is a good response—to say, "OK. Why?"

Sonya: Yes, "Well, what's going on?" Then, talking to some people all over the world, I realized they have drawers full of hate mail and worse.

Rather than just feel like I want to attack people, although there was part of me that did get angry and feel offended, I realized that they must be very driven people. I have spent a year of my life thinking very carefully about this issue now and listening to the people, who are frightened and maybe not even frightened. They're just concerned or don't know who to believe and don't know which way to turn. I have spent a year talking to people on street corners, at bus stops in Paris, Germany, London, America, and across Australia, all over the world, asking people what they think about vaccinations.
The Jabbed: Love, Fear And Vaccines science documentary is premiering on SBS 1 at 8.30 pm Sunday 26th May, 2013.