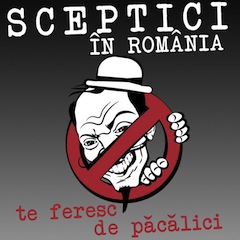 Now out on the Token Skeptic website: Episode One Hundred And Fifty Eight – On Sceptici în România – Skepticism In Romania  – three fantastic, talented skeptics (Eddy Petrisor, Miruna and Ovidiu Covaciu) who have a lot to say! Check out http://podcast.sceptici.ro and enjoy subscribing to some of the freshest content on the internet when it comes to pseudoscience, the paranormal and challenging quackery in Europe.
Kylie: What are some of the big concerns in Romania for skeptics?

Miruna: We are generally concerned about the fact that there is not enough scientific education. But what concerns us the most is also the lack of good information in the media. Also there is a problem with people trying to stifle those who do distribute good information. 

There has recently been a case in Romania of a blogger who was threatened and bullied after publishing information about a colon cleaning product. The article on his blog was well documented, but he was contacted by the company that produced the said product, ordered to pay damages and take down his articles. He was very lucky because he managed to protect his anonymity and because the wonderful people at wordpress stood up for freedom of speech and defended themselves in court. They refused to offer the company any information about the blogger and eventually won the case.

Kylie: What are some of the future projects you'll be doing?

Ovidiu: We are in the course of rebranding the project and trying to get more people interested. We are also very close to opening the very first Romanian skeptical NGO. We would also like to have the skeptical reporter project in Romanian as soon as time will allow it. We have been thinking for a while to create a Romanian database with good quality studies demonstrating why certain types of woo don't work, but that will take a long time and a lot of work.

We plan on dedicating more time to out "skeptic in 5 minutes" project, where we explain what is up with one quack subject at a time. We think it is our best tool to get more people interested in skepticism and make them understand why some things they believe in just don't work. So we have big plans, unfortunately not as much time as we'd like to!
Support their work and listen to the whole show – and especially if you're in Romania, subscribe to their podcast Sceptici în România and enjoy a different perspective on skeptical issues!