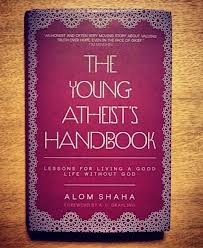 Welcome to Hour Six of the Token Skeptic Sunday Sessions!
There's 24 posts for every hour of today, looking at issues involving secularism, skepticism, atheism, feminism, science, philosophy and more – in order to support and urge you to donate to SSAWeek2013 at SecularStudents.org.
A message from Alom Shaha:
It's been over a year since my book, The Young Atheist's Handbook, was published in Australia and almost a year since it was published in the UK. It has been an interesting time, one I will remember for a number of reasons – not all happy ones.

In many ways, for reasons I won't go into, it has been one of the most difficult periods of my life. However, I was regularly buoyed up by emails and messages from strangers who had read my book and felt compelled to write and tell me what it had meant to them. Mostly, it was people saying that what I had written had resonated with them, but one or two wrote to tell me that my book had been "life-changing" for them – the highest praise I can imagine.

One of the people who read my book, a fellow teacher, Ian Horsewell, liked the book so much that he convinced the British Humanist Association that every child in the country ought to have the chance to read it. In December last year, the BHA launched the "Young Atheist's Handbook for Schools" campaign with the aim of raising £32,000 to buy and post a book to every secondary school in England and Wales.

At the time of writing this, 523 people have given a total of over £10,000 towards the campaign, many of them leaving comments explaining why they donated. My book may not have become a best-seller or set the world on fire, but thanks to the kindness of strangers, it looks like it might one day reach more of its intended audience.
Check out: "Young Atheist's Handbook for Schools" campaign.