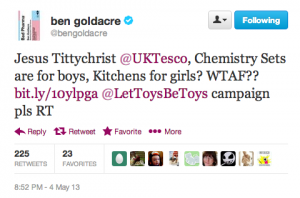 Welcome to Hour Three of the Token Skeptic Sunday Sessions!
There's 24 posts for every hour of today, looking at issues involving secularism, skepticism, atheism, feminism, science, philosophy and more – in order to support and urge you to donate to SSAWeek2013 at SecularStudents.org.
Pivotal Week for Let Toys be Toys

Let Toys be Toys, the parent-led campaign that aims to see girls' and boys' signs removed from toy shops and websites, last week saw several major retailers agreeing to make changes towards de-genderization.

Liz Jordan from Let Toys Be Toys said, "It's been quite a week for changes. It seems like retailers are really starting to take notice."

On Monday the campaign tweeted about the supermarket chain Morrisons' pink and blue boys' and girls' signs and received the response: "…we're really sorry about this! Please be assured all of the old signage is currently being updated … We are working on it at the moment and it may take some time. However, all stores' signage will be replaced."

On Wednesday the campaigners were delighted to hear that Asda had also made changes, this time to its website, which no longer contains girl and boy toy sections. Let Toys be Toys had talked to Asda about their website layout in January and after admitting that the campaigners had a point, were told that the taxonomy of the site would be reviewed.  

On Friday Matalan were asked about their dressing up section which showed a 'boys' doctor dress up' costume and a 'girls' nurse dress up' outfit, alongside 'boys' policeman' and 'boys' fireman' outfits. Matalan responded to tweets with an apology and a promise to change their website wording: 

"Hi, thanks for pointing this out to us. We totally agree and we're changing the wording. Many thanks, M x"

Also this week; online craft shop www.craftyarts.co.uk  agreed to change the boys' science section on their website after an email from Let Toys Be Toys supporter, Michaela Brown, who posted a comment to the Let Toys Be Toys Facebook page; "I did get a lovely response from their Customer services manager, who had actually made a complaint about this section herself to the website director. She was going to forward my email to him. I've pointed her in the direction of this page too". The webpage in question now reads as a Science Projects page with kits for boys and girls.

Earlier in April Let Toys Be Toys scored success with Hobbycraft and Waterstones. Hobbycraft responded positively to emails about 'Kits for Boys' and 'Kits for Girls' signs, which they have said will be changed to Kits for Kids'. The Bluewater branch of Waterstones also responded positively when a photograph showing separate activity books for girls and boys with stereotypical selections was publicized.

Waterstones posted the following message to Let Toys Be Toys' Facebook page: "Hello, thanks for bringing this to our attention. Obviously it wasn't intended in a negative way, but we've changed the signs and display to one featuring activity books for all. Apologies for any offence caused."
*****
Kylie Sturgess: Firstly, how did "Let Toys be Toys" start? What sparked your initial efforts?
LTBT: We were a group of parents who were really fed up with all the messages given out to our kids in toy shops.  Girls toys frequently revolve around craft, being pretty and domestic chores.  Boys get science, construction and macho toys. We got together on Mumsnet and decided to start a campaign to simply ask retailers to take down boy and girl signs and let children choose for themselves.
As one example of what bothered us, there is a huge problem with lack of women STEM (science, technology, etc.) careers and we feel that when girls see all science toys under a boys' sign in a shop, they are given the message so early on that it's not something for them.  Also you'll get doctors' outfits labelled just for boys and nurses' outfits just for girls – it's as if toyshops have remained in the 1950s! It's not a problem that just affects girls either.  We hear a lot from parents who don't want their boys to think that childcare and housework is just "a girl thing".
Kylie:  What's the current situation for parents, gift-givers and those who want to limit the gender-divide when it comes to toys – in general, do retailers listen when people protest?
LTBT: Some retailers absolutely do listen. Boots are now taking down gendered toy signs in very recent news, following our social media campaign last week. We've also had positive responses from, Morrisons, Matalan, Next, Waterstones and Hobbycraft.
If parents do want to complain, please do join us in this. The toy gender issue is becoming very sensitive now and retailers do seem to be listening.
Kylie: What are some of the cases that you're currently facing when it comes to this issue? I saw Dr Ben Goldacre respond in horror via Twitter on the 4th May to @UKTesco producing "Chemistry Sets are for boys, Kitchens for girls", for example!
We are very much looking at Tesco, The Entertainer, M&S and ToysR'us right now.  We can send you lots of examples!
The Entertainer has huge boy and girl sections. We've seen all science in the boys' section here! Also it causes some strange toy placement in their stores. We saw all board games put under the boys' sign in one Entertainer store. So if you want Monopoly, Guess Who or Hungry Hippos you have to go the boys' section which is odd! Meanwhile the girls get the dolls, cleaning and craft toys.  They even have a whole range of make-up for little girls which goes under Gentle Girls brand. M&S brand some toys as Boy Stuff while girls get L'il Miss Arty craft range and we're looking at this as well at the moment.
Kylie: Finally, how can people add their voices to help your cause?
LTBT: Please like us on Facebook and follow us on Twitter.  We are making massive changes by people getting together and voicing their concerns on social media.People are sharing our photos and stories and it's really working – see the Boots story last week which was big news!