Check out the first interview I've done for the event here, with IFLS creator, Elise Andrew! I'll be there, blogging, podcasting, the usual social media side of things!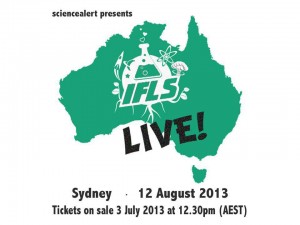 AUSTRALIAN FANS: Tickets for IFLS Live! Sydney will go on sale on Wednesday 3rd July at 12:30pm (AEST) here:http://bit.ly/17r6Kda

Join the FB event page here: http://on.fb.me/17L18ya and follow us on Twitter for the latest updates: http://bit.ly/GLVkFb

ScienceAlert and I F*cking Love Science are joining forces to bring Sydney the ultimate evening of science on August 12th at the Powerhouse Museum.

Elise Andrew (founder of IFLS) and co-host Derek Muller from Veritasium will be joined by Nobel Laureate Brian Schmidt, the Bad Astronomer Phil Plait, Dr Karl, academic-comedian Justine Rogers, Henry Reich of MinutePhysics and MinuteEarth, Mitchell Moffit & Gregory Brown of AsapScience, Carin Bondar of Wild Sex and Destin Sandlin of Smarter Every Day. #iflslive

Come and grab a drink, meet other Australian science lovers and find out why your favourite science celebrities f*cking love science. This event is strictly 18+. Tickets are $35 or $30 for concession.

Support for this awesome event is provided by our partners:UNSW Science, James Cook University, ANSTO and The Shell Questacon Science Circus.