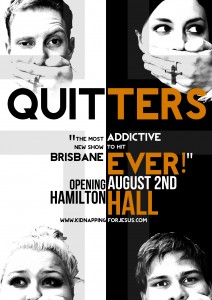 I just got an update about Quitters the musical by Joshua Bonnett! Last time I wrote about it was over on this blogpost, but here's all the details you need to know now:
The story follows the adventure of Reverend Craig Helsphere and his family of musical pastors; Helsphere Ministries. When it comes to 'saving' the unfortunate souls who cross the Reverend's path, kidnapping is just the beginning.

Those who've been lucky enough to catch production rehearsals are saying Quitters is like Rent, meets Book of Mormon. "The goal in writing this, was an attempt to kick religion and musical theatre, squarely and equally in the balls. Both have been too stale for too long." says book writer and lyricist Josh Bonnett, and co-composer Rob Cooper.

At the helm of the production is acclaimed director Leah Pellinkhoff who said "After I read the script and heard some demo songs from Quitters, I was ready to sign on as director. I believe it will be an original, creative production that could become an Australian treasure alongside the likes of 'Strictly Ballroom' and 'Priscilla'."
Tickets are on sale here for Brisbane, 2 August 2013 – 17 August 2013 in Hamilton Hall.