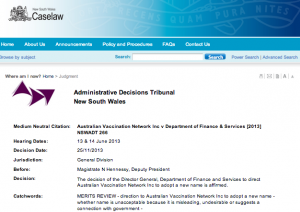 A little while back I got this in my inbox – the Australian Vaccination Network is something I've had my eye on for some time, including seeing Meryl lecture in person three times when she's visited my state. So, I knew that this was coming up at some point:
The AVN will be in court on Monday, November 25th

The long-awaited decision of the Administrative Decisions Tribunal (ADT) will be handed down on Monday, November 25th in Sydney. As you probably remember, the Department of Fair Trading via the Minister for Fair Trading has demanded that the Australian Vaccination Network change its name. We have appealed against that decision and will hear the result of that appeal next week.

If anyone reading this would like to come along to show support, I would personally be very grateful. I will be there to represent this organisation and am hopeful that justice will prevail, but a bit of moral support would not go astray!

…Meryl Dorey,
AVN Public Officer
And now the ruling is in, found at http://www.caselaw.nsw.gov.au (Administrative Decisions Tribunal):
The decision of the Director General, Department of Finance and Services to direct Australian Vaccination Network Inc to adopt a new name is affirmed.
This did amuse me, however:
In my view, to be acceptable, the name should reflect AVN's scepticism about vaccinations. Although I do not have to decide this issue, and my opinion is not binding, a name that includes the word "risk" or "sceptic" and vaccine or vaccination would be acceptable. Examples include Vaccination Risk Awareness Association Inc or Vaccine Sceptics Network Inc. Other combinations of those words would, in my opinion, be acceptable. The name could also include the word "Australia" or "Australian" without suggesting a link to the Commonwealth government. Of course, these are not the only names that may be acceptable.
Since they've also sent out a newsletter recently selling off office equipment and old magazines, it may finally be the end of what is now no longer the AVN… stay tuned.