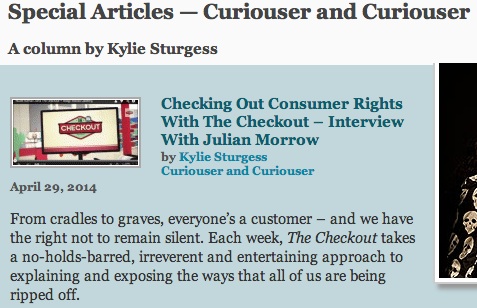 It's just occurred to me that once again, I've missed the anniversary (four years!) of writing for the CSICOP website, on a little column called Curiouser and Curiouser.
The most recently published one is just before the Perth shows happening this weekend by some contributors to the TV show, The Checkout, Chris Taylor and Andrew Hansen –
The Checkout is a satirical consumer affairs series on Australia's ABC TV, presented by Julian Morrow and Craig Reucassel from the satirical comedy group, The Chaser, Kirsten Drysdale, Kate Browne, Scott Abbot, Zoe Norton Lodge and Ben Jenkins.

From cradles to graves, everyone's a customer – and we have the right not to remain silent. Each week, The Checkout takes a no-holds-barred, irreverent and entertaining approach to explaining and exposing the ways that all of us are being ripped off.
I say "little", because despite the fact that I post transcripts (always useful for getting quotes, for those who don't listen to podcasts, for those who might want a short-sharp link to info for people questioning a claim or wanting to know more about a topic or a tour) and have done for four years now. Since it's been steadily published once a month, it's actually the most regular content I've done for skepticism, as my podcasting is fairly erratic most of the time!
But despite that, when I search online in order to do such quoting or linking or promoting, I usually find the term "curiouser and curiouser" hidden around the second or (more often) third page of search results. Which is odd, since there's more recent content there than say, a shop with the same name over in Scotland. Perhaps it's a SEO thing, I don't know.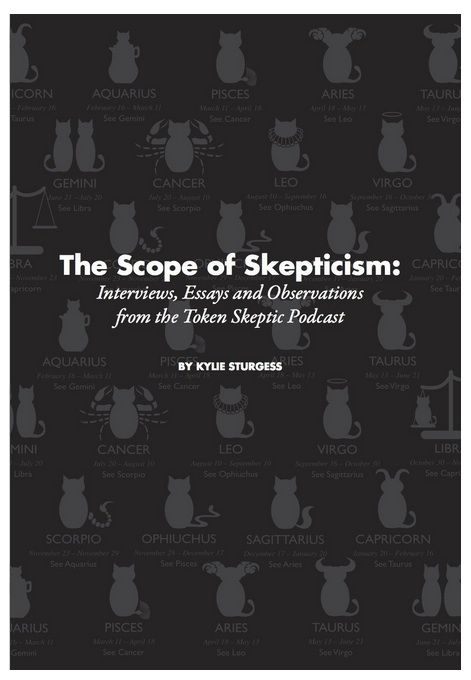 But what I do know is that I now have my second book in the works, which will be using some of those transcripts as well as some unpublished essays I've been working on for a while. The first book that I did in a similar vein, The Scope of Skepticism, you can find over at Lulu.com and on Amazon – all work that is focused on highlighting well-known (and, quite frankly, lesser-known who can use some support) people who do exemplify some of the great work going on in the world that promotes skeptical topics and critical thinking.
That was published in 2013, and although only a year or so has passed for that, it's started to weigh on me that there's always a need for resources and promoting good work.
Which is why you'll often find in the articles I do on the Curiouser and Curiouser column have forthcoming tours or new sites or ventures by people or groups, or even just summations of a number of efforts that try to uplift when things seem to be more negative than positive. I could write lengthy investigative essays, opinion articles or accounts, but I notice there's a lot of those out there already in the "blog-o-sphere", and I like hearing from other people and what they have to say about their work – and I hope that others do too.
On that note – it's now over four years, I continue to do interviews (in fact, if you tune in at 9am Perth time to RTRFM on Friday, 2nd May – 9pm on Thursday, East Coast USA time, you'll be able to hear me chat about a regional and rural arts festival happening in my state!) – which is another thing that's taking a lot of my time recently: taking on new topics, stretching my range when it comes to interviews – and branching out into radio in order to work towards my own science show.
It's happening, by the way, that "science show on the real radio" – starting with my ten-minute or so regular feature science segment called The Science Sorbet, which is aired on the 89.7FM station every Wednesday afternoon, on a show called Movers and Shakers.
They're a great team that supports not only local news but young broadcasters and schools that want to try out their radio skills in a real station. You can check out the range of interviews that aired on the station over on the SoundCloud site, as well as the most recent "sorbet".
But I have a few projects to get done before I commit any further and one of them is making sure that I continue to write on the topic of skepticism, atheism and good projects and endeavours out there. I don't often have much time anymore, but hopefully there'll still be regular content that will help out. Along with that erratically-published podcast that has fuelled the whole thing from the very start.