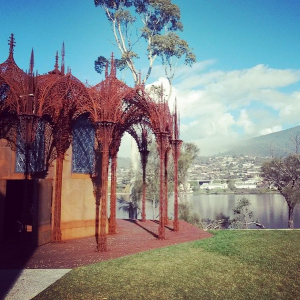 I'm currently at the Museum of Old And New Art's Australian Fair for Freedom of Belief in Religion, where they provide a platform to present a broad spectrum of beliefs and religious views present in contemporary Australian society.
Check out the brief glimpse of my much-loved "There's probably no god. Now stop worrying and enjoy your life" shirt in this ABC Hobart news report! They were calling it religious speed-dating!
Naturally, the Atheist Foundation of Australia were there and we had a great time talking, debating and even presenting on the topic of atheism. There'll be a series of interviews I'll be working on for community radio as a result of my visit.
Huge thanks to the AFA – the President Michael Boyd, Religious Studies scholar Raphael Lataster (who presented at the event), "Blackadder", Catherine of Faster Pussycat Productions. Especially big thanks to Pip of MONA, the staff and all the wonderful people who were interviewed and were so supportive of each other, regardless of faith, belief, or lack of faith.
Down to the podcast for this week – it's science, supporting Australian women in science and education! Tune into Token Skeptic Episode #185!
Alom Shaha is a science communicator in London, who has been working with the Royal Institution to create ExpeRimental, a series of short films that show parents doing science-based activities with their children. Their approach focuses more on doing the activity, rather than just recreating a particular phenomenon and explaining it. I talked to Alom Shaha to learn even more about ExpeRimental.
The Australian Academy of Science is doing something for the women of science who have been overlooked or under represented in Australia. With The Women of Science Wikibomb, you can either attend an editing session held on August 14th at Canberra's Shine Dome  – or simply take part online. Sign on before the 1st August!