Today was a good day!
It's been a busy week overall, what with classes, hosting RTRFM's Morning Magazine on Tuesday and then… today was producing at the radio station, doing interviews, finishing a big assignment due tomorrow… and suddenly, I had the opportunity to operate a puppet for the first time!
And not just any puppet – but Professor Brian Cox and Robin Ince of the Infinite Monkey Cage show and the Incomplete Map of the Cosmic Genome app: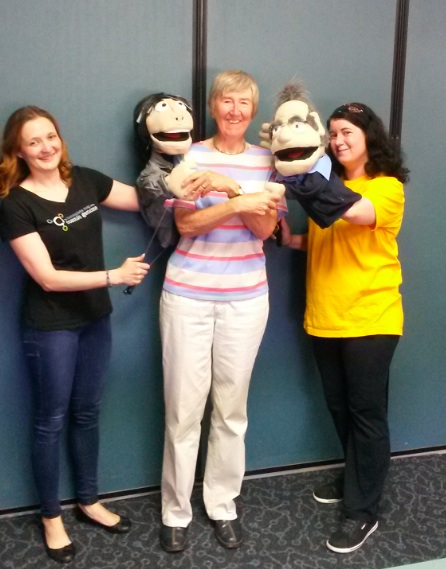 The Incomplete Map of the Cosmic Genome app features in a Token Skeptic interview:
The Incomplete Map of the Cosmic Genome is here to help—as a different kind of guide to modern thoughts on why we are as we are and why the Universe is as it is.

What started as an idea for a documentary is now an app by writer and comedian Robin Ince and writer and director Trent Burton, and involves a growing number of leading scientists, writers, and performers from around the world, expressing their love of how far the human imagination combined with scientific thinking can get us.
What made today really special was that Trent Burton and his wife Melinda are in Perth! They're doing work for the app and spoke to the fantastic Professor Leonie Rennie amongst their interviews. Leonie is one of the great writers and thinkers in Australian STEM education and science communication and you'll be able to see her contribution on Cosmic Genome around mid-November.
Some guy called Professor Brian Cox is in town doing a tour too, but I was more interested in meeting Trent, Melinda and the puppets.
Sorry, Professor. Saw your show last time, it was great! But running around with puppets? And helping do a short film of them around SciTech? That was just plain awesome.
I arrived at SciTech, the Perth science museum, in the afternoon and had a bit of time to check the place out while waiting to interview Trent and Melinda. It's been a while since I was there (the last time was for FoodScience during July's Science Week, and before then Baba Brinkman's workshop for teachers in May).
Having volunteered at SciTech behind the scenes for a number of years, the memories started coming back:
– The after-hours party for university medical students. NEVER AGAIN, oh medical students – at least, never again while I'm hiding a dozen bandages under my volunteer shirt after smacking head-first on the pavement from jogging the day before. It's a little difficult to shoo over-excited adults off displays when you can't bend your joints.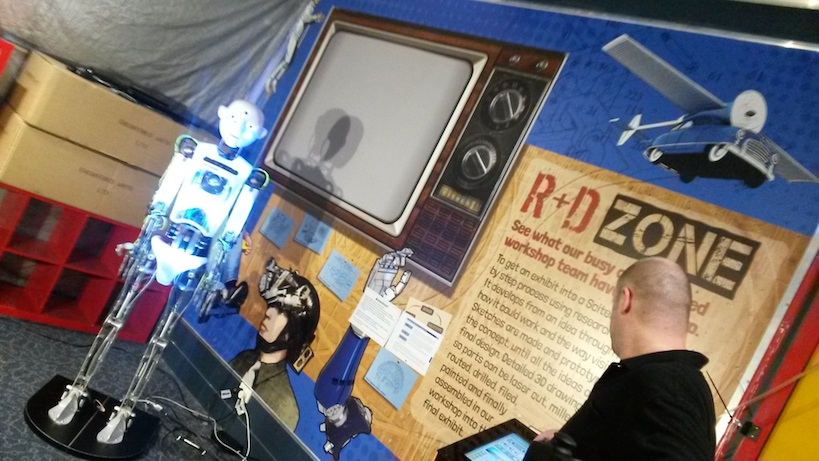 – The Great Steampunk Affaire Ball of 2011 – pinstripes, corsets and science activities do mix very well together. I wore a bowler hat and goggles along with the volunteer shirt that time, to get into the spirit.
– ToddlerFest. Overwhelming, annual ToddlerFest. You will not believe how fast a small child can run when he sees bubbles. Or how frantic a parent can get when they can't remember what their kid looks like, as the kid is five meters away, shouting joyfully at the Eggs-Cellent incubator display: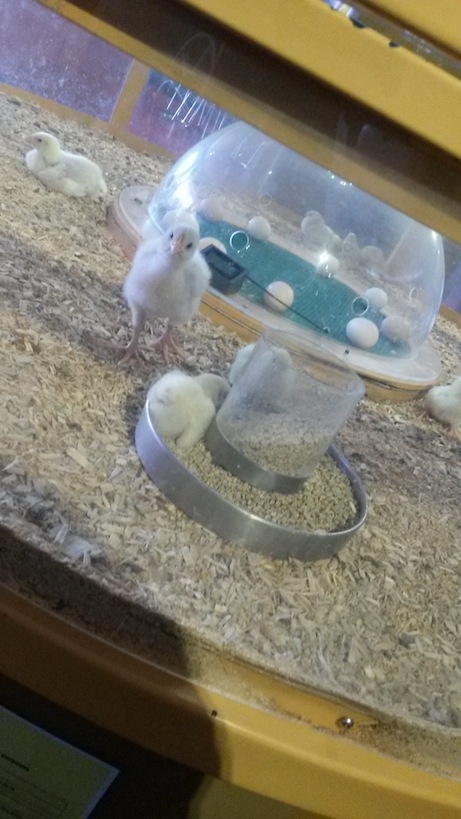 I love Eggs-Cellent. A bunch of volunteers, including myself, once left a SciTech event we were working at around 2am, because one of the eggs was hatching and we wanted to see the new chicken.
Today it was a kind of a tour as well, as Leonie had finished her interview, and Trent and Melinda were going to film Puppet Brian and Puppet Robin Ince around the museum – and they needed an extra hand or two for the puppets! So Leonie and I helped out around the place.
You'll be able to see the whole footage when the Genome filming is finished, around mid-November. Most likely it'll be a whirlwind tour of SciTech, from the perspective of both puppets, but I hope I'll recognise some parts where it's me behind the motion. Huge thanks as always to SciTech, to Leonie, to Trent and Melinda!
(Puppet Professor Brian Cox got a bit too excited by all the mountains he could point at in an informative and meaningful manner)