Check it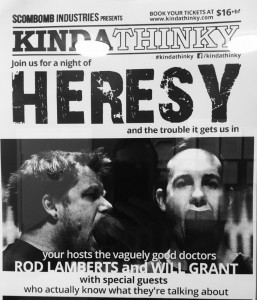 out – it's Kinda Thinky!
They've been doing sold-out live shows since last year, included live-streaming, recorded video shows (that you can pay and get all of the series via Vimeo On Demand – a very good deal and I highly recommend it) – and now podcasts!
In September 2014 CPAS academics Rod Lamberts and Will Grant launched KindaThinky, an innovative live talk show that takes place in Canberra's Civic Pub. Every one of their shows has sold out, and KindaThinky has been the talk of social media.
They're releasing new shows every fortnight, involving 20-30 min short interviews from the series of the live shows.
The first podcast up is from the start of the show "Limits":
Wherever we go, our thinking, and our behaviour, is governed by limits. And so often we accept these limits with nary a passing thought. But is this wise? Think about it… How much do you really know about the limits we impose upon ourselves, or that are imposed upon you?
Why is 40 KPH OK in a school zone, but 41 is dangerous? Where's the line between well and unwell? Who is just too middle class for middle class welfare? Hell, how high is up? At what age are you old? Where's the line between us and them? And when, oh when, does enough officially become too much?
Come and get get kinda thinky with us as we bend our brains looking at who sets the limits, and burrow through some of the thinking behind them…