It helps if I can remember how to get back into the blog… so I can blog.
How is everyone? I've just recovered from three weeks without a voice, which pretty much removed my ability to do anything at all for most of September – resulting in three podcasts in quick succession as October rolled in. Mama's gotta pay for the hosting fees of the show after all.
I'd outline exactly what it was like, but I think this photo of my wait to get a blood test is as best as I'm going to get without linking to images that appear to be by H.R Giger: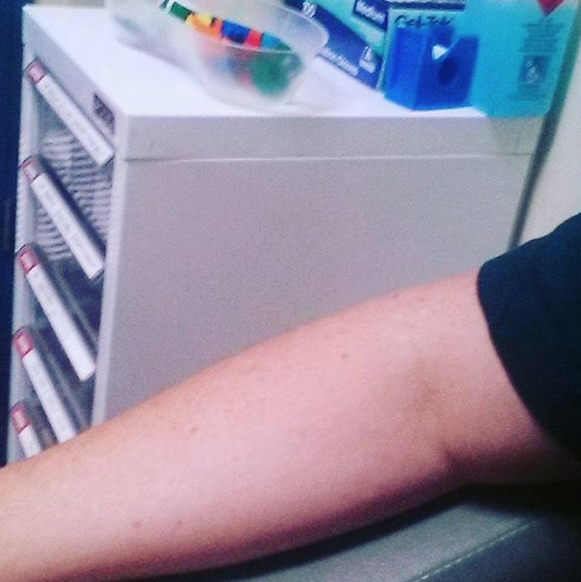 I'd like to apologise to my immune system for the hell it went through, as it tried to point out that everything was going out of control, while I tried to present a mid-morning radio show. Thankfully, I have not developed antibiotic resistance yet, and my liver is slowly coming back to life, or at least on speaking terms to me again after treating it so badly.
Here you go:
A new Prime Minister for Australia! In case you don't know what happened to our previous one, First Dog on the Moon sums it up quite well. So, in order to get into the spirit of long-awaited reinstatement of a science brief called "Industry, Innovation and Science",  I spoke to the Chief Executive Officer of the BioMelbourne Network, and regular panelist on the popular Triple R's science program Einstein a Go Go, Dr Krystal Evans, about her views on the new appointments for science.
In addition, I got very excited about Alma Sana's dream to save kid's lives through a simple plastic reminder bracelet (isn't it always the way that something straightforward makes you just go "bloody hell, we should have thought of this before!) – and it's been 10 years since Professor Tim Flannery released his internationally best-selling book The Weather Makers – and now he's back on the shelves with the optimistically titled Atmosphere of Hope.
Tweeting up a live-storm about the news of WATER! On MARS! as it happened was
Perth Observatory's Matt Woods,
who talked to me about the discovery for RTRFM's The Mag.
I also nabbed the chance to speak to Gaia Vince, the first woman to receive the 2015 Royal Society Winton prize for Science Books for Adventures in the Anthropocene: A Journey to the Heart of the Planet We Made.
Finally, one of those interviews I always wanted to get: Robyn Williams AM, is celebrating 40 years as the creator and host of ABC Radio's Science Show, and he was in town to talk about his radio career.
Last but not least:
It's pretty much what it says on the tin.
Featured Interviews:
As for me, now that October has started?
Back to radio producing. Back to radio presenting. And back to being really grateful for my Patreon subscribers and listeners for sticking around as September kind of disappeared under a pile of used handkerchiefs and cold/flu medication.
Go download a podcast, why don't you? It's still time for International Podcast Day somewhere in the world!