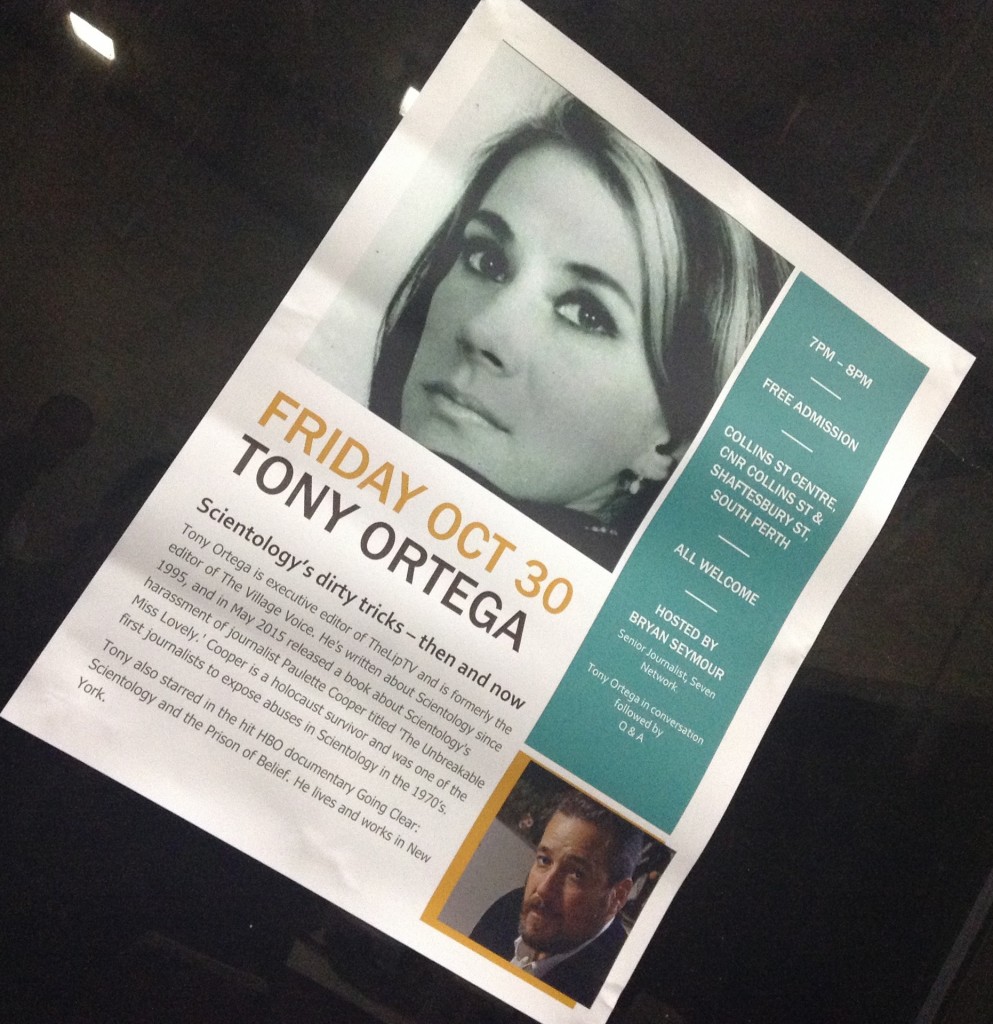 Just a quick blogpost as I spent most of today working to get audio at the #WalkTogether rally (you can see most of what I did over on Instagram) – but I really want to write up some of what it was like hearing Tony Ortega in person after he completed his Unbreakable Miss Lovely tour here in my town.
In fact – the newest podcast by the Token Skeptic features the interview (second one I've had the pleasure to do, the first was about Going Clear, the Scientology documentary) with Tony about the book "The Unbreakable Miss Lovely" and the tour.
One of the things about Perth – it has a big chip on its shoulder about "things to do", claiming that there isn't much going on – and so, I've always either been promoting what there is to do (because it seems that people just don't notice the things) or just be a part/organise some events, and helping make them happen.
Again, I wave vaguely in the direction of my Instagram account to demonstrate some of the behind the scenes/being a part is like (mostly a lot of running about, which is a big factor in why my blog makes Tony Ortega's blog look like an out of control firehose of useful information in comparison… eh, at least I catch up on sleep when not blogging).
But lectures like Tony's, in my opinion, are unmissable. And here's why.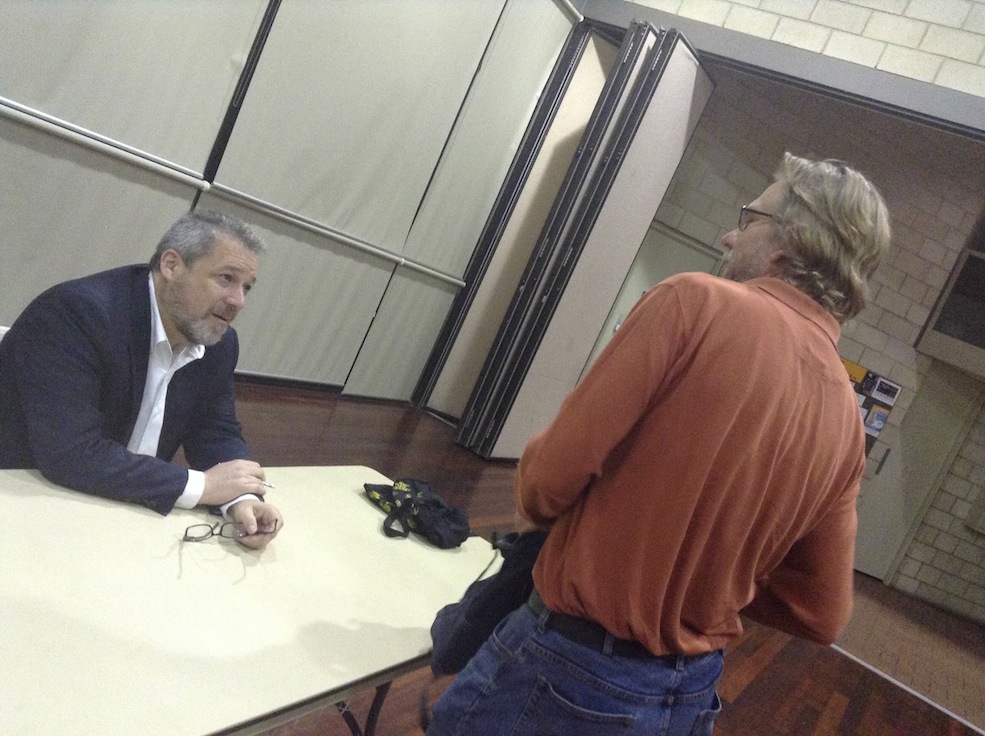 The event was advertised as "Bryan Seymour, Channel 7 journalist, in conversation with Tony Ortega, author of The Unbreakable Miss Lovely, as they discuss Scientology's dirty tricks… then and now" – very much like the fantastic account of the Adelaide event over on the Blondsense blog (go read it!), it was one I was keen to hear, although the numbers attending weren't like those for Adelaide or the eastern states towns.
But unlike Blondsense, I already had the great opportunity to pepper Tony with a bunch of questions, thanks to RTRFM radio – so I was more interested in hearing other people's questions. So I blasted social media as much as I dared with the news about these events, and kept my fingers crossed that the skeptical-about-Perth-events would make an effort and show that they cared about these kinds of tours happening.
Typically, I arrived early, because the rain was so bloody awful that I thought I'd get lost (I did) and would be nervous about driving (I was) and would then need to find a coffee (which I did, and made the awesome discovery that a former student of mine – who remembers me as being nice, which is always a shock when you think how overwhelmingly positive I was about nerdy things like blank verse – now runs one of the best costume shops in the city near the venue, and her business is booming. Coincidences like that are just one of the highlights of the year).
And then the talk started, and while the hall wasn't filled with people (rain, Friday, a bit of an out-of-the-way-venue, good ol' Perth being a small place after all) – those who were there, more than made up for it.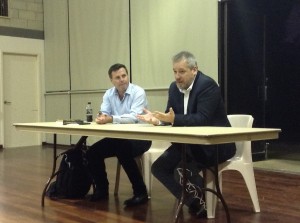 Discussions ranged about "what people DO in the name of religion" making all the difference when it comes to religion and cases like Paulette Cooper revealing more and more about Scientology; the advent of the internet (I asked a question about Anonymous and essentially, they have been a big help), the 40 thousand or so members today in comparison to the 100 thousand in the 1990s, and some amusing revelations about the timing of Star Wars and L. Ron's move out of the public eye.
This included a very funny tale how a thankfully cancelled film script might have given us all pneumonia, according to some odd claims about OT3. Paulette Cooper, in particular, shone through everything they said as being a great journalist, advocate and certainly a tremendous survivor of horrific bullying and gaslighting by a lot of nasty groupthink and cultlike behaviour.
I also enjoyed the recapping on what was said in the Going Clear documentary on what makes Scientology different from other religions. Sure, religions have odd beliefs, but at least you KNOW what you get from Christianity, Islam, etc in the first year or so from woah to go, including easy and often free access to the main text that should tell you pretty much everything about the beliefs – whereas it takes 20-30 years and thousands upon thousands of dollars… to discover even the very basic underpinnings of what Scientology is actually all about… and even then, they probably won't level with you completely. And by then, it may be too difficult to back out.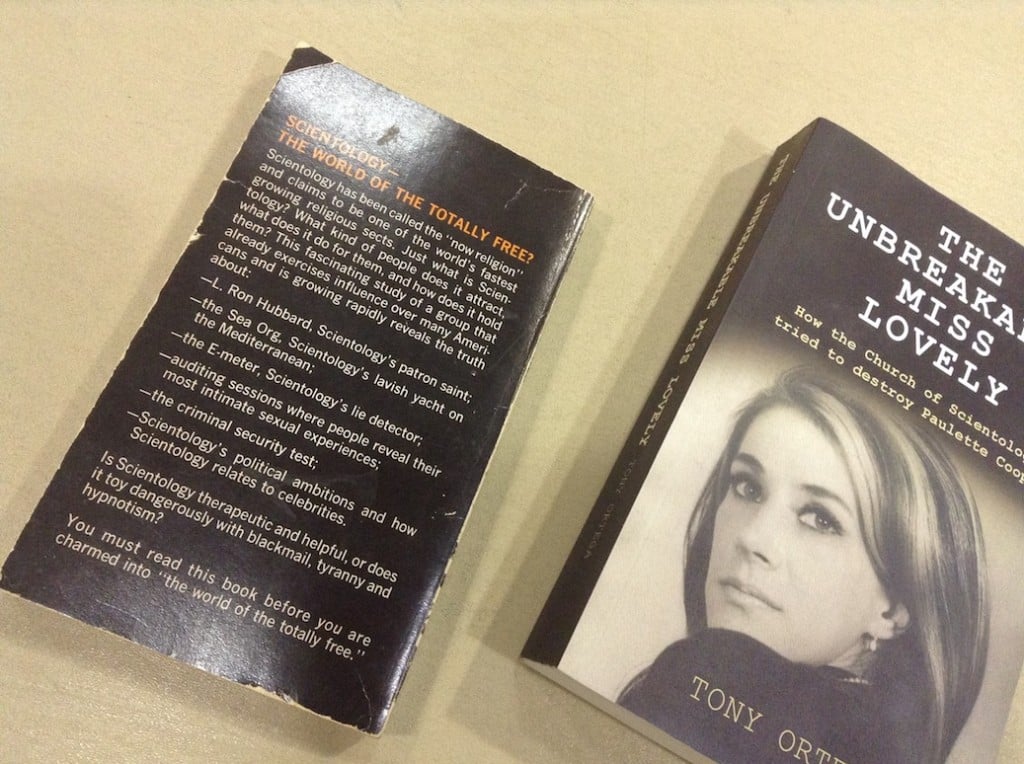 But it was the story from a couple in the audience that was the real show-stopper and showed why events like this are necessary.
The couple were an older generation that had left Scientology. Their children, however, remained with the organisation, and they last saw their son when he was seventeen… and he was born in the mid-60s. It really hammered home how the very notion of family units are a fiction to Scientologists and how dreadful it can be when families attempt to reconnect after the religion has separated them.
They talked about how they had no idea if their son was alive or not after disconnecting from Scientology, twenty years ago.
And then, at the end of the talk, another woman who had left the organisation had news – she knew their son from Scientology. And he was alive.
There were so many people with questions, discussions to be had, that I left not long after the talk completed, but the fact that so many people from the lecture were all talking to each other or had something to say, was really, really encouraging. And I really hope that events like this continue, because even just one case of solving a huge mystery for that family was worth it.
And I like to think that after the news that Scientologists who aren't toeing the line well enough are sent to this town – we might be a good place for some of them to leave the organisation altogether. Because it isn't so bad after all, even when the weather is just dismal. Thank you to everyone involved in making the tour happen, especially Tony Ortega.