Anti-abortion activist Troy Newman really isn't having a good time today. Or yesterday. It kind of depends what time zone you're in, and he's just gone through both in order to be very, very disappointed.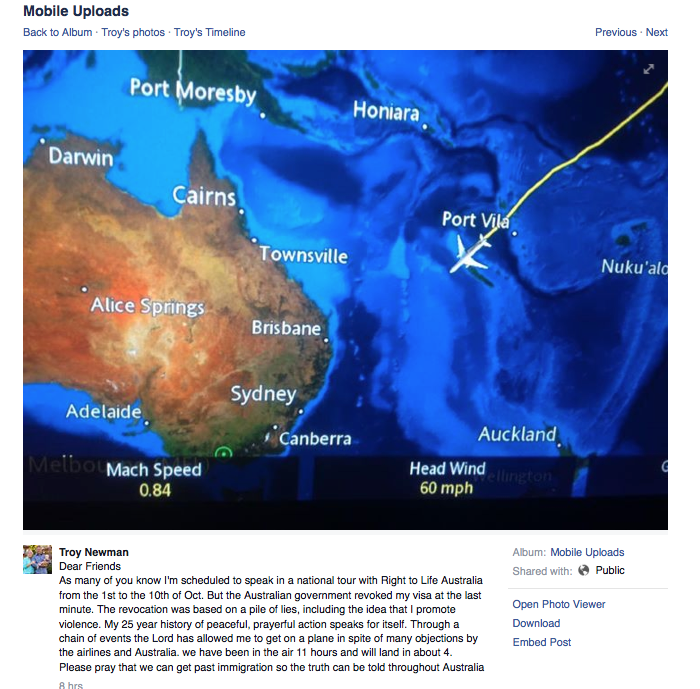 In case you can't read the small print:
"As many of you know, I'm scheduled to speak in a national tour with Right to Life Australia, from the 1st to 10th of October. But the Australian Government revoked my Visa at the last minute. The revocation was based on a pile of lies, including the idea that I promote violence…"
There's a number of Australian politicians who are speaking up and saying otherwise: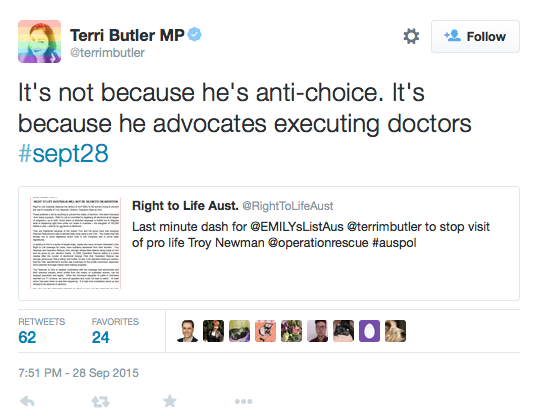 He continues:
"…the Lord has allowed me to get on a plane in spite of many objections by the airline and Australia. We have been in the air 11 hours and will land in about 4."
Newman had plans to do a multi-venue eastern-states tour, including Sydney, Brisbane, Hobart and Melbourne – with talks with topics like "Presentation exposing Planned Parenthood sale of Body Parts".
Which, if you haven't figured out, is completely untrue about Planned Parenthood.
I don't know if he aimed to get to Australia in order to sidestep and ignore the recent Planned Parenthood news that they are being supported by congress after all – and the celebration of that fact: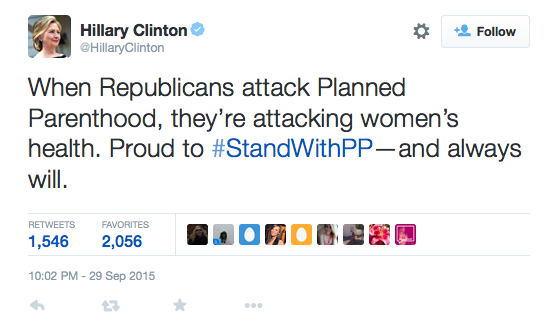 But before he tried getting into Australia WITHOUT A VISA, I would have suggested that he check out exactly what Australia's Border Force can do. In fact, Border Force has been recently criticised for being very keen on doing what they do:

Border Force was formed after Tony Abbot needed to fulfil a dumb election promise and turn Australia into an internationally shamed processing facility for 'scary foreigners' who, after seeking asylum, are flicked off to illegal offshore detention facilities (women, children all). Want to read about it? The New York Times slammed Australia for it last month. It's damning stuff.
So, I'm hardly surprised that Junkee reports that he's now in big trouble in Melbourne – and so is the plane that brought him here:
Despite having no visa to enter Australia Mr Newman-Mariotti boarded a flight and arrived in Melbourne this morning.

The airline faces a fine for carriage of a person who does not a valid visa.

Since Mr Newman-Mariotti does not hold a visa, he is unable to enter Australia and remains in the presence of ABF officials at the Melbourne Airport pending his removal.
Despite the fact that Newman had the intention of presenting ill-informed opinions while here, it really wouldn't be appropriate to put him in a place like Nauru for breaking what is a really serious law in Australia by sneaking in here without permission.
Sorry, but no. America – feel free to take him back.
UPDATE – BYE BYE!