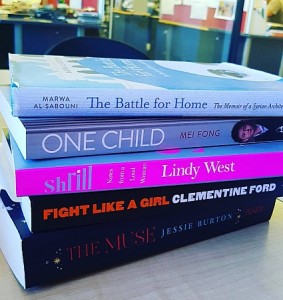 Well, it's been a while since I've written here – fifty-five days in fact. I know this, because I've been keeping track of the days with my 365 Days of Philosophy podcast. This weekend has been taken over by the Perth Writers Festival, a loss in the family, and plenty of reading.
The festivals (Fringe and International) have taken over my life a little this year (although it is NOTHING in comparison to what it must be doing to the volunteers and employees, they're just non-stop).
While I love them, the events haven't helped much with dealing with the passing of my cat, who sadly became worse and worse over the past six months and was put to sleep this week.
Sleep is probably the most accurate word; she was no longer the active, chatty creature that we knew for fifteen and a half years, and was more lethargic than ever, despite medication and checkups.
By the end, she was drowsing with us for about half an hour and the injection didn't even register with her as she fell asleep in my hands. I think about her, and how quiet the house is without her telling me about how she wants water from the tap; her suggestions for lunch; what she thinks about her sister (not much); loud advice on how to play Overwatch; her opinions on pretty much any conversation, and how much she thought my podcasting sucked. Often.
Bit of a downer to return to blogging here with that news, I know.
But Patheos has had a revitalisation of sorts, and part of the efforts for revitalisation is encouraging more writing. I've been writing little one-to-two minute posts daily for the 365 Days Philosophy podcast. I might as well stretch what is left of my blogging skills by posting here on a regular basis.
I didn't know if I wanted to return to blogging as I don't know if I'm really a blogger anymore.
It's going to be a busy year ahead of me – when I was writing my M.Ed on the measurements of paranormal belief, I found it really helped with my literature review to blog about what I was reading and the application to the real world.
Since I'm going back to studying again, I might as well use this space to write here too. I think that was the crunch point – you need to be writing regularly. This is a space for writing. Use it.
There's a two-hour podcast on the Perth Writers Festival over here; there were nearly seventeen authors instead of fifteen, but I ran home to get my previously-mentioned cat to the vet, for what turned out to be the last time.
Sorry, I'm being depressing again.
But the expectations of hosting live radio on Friday – like the times I had my heart broken, suffered loss, dealt with personal issues, injury, or just plain not-felt-like-leaving-the-house-ever-again but still had work to do, just like all of us – was bigger than me.
I packed everything I needed for the day, and did a marathon of three hours and five authors live to air, with a few pre-recorded interviews from earlier in the week (you can hear some on SoundCloud too).
I don't remember much about being on air on Friday. Shows like that happen really fast for everyone involved.
I do remember playing Lazertit's "Boss B*****" after interviewing Lindy West, and then my next interviewee Sukhjit Kaur Khalsa ran in to tell me that she knew all the words to the song. Clearly that tune is on future radio playlists of mine on a regular basis.
[Yes – there's a language warning… and there's some serious 80s vibe going on throughout that is giving me flashbacks… Check out the chunky handheld phone, let alone the power shoulder pads. How did they even find those?]
I remember going home to sleep for a while afterwards (as most of my radio shows mean I need to be at the station early in the morning) – and then spent the evening chatting to some of the people I interviewed and staff from the station and the festival (all lovely, I should point out – you can probably tell by how excited I was in the interviews)… and then heading home to collapse again.
I guess this is my life now post-cat. Not too different to pre-cat but a little emptier of her sounds and opinions, and feeling just a little bereft at random times. Naturally just getting this down is cathartic in a sense. So, that's what blogging can do for me.
Anyway, the goal is a few blogposts a week and I imagine it'll be the kind of content that I usually natter about over on Patreon.
Although you might like to revise over logical fallacies through the additional exercises and help keep the podcasts going. They're not usually two-hour marathons of chatting to authors, so it won't overwhelm your RSS feeds THAT often).
I'll try to be less depressing.