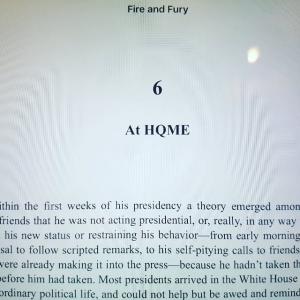 Like everyone else in Australia who should be gearing up for a busy 2018, the lure of Fire and Fury: Inside the Trump White House by Michael Wolff got me out of piles of research yesterday morning and down to the bookstore, only to learn that physical copies of the book are arriving next week and not this week as reported. Bugger.
So, I take to the online version (NOT the Wikileaked edition), which is available everywhere, with an occasional typo. So far, I'm up to Chapter 6, At Hqme. Er, At Home.
I haven't finished reading it (and won't be for much longer, as I have too much research to get back to) but my opinion so far is that I don't think I could have lasted as long as Wolff did on a semi-permanent seat on a couch in the West Wing without going completely bananas, but at least he seems to have plenty of bananas keeping him company during the 18 months of conversations he had in order to write the book.
Speaking of bananas, the recent Golden Globes results led to another not-so-bright idea in US politics, the Oprah for President in 2020 suggestion.
But you don't have to take my word for it. Take David Gorski's instead, who has taken time out of his similarly busy January to not only Tweetstorm about 17 posts but summarized it all nicely on his website with Oprah Winfrey for President? Does anyone remember all the pseudoscience and quackery she's promoted? 
Not surprisingly, I was underwhelmed. Those of you who've been following the blog already know why. Those of you who haven't probably don't because I haven't written about Oprah in quite a while. The reason is quite simple. Once her talk show went off the air in 2011, there was a lot less reason for me to blog about her because her enormously popular and influential platform for spreading pseudoscience and quackery was gone.
If you poke around on the Patheos website you can even find a few other examples of how
disappointing
it is that Oprah
and her ilk get a bit of attention
and suddenly seem to be able to solve everything that irks us.
Deja vu…
I am reminded of another op-ed by Helen Razer (author of Total Propaganda), who summed it up thus: give me a choice between good policy and good character, and I'll take the former, thanks. As I put down my copy of Fire and Fury and get back to work, I bookmark the following on page 113: "Yet the president, while proposing the most radical departure from governing and policy norms in several generations, had few specific ideas about how to turn his themes and vitriol into policy, nor a team that could reasonably unite behind him." I doubt that there'll be much news of policies coming from the Oprah 2020 "camp" either, but it does lead me to dread that it might not only lead people to print quirky Oprah 2020 t-shirts while forgetting anti-vaccination and pro-quackery claims, but actually put money behind her running for the job. I wonder if Wolff would be allowed back on the couch for that one…