A woman walks into a bookstore wearing two bowler hats at the same time, goes up to the desk and asks 'Do you have any kazoos?" – one of my many experiences at Embiggen Books.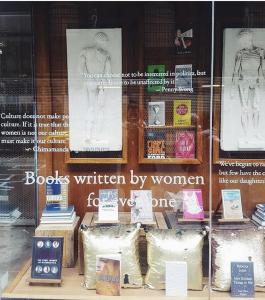 This is a difficult post to write (I am mindful that the people of Embiggen Books must find it so much more difficult in comparison), mostly because I'm dealing with illness and the sadness of being unable to visit this bookstore one last time. But I can at least pass on the word about the closure of my favourite bookstore – if you are in the area, you can support it one last time by visiting it at 197-203 Little Lonsdale St, Melbourne.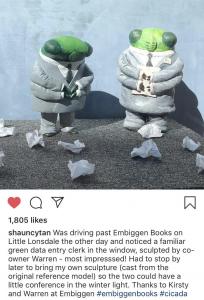 My first purchase at Embiggen Books was a copy of Martin Gardner's Fads and Fallacies in the Name of Science at a conference stall, and while I never got the chance to visit the store while it was in Queensland, I took every opportunity whilst in Melbourne to visit the store. It was Warren Bonett who created The Australian Book of Atheism, a text I always recommend to students who write to me asking more about atheism, skepticism and rationalism in this country.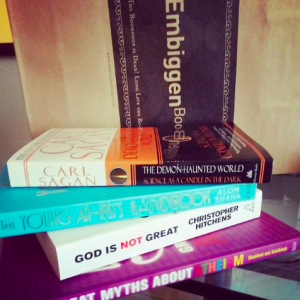 If you never had the good fortune to visit, you can still tell what a special place it is with special people – always hosting talks, bookclubs, gatherings, with amazing displays and range – even a music video!
I can't overemphasise the contributions to the place by amazing people there, particularly Warren, Kirsty and their family, who have all worked so incredibly hard to make a beautiful store that celebrates science, rationalism and art the way they should be celebrated. I have numerous books that have filled suitcases on the flights back home after visiting, and know that the loss of such an institution will be tremendous. Without independent stores and avid supporters of writers and artists by businesses like Embiggen Books, the world is a poorer place. I do take heart, however, in knowing that this is only the start of what will no doubt be the start of more projects by the team behind the store.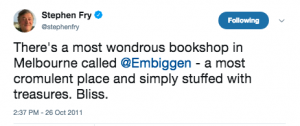 You can see for yourself the photos on the Embiggen Instagram, which reflect some more of the ambiance of the place; if you have any time before the bookstore closes its doors for the final time, please do visit it if you can.
The bookshop is dead, long live the bookshop. Don't forget to support bookshops, particularly independents, because you will so dearly miss them when they are gone.