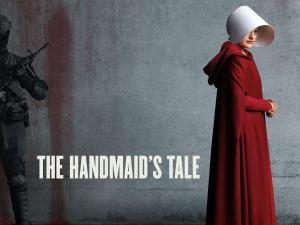 If you have a look at the 2019 Curtin English and Literature Conference for this year, a gathering for students for either the WACE English or Literature subjects, you'll find a lecture on 'Characterisation in The Handmaid's Tale'.
'Explor[ing] the fundamental device of characterisation by considering structure, language and point of view in the popular studied text, The Handmaid's Tale' is relevant to both of the subjects taught across this state. As the TV series was broadcast to great acclaim, it seems that since the original book was published back in 1985 the tale of the Handmaid has gone from strength to strength in terms of popularity. I've lost count of how many books I've seen either allude or directly reference it in terms of 'if you enjoyed reading Handmaid's, then…!'
Now we have season three of the Hulu series being broadcast worldwide (it's on SBS here in Australia) and I'm starting to wonder if this vision of the future, with 'a boot stamping on a human face – forever' (apologies Orwell!) is even starting to drag on the creators. I've watched three episodes so far, and the deus ex machina is quite frankly starting to get a little creaky in the rafters from descending so often.
Certainly we got the impression from the end of Season Two that change was on its way. The rise of a resistance was inevitable, and with more and more characters being introduced (along with an increasing amount of scenes set in the freedom of Canada), naturally they're going to represent more of those dissident voices / rebellious characters. Lawrence (Bradley Whitford) initially seems to be one such example, and his character seems to be sticking around after helping Emily (Alexis Bledel) with an escape to the north with June's new baby… exactly how that unfolds in season three, I'll leave to you to discover! But June remains within the system, still wearing red and still somehow managing to just survive within the Republic of Gilead.
But there needs to be more allies, and that's what this season needs to establish further. With what seems to be the ever flip-flopping character of Nick Blaine (Max Minghella), who I've never quite trusted, there needs to be a stronger stance by the likes of Serena Joy (Yvonne Strahovski, who I still eagerly expect to suddenly break out with some Sarah Walker CIA Agent moves and save the day) and perhaps even the 'Marthas' we see appearing so often in the households but rarely have much action beyond being an extension of the obedient Wives of the story.
I haven't been as repelled by violence this season (yet!), but considering how graphic the first seasons where, I'm not holding onto any hopes that it'll be a completely shock-free experience over the next few weeks. But my feeling that it's become a little too much for even the series to continually horrify or nauseate viewers and are instead beginning to start wrapping up the plot altogether (will there even be a Season Four?)… maybe just in time for whatever Atwood has in store with The Testaments? Perhaps next week will change my mind on that matter, but I'll continue watching just to be sure. Let me know your thoughts!